There's more to Singapore than the towering buildings and fast-paced lifestyle that many of us are living. From gorgeous wall murals to quirky sculptures and installations, there's beauty to be found in these visual works of arts and our little red dot is flourishing with stories that come to life through astounding street art at almost every turn. Sometimes all it takes is a look around; time to go on a little artistic treasure hunt around Singapore to find these six iconic public works of art!
1. Aliwal Street Wall Muralss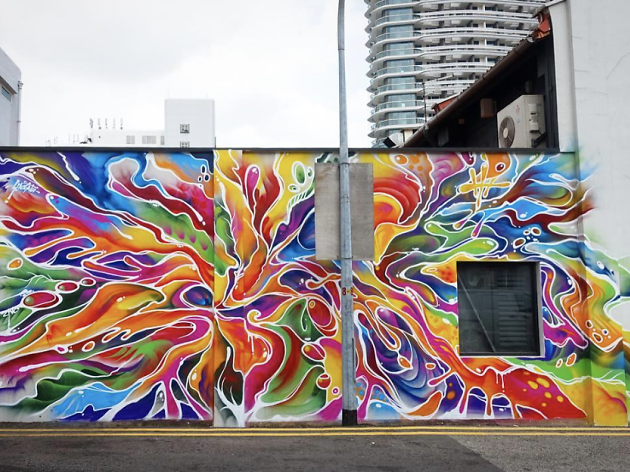 A 'gram-worthy masterpiece born at the Aliwal Urban Arts Festival. Image credit: Nestia
In the midst of Kampong Glam's rich heritage, you'll discover some of the most modern marvels you'll witness in the Singapore street art scene. A stone's throw from the Aliwal Arts Centre, there's a wall that's basically a neon rainbow that will always be 'gram-worthy. This kaleidoscopic masterpiece, brought to life during the Aliwal Urban Arts Festival 2019, is a batik-inspired dazzler, created by the artistic wizardry of Singapore's very own Slacsatu.
Find the Aliwal Street Wall Mural next to the side alley entrance of Aliwal Arts Centre, 28 Aliwal Street.
2.

All The Essentially Essential by Tan Wee Lit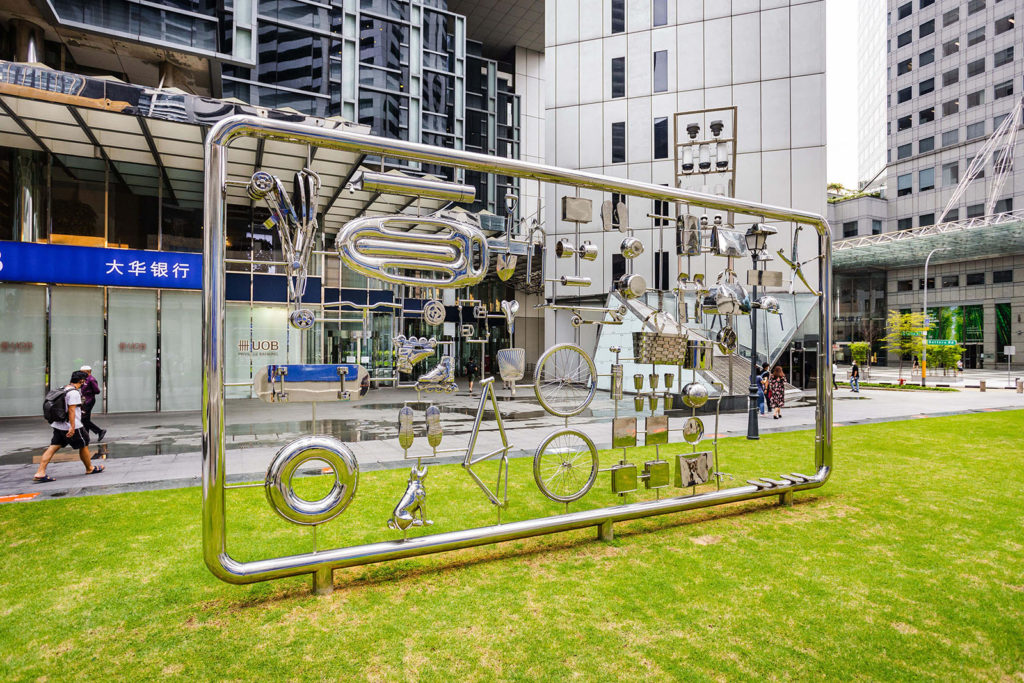 Work-life balance gets a whimsical twist! Image credit: Raffles Place.sg
In this whimsical creation, Tan Wee Lit playfully pokes fun at the elusive work-life balance every Singaporean chases. Imagine a colossal toy kit filled with "must-haves" like gym bags and baby strollers, symbolising our fast-paced lives. But here's the twist: there's a gap at the bottom, daring you to step in and complete the puzzle. It's a gentle nudge that amid the daily grind, it's our dreams and vitality that truly complete the picture. Life isn't just about gears and gadgets; it's about embracing the joy and aspirations that make our existence truly essential.
Find All The Essentially Essential on the lawn outside One Raffles Place.


3. Bird by Fernando Botero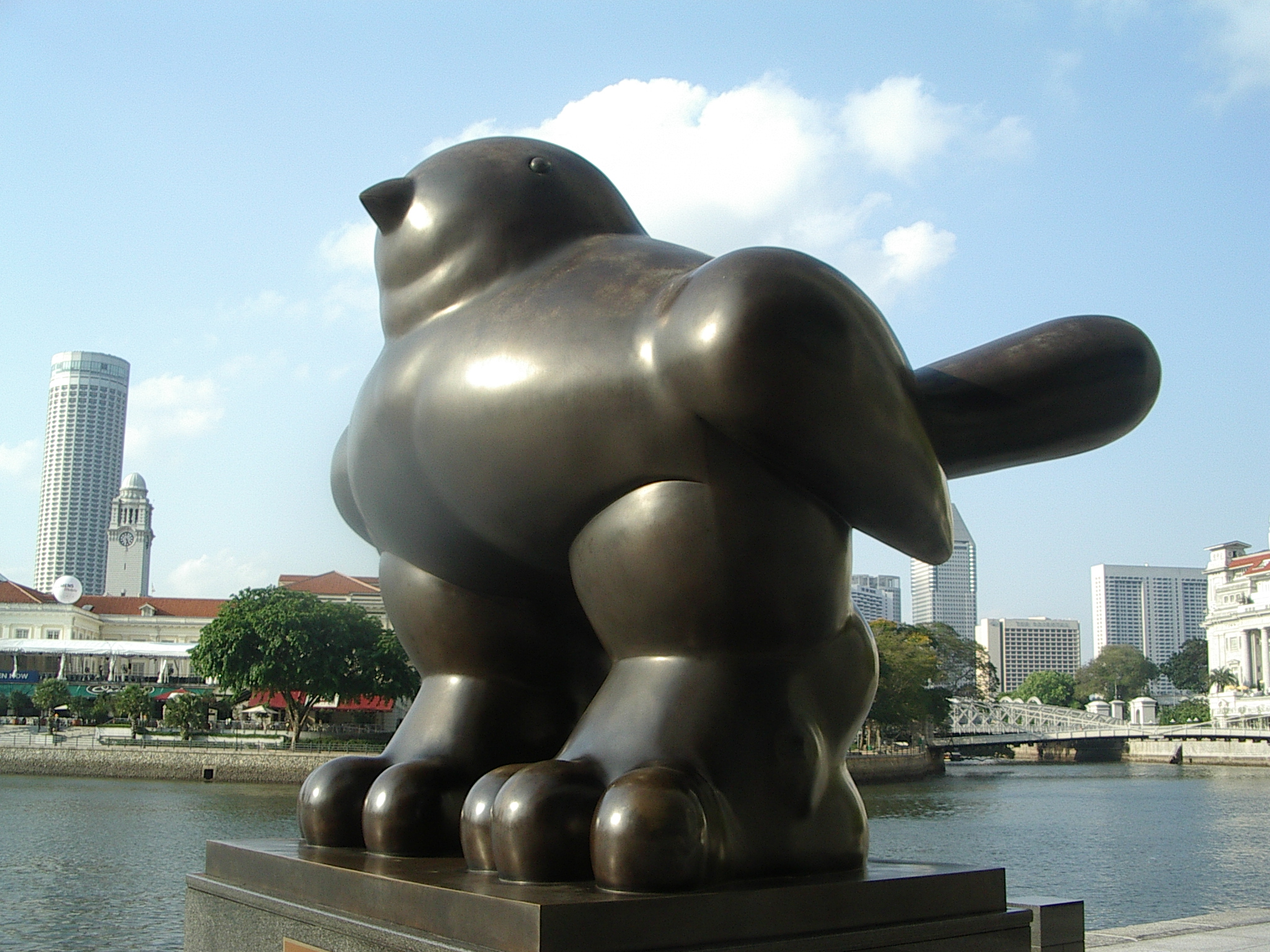 A pigeon? Nope, it's just a really plump bird. Image credit: Wikipedia
You've definitely seen this iconic sculpture when you're strolling by the Singapore River. This colossal bronze artwork often gets mistaken for a pigeon, but it's really a symbol of peace, serenity, and the joy of life. Colombian artist Fernando Botero cheekily crowned himself the "Most Colombian of Colombian Artists." and his signature 'Boterismo' style, where he inflates figures to epic proportions, has made him a global sensation. In 2012, the International Sculpture Centre even bestowed upon him the Lifetime Achieve Award. Bird is 100% worth a second look when you're strolling around in the CBD!
Find Bird by Fernando Botero along the Singapore River by the UOB Plaza at 6 Battery Road.
4. Singapore Deviation: Wander with Art Through the Rail Corridor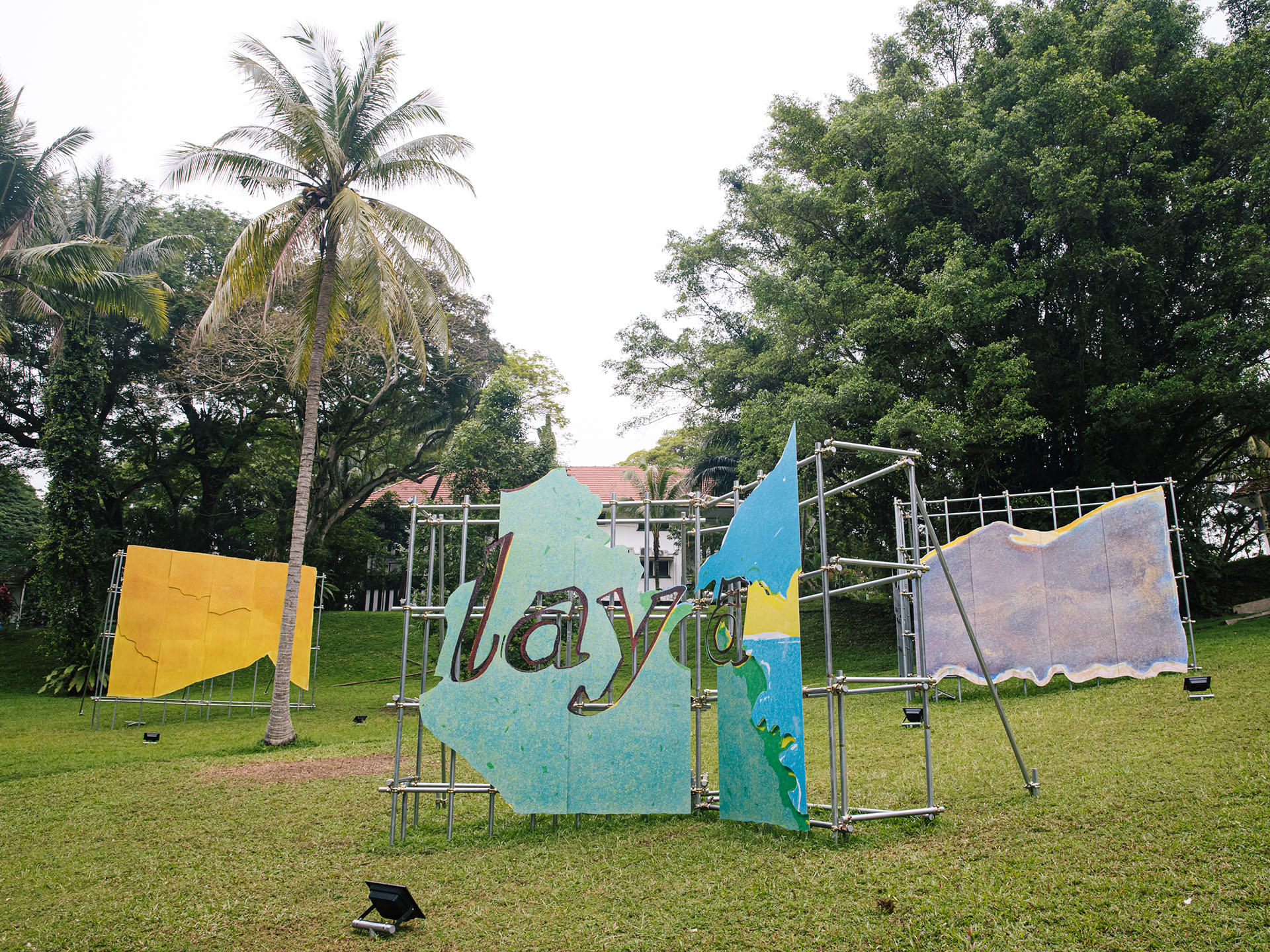 Take a ride through a captivating exploration of Singapore's heritage and its enigmatic future. Image credit: Singapore Art Museum
Singapore Deviation unravels the Rail Corridor's history through the eyes of three visionary artists: Sookoon Ang, Hilmi Johandi, and Tan Pin Pin. Picture this: a 24-kilometre track, once bustling with trains connecting Singapore and Peninsular Malaysia, now transformed into a recreational wonderland. These artists have turned the Rail Corridor into a living canvas, revealing its ever-changing identity. Commissioned by The Everyday Museum, this art adventure is a captivating reminder of Singapore's rich heritage and an exploration of its enigmatic future. All aboard the Singapore Deviation express!

Find Singapore Deviation at various locations along the Rail Corridor (Wessex Estate and Kampong Bahru Bus Terminal).
5. 24 Hours in Singapore by Baet Yeok Kuan


Time to hit pause on life and soak in the city's vibrant soundscape. Image credit: Ministry of Culture, Community & Youth (MCCY)
24 Hours in Singapore is a sonic adventure commissioned by the Public Art Trust that melds massive stainless steel spheres with the heartbeat of the Lion City. Listen closely and you'll hear the unmistakable rhythms of Singapore, from hawker chaos to the symphony of public transport. Baet Yeok Kuan, the artist behind this fusion of sculpture and sound, turns everyday life into a masterpiece. His remarkable talent even earned him the prestigious Young Artist Award from the National Arts Council back in 1995. This is definitely your sign to stop and simply take in the sounds of the city around you.

Find 24 Hours in Singapore on the front lawn of the Asian Civilisations Museum (ACM).
6. The Everyday Museum: Everfowl Estate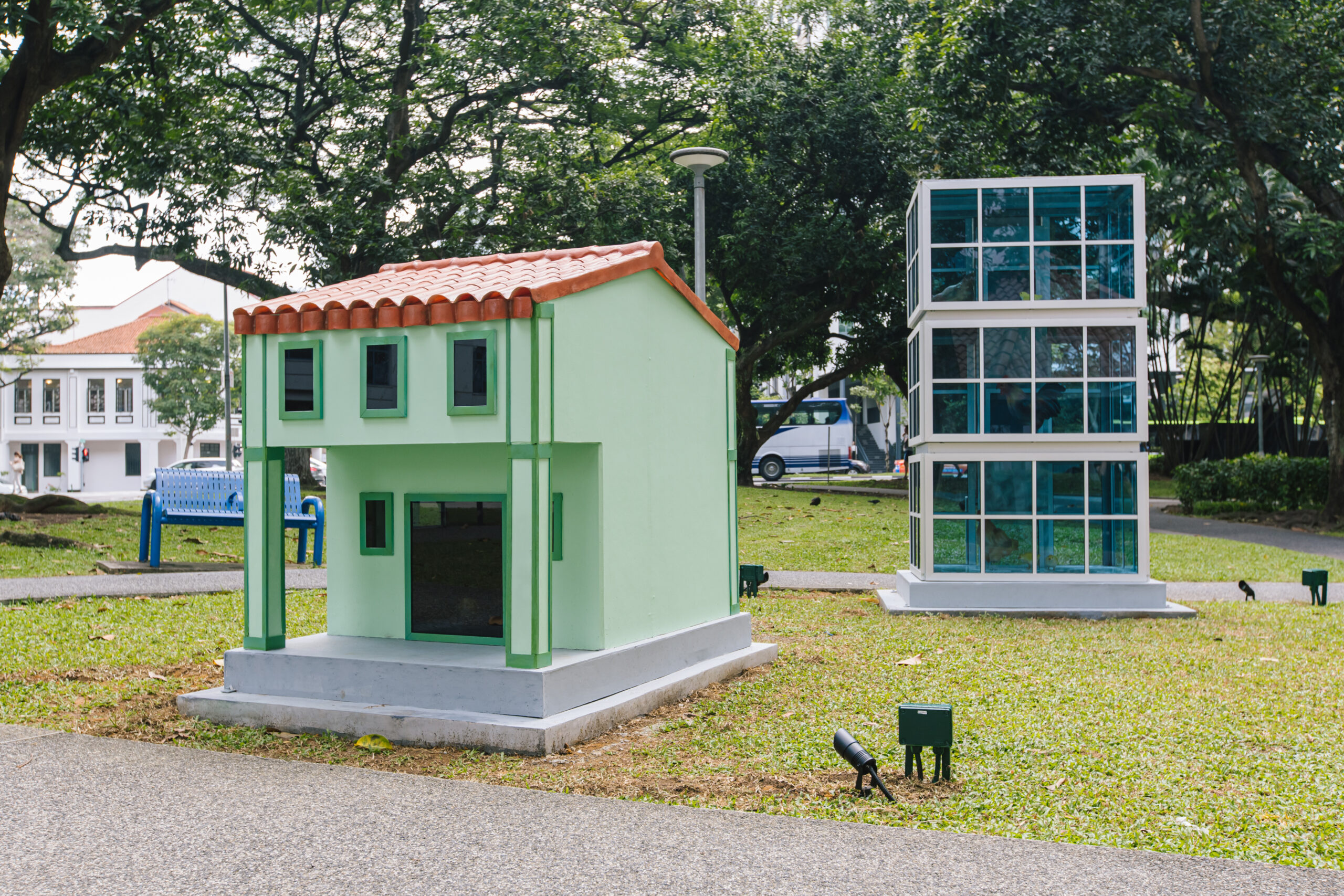 Have you seen this viral Instagram sensation in real life? Image credit: The Everyday Museum
A public work of art that has made waves on social media, Everfowl Estate offers a whimsical twist on urban living, bringing a touch of sophistication to the feathered inhabitants of the neighbourhood. Modelled after the eclectic architectural mix of Everton Park, this miniature wonderland blends history and contemporary flair. By celebrating the vibrant neighbourhood's unique character and its feathered residents, Everfowl Estate urges us to zoom out and see our urban surroundings in a whole new light. It's a playful nod to the diverse coexistence of city dwellers, both human and feathered, in our shared public spaces.
Find Everfowl Estate at 1 Everton Park.
7. Void Deck Art Gallery @ Gek Poh Ville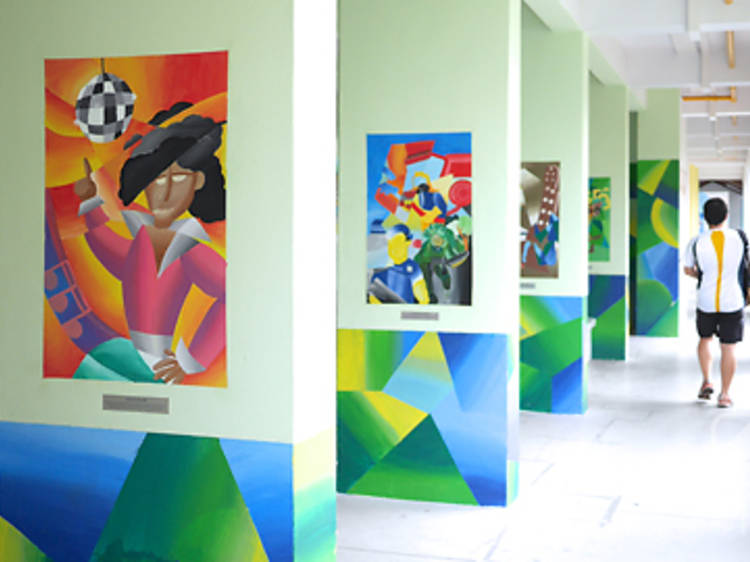 Picasso comes to the Jurong West neighbourhood in the form of wall murals. Image credit: My Nice Home by HDB
In the heartlands of Jurong West, prepare for an artistic surprise at Blocks 749 and 750, Jurong West Street 73. This aesthetic void deck art gallery pays homage to the legendary Pablo Picasso and his groundbreaking Cubism style. Over 50 captivating artworks were created to celebrate Singapore's 50th anniversary, thanks to DBS Bank, Hong Kah North Community Arts and Culture Club, Social Creatives, and South West Community Development Council. Over 600 contributors, from students to teachers, crafted pieces showcasing Singapore's vibrant culture and history.
Find the Void Deck Art Gallery @ Gek Poh Ville at Blocks 749 and 750, Jurong West Street 73.

8. Can You Hear Me? by Quek Jia Qi & Aaron Lim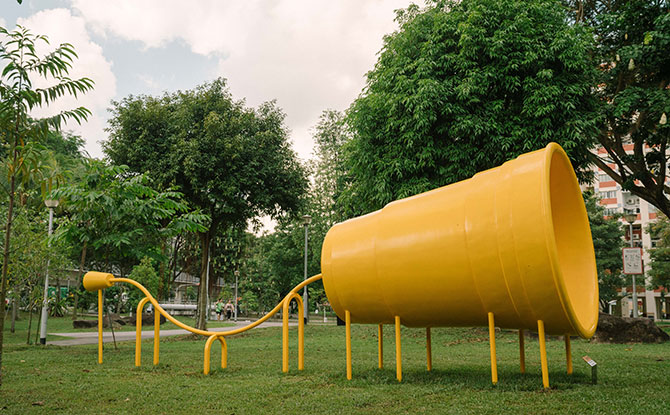 Talk about a nostalgic throwback to childhood! Image credit: Little Day Out
Taking a playful cue from childhood's cup-and-string telephone, Can You Hear Me? is an irresistible call to revive a nearly forgotten art: active listening. In a world ruled by screens and pandemic-induced isolation, communities now ache for the solace found in the symphony of nature's sounds – the birds' melodies, leaves' secrets, and babbling brooks. Flipping the script from those endless Zoom calls, Can You Hear Me? rekindles the lost magic of simply listening – a gateway to understanding and cherishing the world around us. Visitors can rediscover the profound gifts that nature whispers through the giant nostalgic cup-and-string instrument.
Find Can You Hear Me? at the Lotus Pond at Bishan – Ang Mo Kio Park.


9. Our Dreams Must Continue by Teo Huey Ling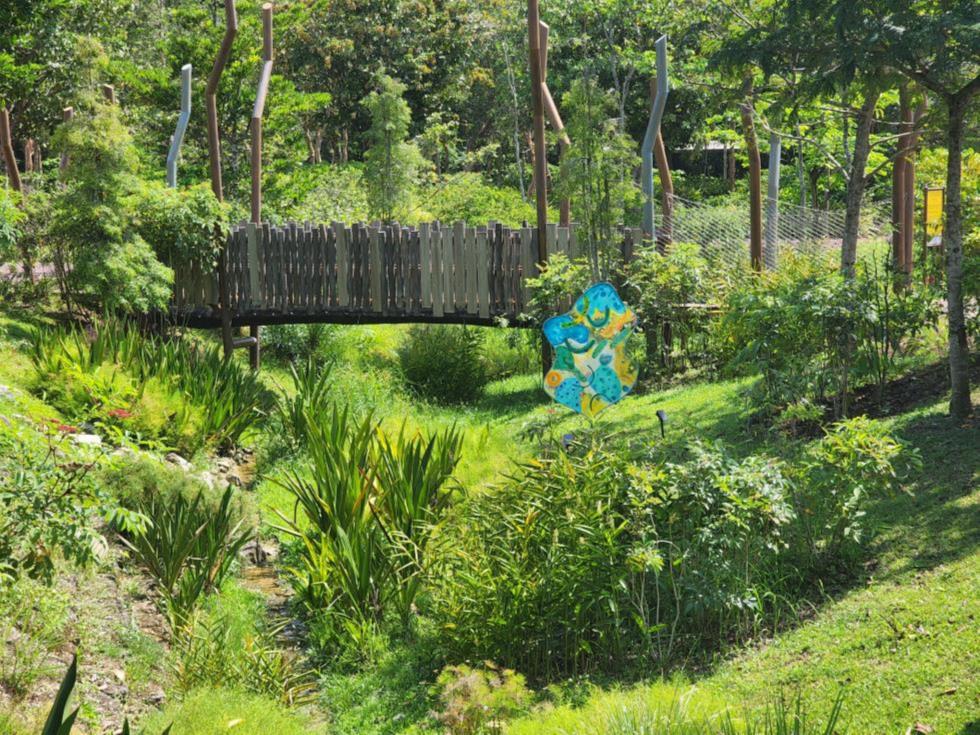 Keep your eyes peeled for these whimsical shapes in Jurong Lake Gardens. Image credit: National Parks Board
A peculiar gathering of shapes is staging a colourful takeover in Jurong Lake Gardens. These enigmatic forms mimic dreamy bubbles emerging from the earth, injecting humour and playfully reshaping the scenery with a lively touch.Their vibrant hues seize the spotlight and invite passersby to daydream and wander in sync with nature, sparking imaginative flights. Artist Teo Huey Ling's aspiration is to infuse a burst of positivity, sweep away worries, and reignite inspiration in these transformative times.
Find Our Dreams Must Continue at Forest Rambles at Jurong Lake Gardens.


10. n o o n (at play) by Hazel Lim & Adeline Kueh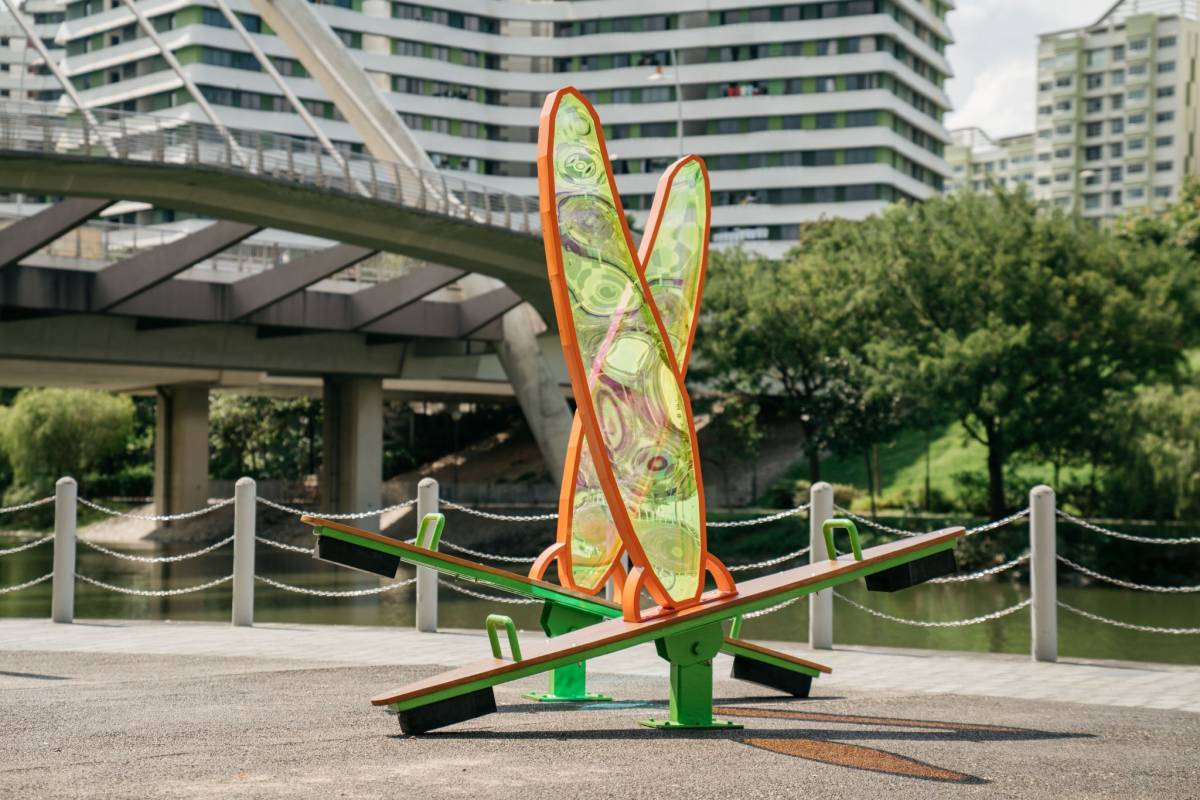 A combination of playfulness and the deep thinking behind the balance of life. Image credit: Asian Journeys
Drawing inspiration from the Sanskrit term "lila" (लीला), this artwork unleashes the magic of two seesaws, transforming into whimsical fulcrums that link the heavens and the earth. Embracing the palindrome "noon," it's a salute to equilibrium: day and night, labour and leisure, intellect and physique, the green world and our urban tapestry. With a playful nod to the Golden Leather Fern's abstracted form, this art piece accentuates the significance of nurturing play as a vibrant avenue for connecting with the community along the Punggol Waterway.
Find n o o n (at play) at the open area behind Punggol Waterway Point.
Find your next stop on your search for public art in Singapore
That's just the very tip of the iceberg on the diverse artworks that can be found all around you! Whether you're on-the-go or simply taking some time to enjoy the simple things in life, it's worth stopping to admire these different forms of creativity that make up our vibrant arts and culture scene in Singapore.
Top image credit: The Everyday Museum