The illusion of bamboo leaves swaying gently in the wind—in the form of shadowy projections on the wall—mark the threshold between the pandemonium of the outside world and the serenity within the gallery. Here, the quietness is palpable.
In her second solo exhibition at the STPI Creative Workshop and Gallery, Singaporean artist Jane Lee, a well-known figure in the local arts scene, contemplates the meaning and nuances of life—in all its sparseness and silence. She has traded the interactive digital installations that dominate today's cultural landscape with an exhibition far more subdued and introspective in comparison.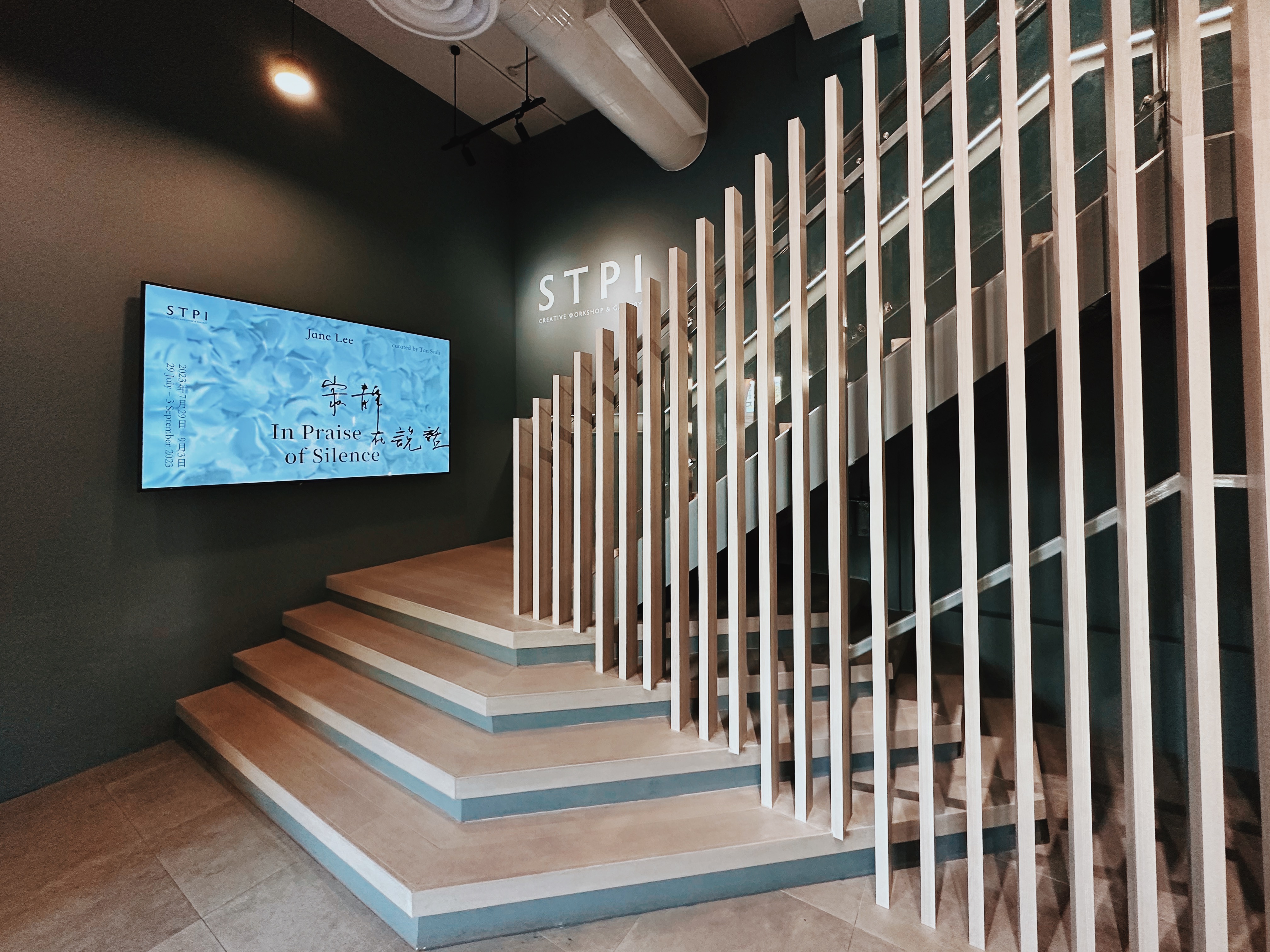 Head up to the In Praise of Silence Exhibition by Jane Lee
In Praise of Silence, as its name suggests, is a retreat into the artist's preoccupation with the illuminating qualities of darkness and silence through a series of largely monochromatic works.
Less is more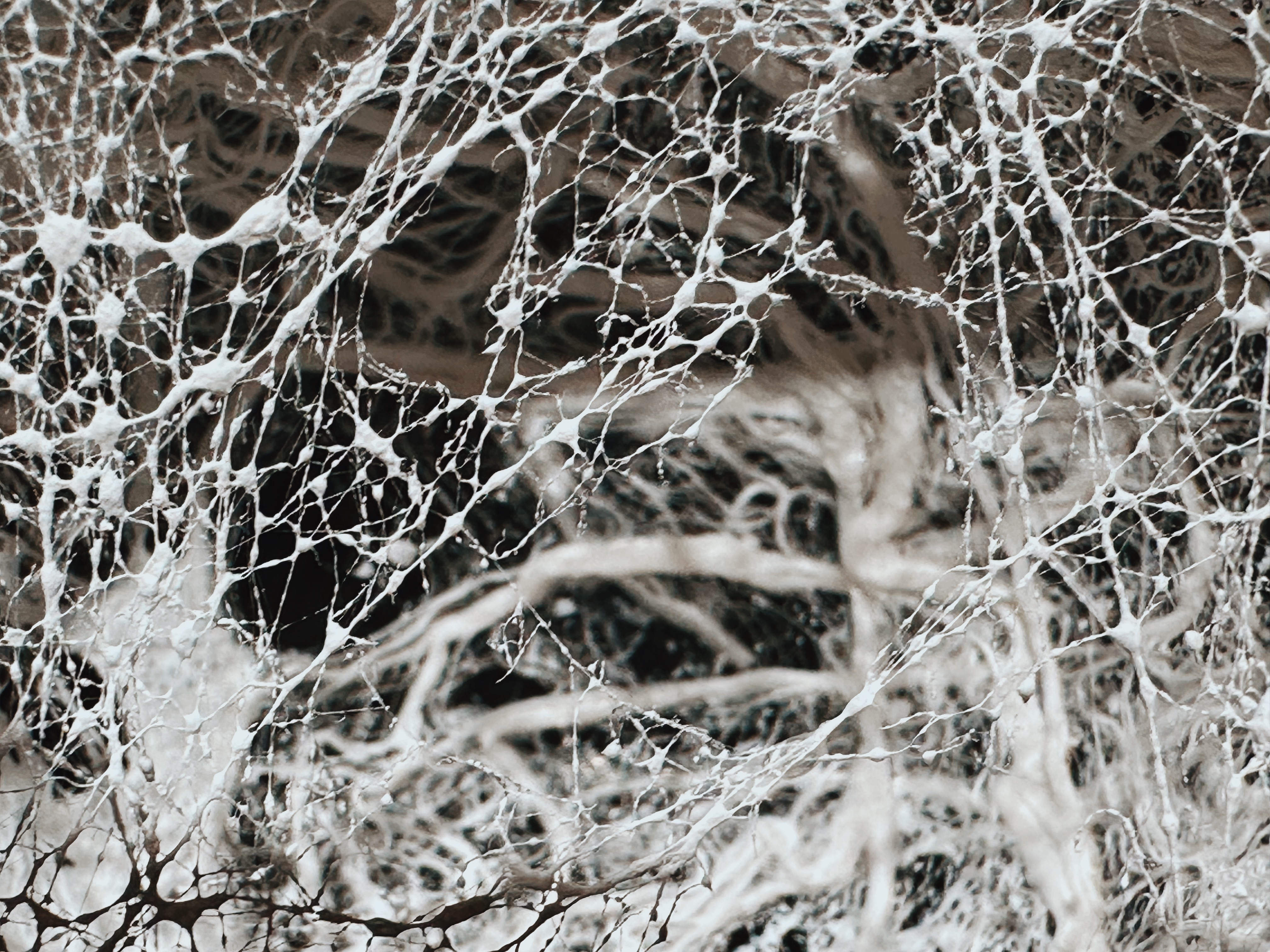 Discover the delicate interplay of monochromatic tones and spaces
Why do we need to accumulate as we move through life and art?
It was a question that Jane asked herself at the inflection point in her career. For years, she had indulged in the aesthetics of excess—much of her painting practice was characterised by laboriously stacking layers of paint on canvas.
But when she started to practise meditation in around 2014, she found the concept of emptiness just as—if not more—compelling.
This marked her turn towards eastern aesthetics, where monochromatic tones and blank spaces dominated. "She wanted to create art by taking away, rather than adding and piling on," said Tan Siuli, the curator of the exhibition.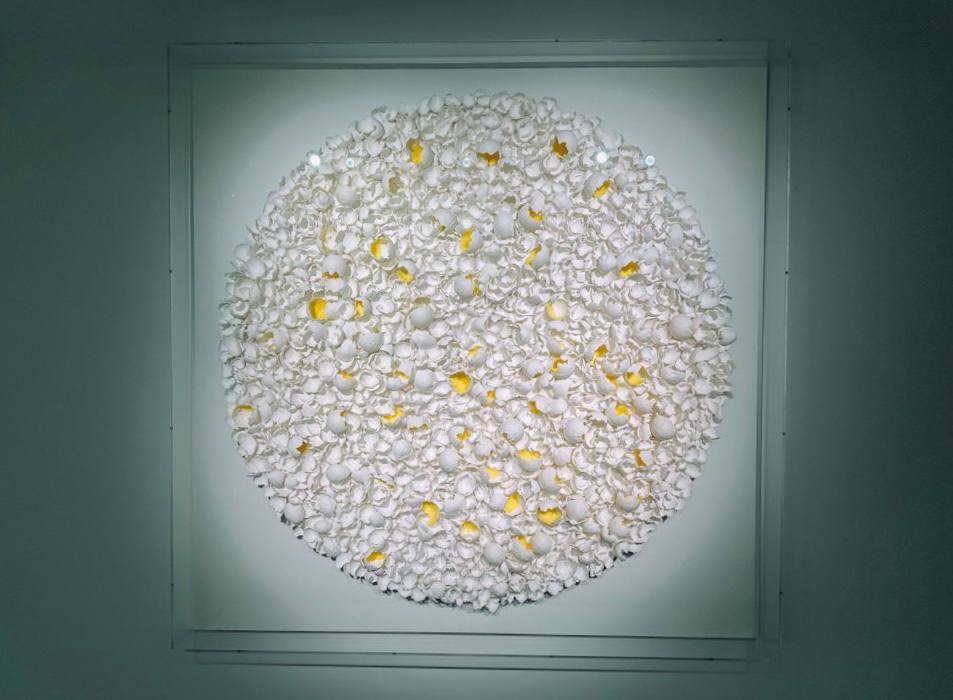 Get up close and personal with the motif of a cracked egg
Two of the exhibition's undisputed highlights—1 to 2 and 2 to 3 (2023)—are like yin and yang versions of each other. Inspired by a video of chicks hatching, they both feature crushed paper that resemble broken eggshells, arranged in a large circle.
"The recurrent motif of the egg cracking is central to this body of work," Siuli explained. "It represents the unity of binaries and opposites. A cracked egg symbolises the birth of new life, but the end of a prior unitary whole."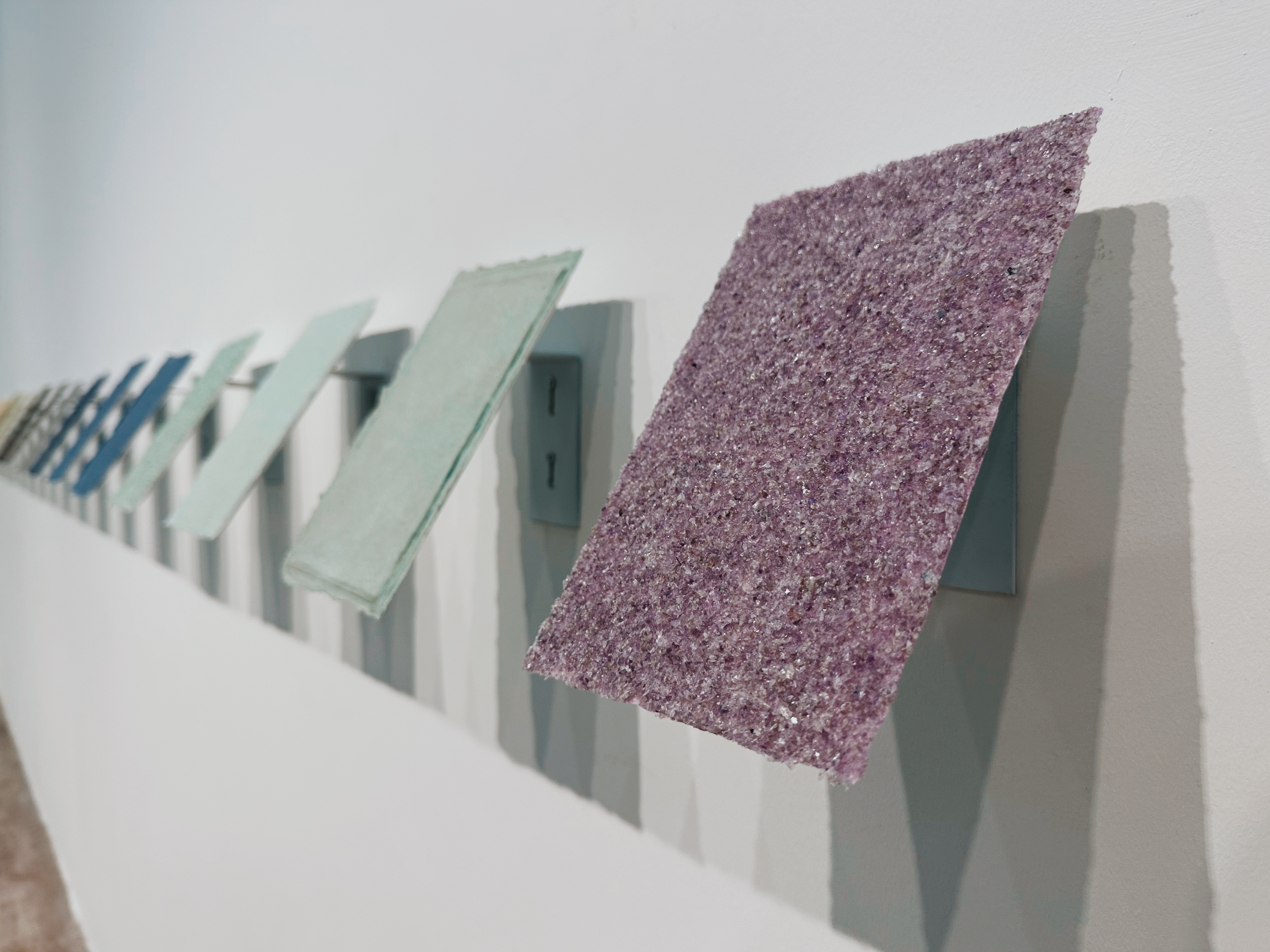 Explore new dimensions through stones of varied colours and profound symbolism
Playing with paper
Part of Jane's artistic evolution also involved experimenting with new, different materials within the STPI workshop itself.
Her om series (2023) is a collection of 30 pastel tiles, made by crushing semi-precious stones—amethyst, lapis lazuli, jade, citrine, and more—into their base essences and laying them on STPI handmade paper.
While it is the only piece in the exhibition that marks a departure from the blacks, greys, and whites, it is not so much colour, but what it represents, that Jane is interested in.
All sorts of stones have existed since the beginning of time. And in line with the cyclical nature of life, the tiles are arranged in triplets by their respective shades. Essentially, one origin colour gives birth to two more shades, and so on.
No matter the medium, Jane has always made a statement with her art. This time, however, she is allowing silence to speak volumes.
Quiet your mind with In Praise of Silence from 29 July to 3 September 2023 at the STPI Creative Workshop and Gallery. Admission and guided tours by the curator and artist are free.