It's that time of the year when malls start playing tunes that bring out your patriotic self and we paint the town red and white – National Day is just around the corner! Aside from the iconic National Day Parade (NDP), tons of places are ramping it up to celebrate the nation's 58th birthday with exciting events for all, ranging from performances and arts and crafts to nostalgic, local food and games.
You can even get into the patriotic mood while on-the-go as Hear65 takes over more than 100 MRT stations and bus interchanges with their official NDP playlist, featuring unforgettable classics and anthems from recent years. Check out their playlist on Spotify here: https://www.youtube.com/watch?v=HpETQ9Kc4N0&t=165s
Get ready to bring on the Singapore spirit, Catch-style!
1. National Day Celebrations at the National Museum of Singapore


Look forward to an array of exciting activities, featuring iconic Singapore symbols, local talents, and captivating museum exhibitions. Image credit: National Museum of Singapore
For a lively celebration honouring our nation's history, traditions, and community spirit, the National Day Celebrations at the National Museum of Singapore is the perfect place for families and friends to be at. Enjoy thrilling performances, storytelling sessions, a scavenger hunt, and a live outdoor screening of the National Day Parade that gives off "picnic-under-the-stars" vibes. Foodies can enjoy cooking some fragrant chicken curry led by Austrian master baker Chef Franz, and learning the art of making traditional kopi, while the little ones and those young-at-heart get transported back in time with a selection of old-school and traditional games, and take part in an art jamming workshop on creating a colourful map of Singapore. Before the day ends, don't miss out on a stunning façade projection on the museum's buildings, bathed in colours and symbols that represent Singapore.
Step back into the history of Singapore with the National Day Celebrations at the National Museum from now until 10 August 2023.
2. Temasek Foundation Singapore Symphony Orchestra (SSO) National Day Concert 2023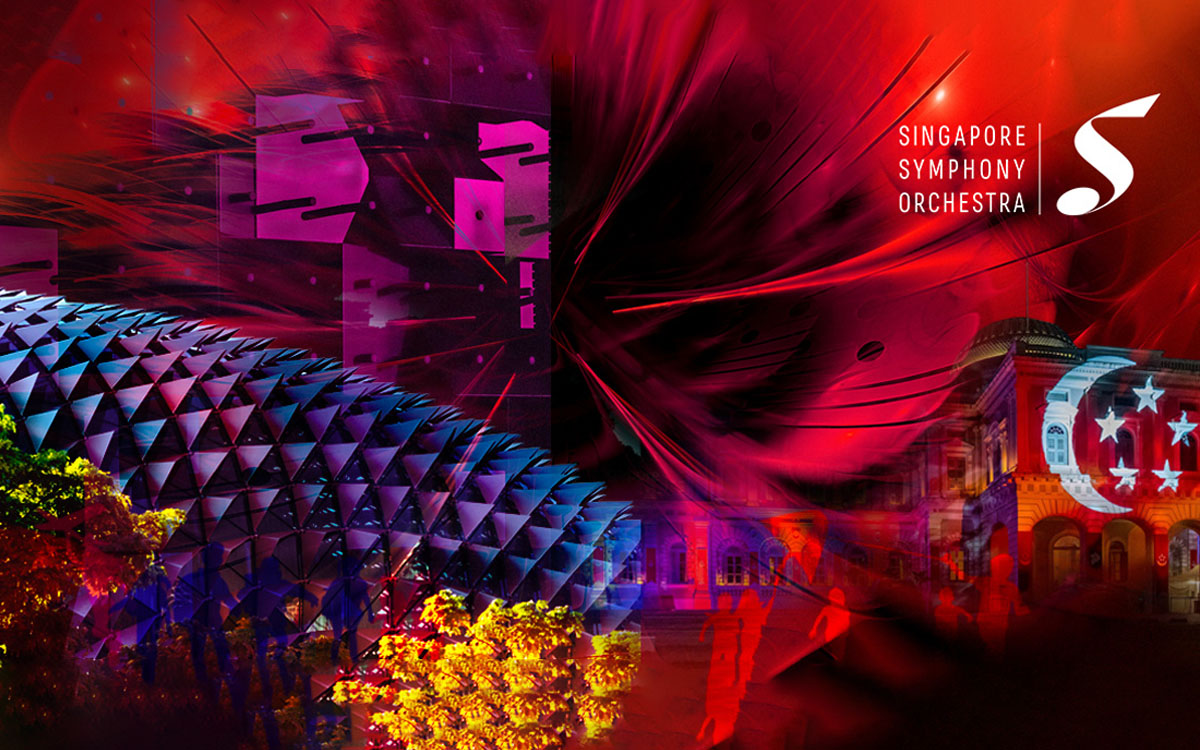 Be a part of Singapore's symphony with original and classic National Day-themed compositions. Image credit: Esplanade – Theatres on the Bay
Get ready to groove at the Temasek Foundation SSO National Day Concert 2023, now in its sixth year! It's a harmonious blend of Singaporean talent like you've never seen before. We're talking world premieres of new music by our very own Singaporean composers, specially commissioned by the SSO. Witness the birth of musical masterpieces like Mass Rapid City, Pasat Merdu, and Where That River Always Flows. But that's not all! SSO will also be reviving musical gems from Singapore's pioneer composers, taking you on a nostalgic journey with the Singaporean Folk Medley and The Road Ahead.
Here's a sneak preview on what you can expect from their 2022 concert:
Catch the Temasek Foundation Singapore Symphony Orchestra (SSO) National Day Concert 2023 on 13 August 2023 at 4pm at the Esplanade Concert Hall.
3. SAMily Funday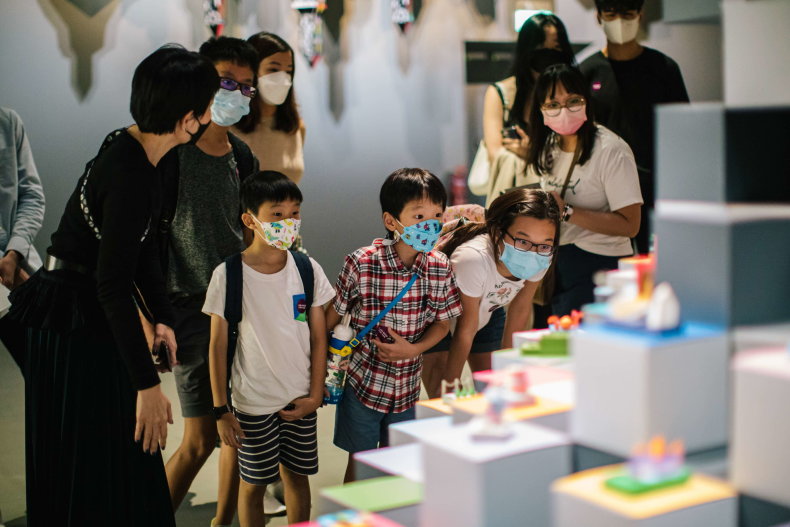 Bringing fun, creativity, and learning to you the National Day-style at Singapore Art Museum. Image credit: Singapore Art Museum
The Singapore Art Museum (SAM) calls for an exciting family day out this National Day season with SAMily Funday! Ignite the creative spirits of your young ones through fun, artsy workshops such as "
This Little Red Dot…" that celebrates 60 years of greening and conservation efforts in Singapore through illustrations using a specially created template, and designing your mini batik masterpiece that draws inspiration from Khairulddin Wahab's captivating Landscape Palimpsest featured in SAM Contemporaries: Residues & Remixes. That's not all; enjoy captivating performances and fascinating curator exhibition tours, suitable for all ages, such as Hito Steyerl: Factory of the Sun and Lila: Unending Play by Jane Lee.
Spend quality time with your family with SAMily Funday on 5 August 2023 from 1pm to 5pm at the Singapore Art Museum.
4. 17th National Day Sing-Along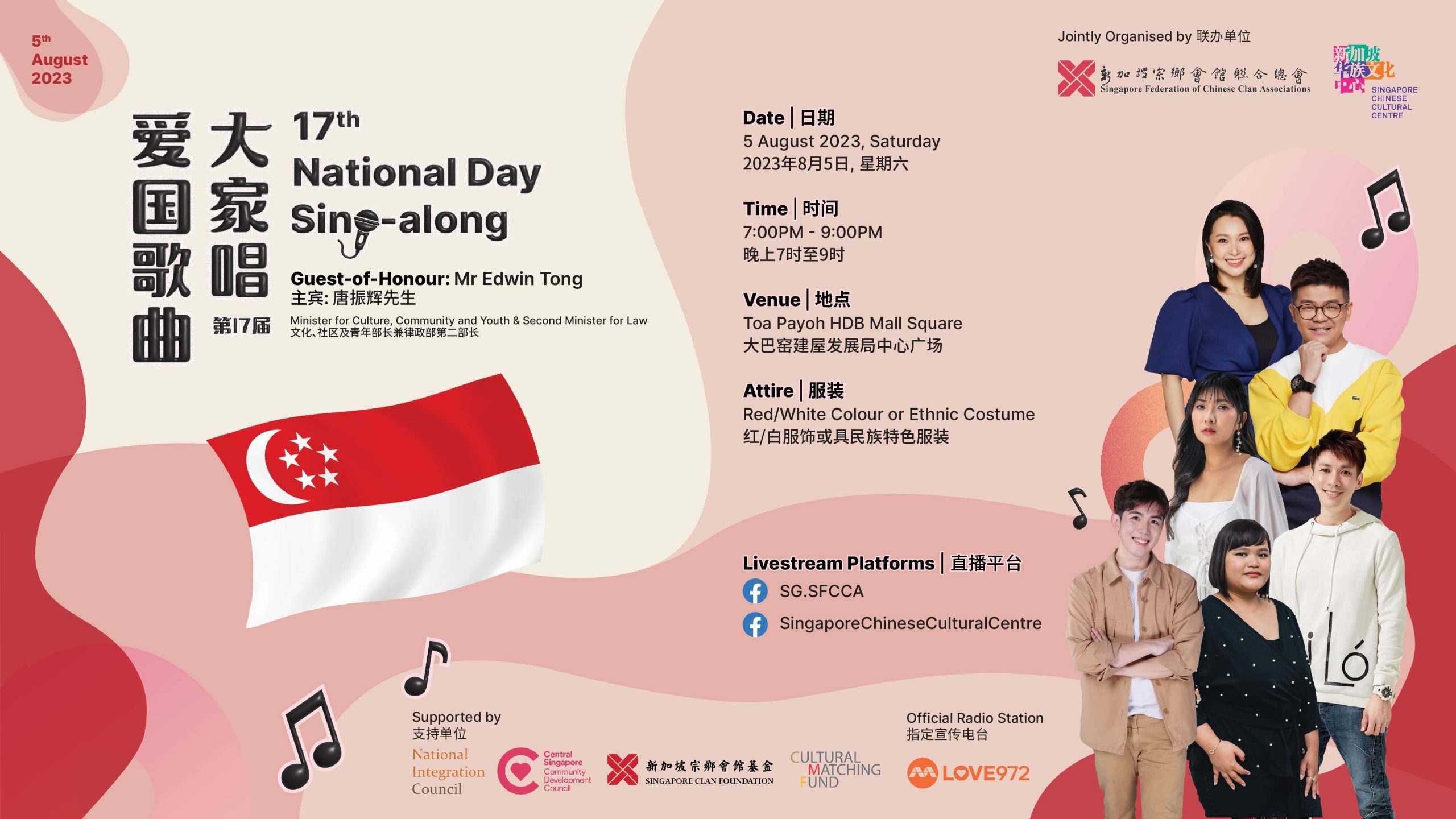 Jam along to popular National Day tunes with a star-studded lineup of accomplished musicians. Image credit: Singapore Chinese Cultural Centre
Are you ready to rock the 58th year of independence at the 17th National Day Sing-Along? The Singapore Federation of Chinese Clan Associations (SFCCA) and Singapore Chinese Cultural Centre (SCCC), along with Ocean Butterfly Music, are joining forces to make this a national pride extravaganza. Kicking the festivities off is The A Cappella Society's Children's Pop Choir & Youth Voices with moving renditions of our beloved National Day songs. Led by Mediacorp LOVE 972 DJ Chua Leelian and Mediacorp YES 933 DJ Zhong Kun Hua as the resident hosts for the day, local music legends like Yokez 叶玉棂, Elton Lee, Morgan Law, and Yohannis Kasmani from SG:SW I Write My Song will be coming to you with crowd-favourite tunes. And to get into the full festive vibe, come decked out in red, white, or ethnic wear, and let's embrace our unity in diversity as the Little Red Dot.
Get your karaoke on at the 17th National Day Sing-Along on 5 August 2023 from 7pm to 9pm at the Toa Payoh HDB Hub Mall Square.
5. Gardens by the Bay and Mediacorp National Day Concert 2023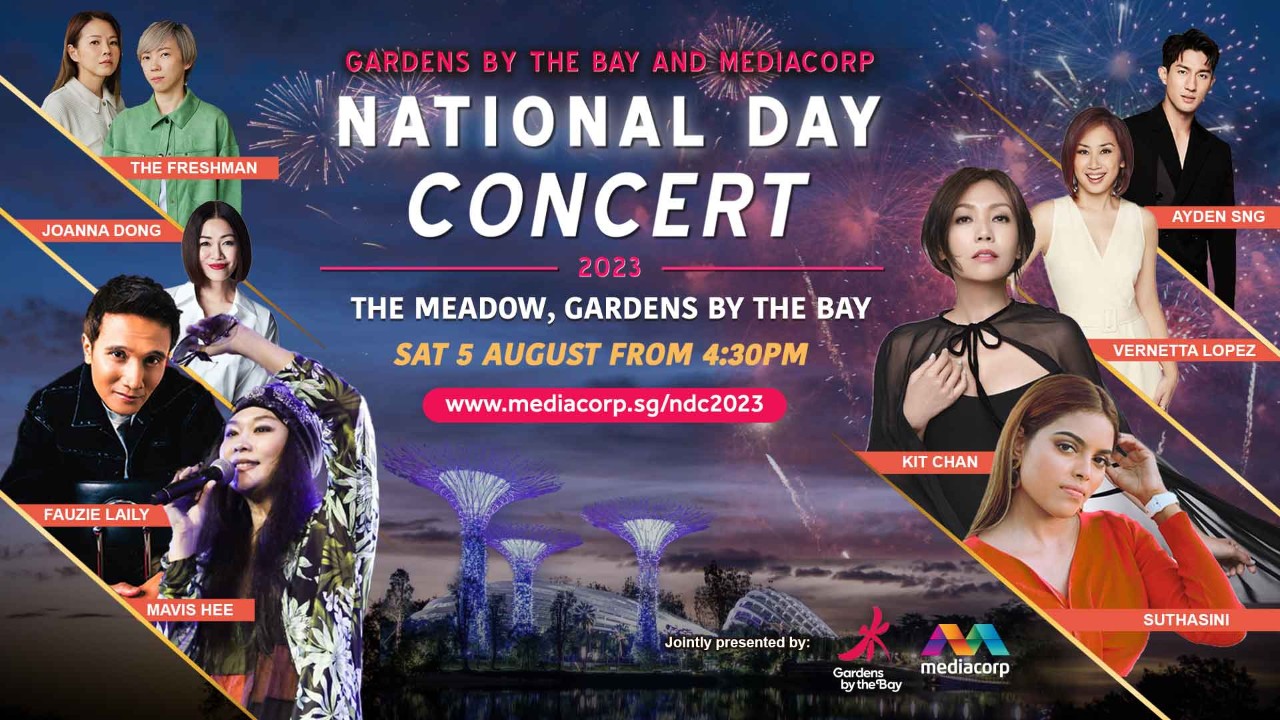 Celebrate Singapore's 58th birthday with home-grown stars, thrilling performances, and a dazzling fireworks display. Image credit: Gardens by the Bay
You're in for a full-fledged day of fun at this all-things-local extravaganza featuring exhilarating performances, fun-filled carnival activities, and heritage goodies. The fifth edition of the Gardens by the Bay and Mediacorp National Day Concert 2023 is a true celebration of all things local, leading up to exhilarating performances performed by an amazing lineup of home-grown stars. Hosted by DJ Vernetta Lopez and Fauzie Laily, get ready for some soulful performances that includes Mavis Hee's mesmerising ballads, Suthasini Rajendran's electrifying live performance of her viral Tamil National Day song Nam Singapore and Kit Chan's 25th-anniversary rendition of Home. The night ends with a literal bang through a spectacular fireworks display over The Meadow that will leave you completely awestruck.
The Gardens by the Bay and Mediacorp National Day Concert 2023 will be held on 5 August 2023 from 4.30pm to 9pm at The Meadow.
There's no place like home to discover exciting National Day events
In the true spirit of National Day, there's something for everyone when it comes to celebrating such a monumental occasion that pays homage to history, tradition, and everything that Singapore stands for. Make this National Day one to remember as you join in the festivities with your friends and family, because this is home, truly.
Top image: NDPeeps