Since 2017, the Gallery Children's Biennale at National Gallery Singapore (NGS) has been sprinkling artistic magic on young minds. This year's theme, Let's Make A Better Place, sparks joy with 11 immersive artworks by global artists, championing values like care, respect, imagination, and teamwork. An imaginative playground for all ages with digital and on-site adventures, let's explore these interactive onsite installations at the Gallery Children's Biennale 2023!
1. Can you see the forest for the trees? by Izziyana Suhaimi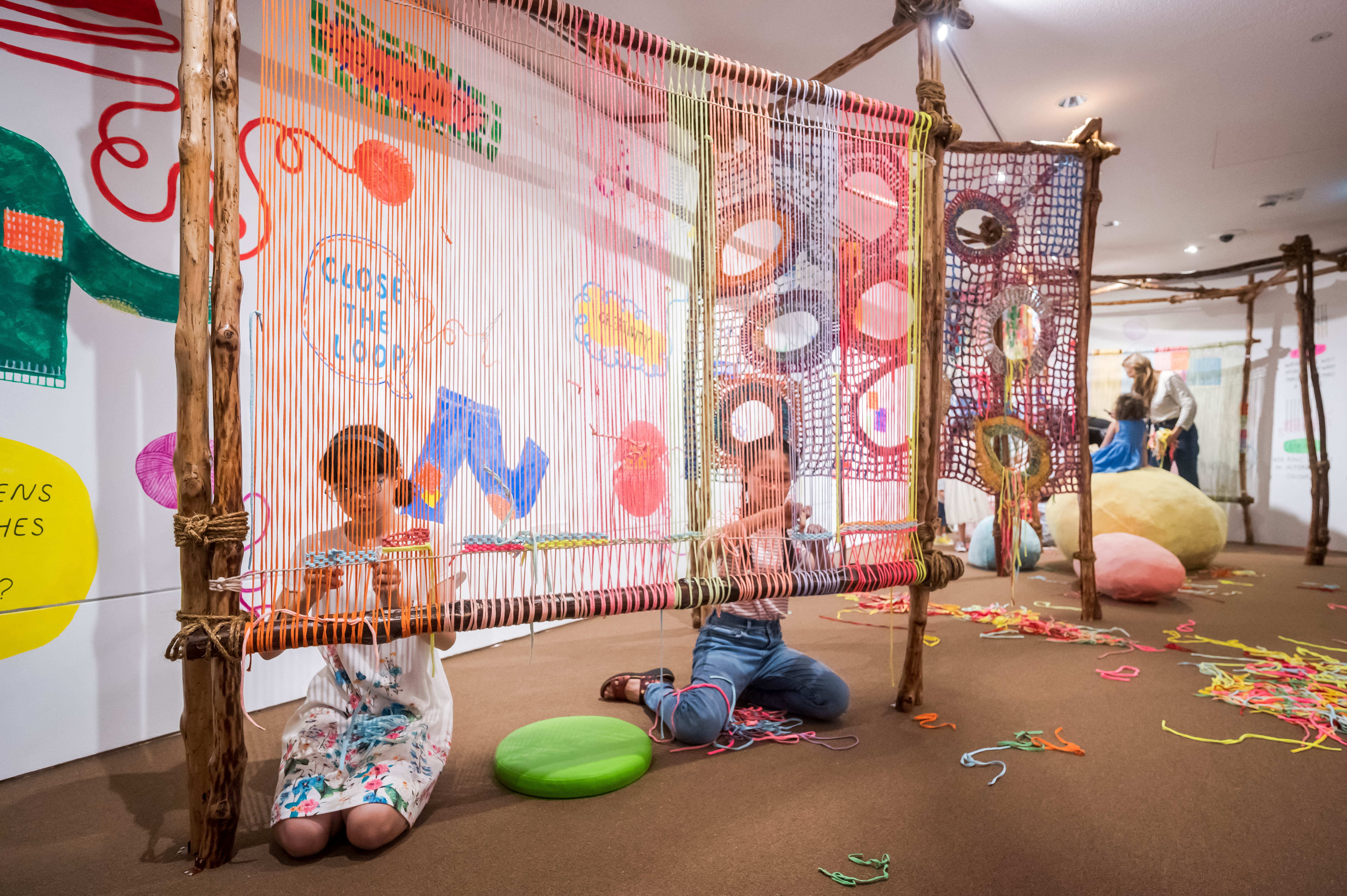 "One of the key takeaway points I would like the audience to take is that everybody has a role to play, however small, and we all contribute to the larger picture."
One man's trash is another man's treasure; textile artist Izziyana Suhaimi conveys that beautifully by bringing embroidery to life through colourful creations stitched from rescued textiles and recycled materials that have been saved a trip to our ever-growing landfill. Through these woven works of art, she teaches children to care for the environment by turning waste into treasure trove-worthy masterpieces.
Can you see the forest for the trees? Is located at the City Hall Wing, Level B1, The Ngee Ann Kongsi Auditorium Anteroom.
2. Foundation Wave by Kumi Yamashita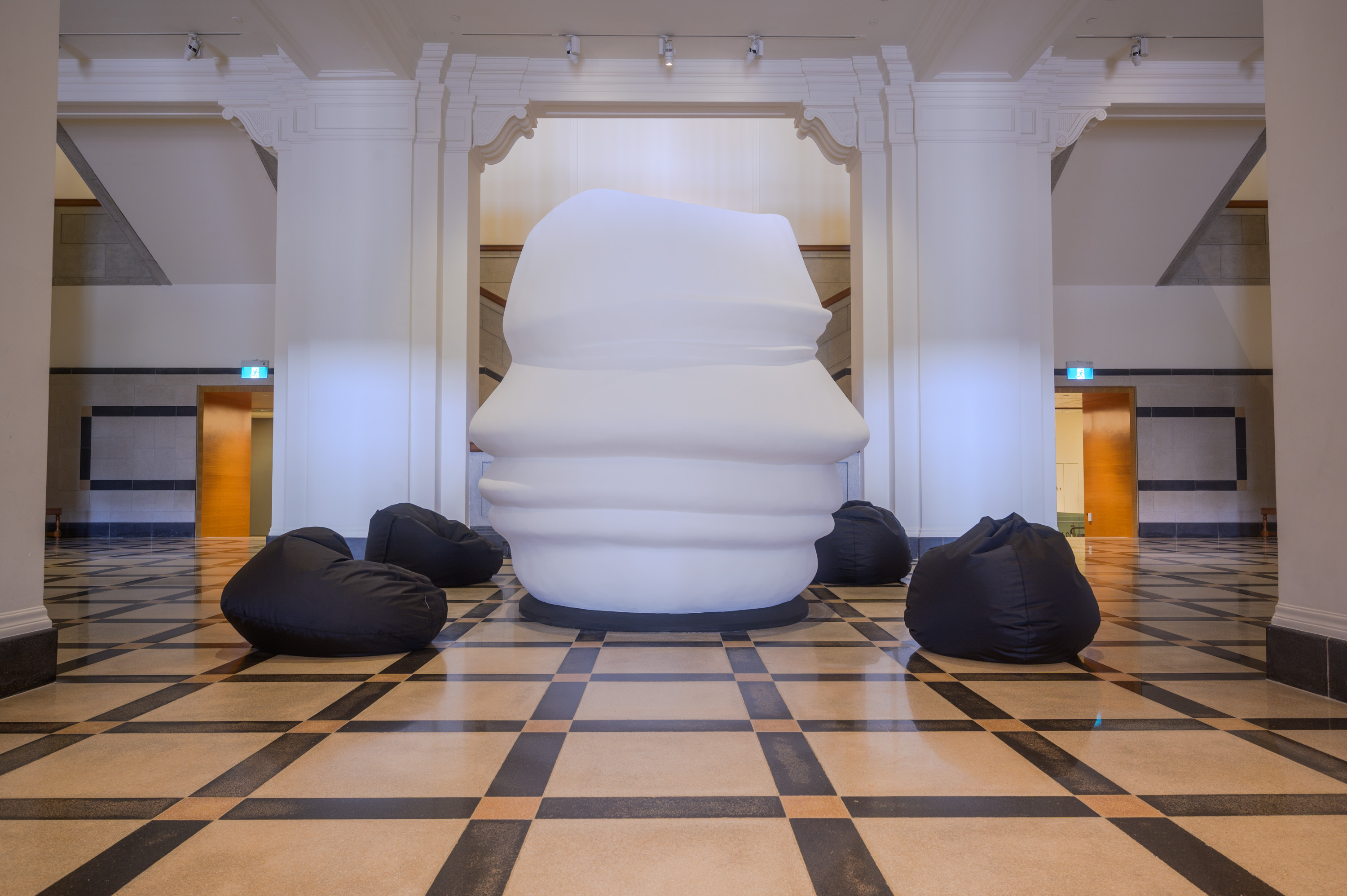 "Kindness is an imagination because you can imagine how other people feel."
Sometimes the hustle gets tough and it's easy to lose sight of the people around you. Kumi Yamashita's Foundation Wave is inspired by her personal stroll down memory lane into a whimsical world she dreamt of as a child—a world teeming with new connections, foreign sights, scents, and sounds. This artwork unfolds in two acts: a striking central sculpture and a gallery of portraits showcasing intriguing folks she encountered on her journeys. On top of that, you can hear the collective heartbeat of fellow visitors and even record and play the sound of your own heartbeat!
Foundation Wave is located at the Supreme Court Wing, Level 1, Supreme Court Foyer & Corridor (Opposite Odette).
3. I Love You by Arahmaiani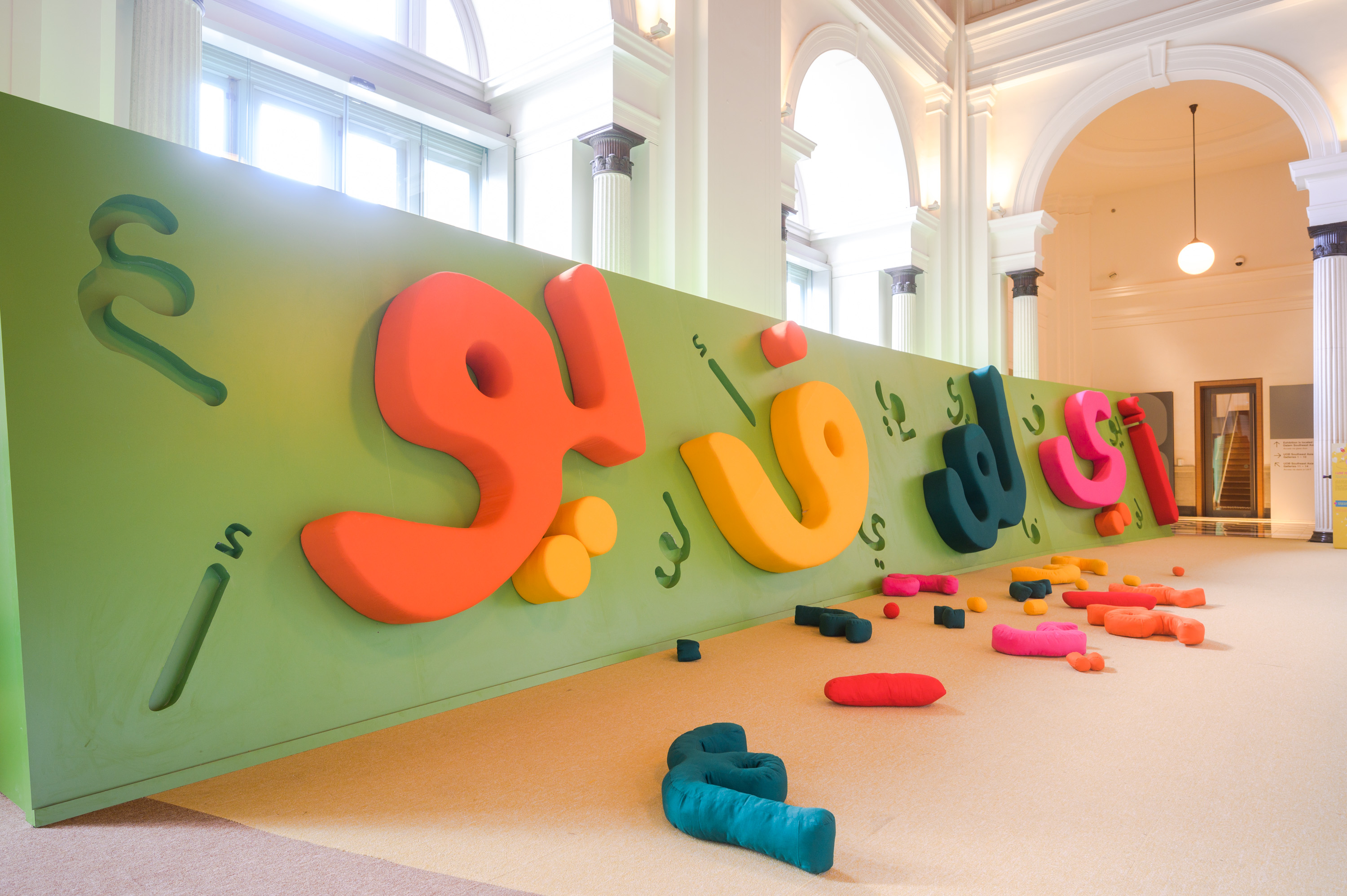 "Because love is something that is both beautiful and gentle."
Hailing from Indonesia, Arahmaiani thrives on crafting thought-provoking wonders that nudge folks to ponder their very existence and the world surrounding them. And what better phrase to do a deep-dive into than the universal words "I love you"? These soft sculptures are made with fabric and cotton, and have taken those three words and woven them in Jawi, a script that once breathed life into the Malay language. It beckons you to ponder, how do you express your love to those in your life?
I Love You is located at the Supreme Court Wing, Level 3, Supreme Court Foyer.
4. The Magic Forest by International Museum of Children's Art
"Art means telling stories."
An exhibition created by children, for children – it doesn't get more poetic than that. The International Museum of Children's Art from Oslo's mission is to be the collectors of children's art from the far reaches of our world and preserve these precious creations for generations to come! These pint-sized Picassos not only conjure up trees, animals, birds and their favourite games on paper, but they also sketch out themselves, their family, friends and their hopes and dreams. So, put on your explorer's hat and step into a whimsical forest woven from drawings, paintings, and activities!
The Magic Forest is located at the City Hall Wing, Level 1, Opposite Keppel Centre for Art Education.
5. Tide by Wang Ruobing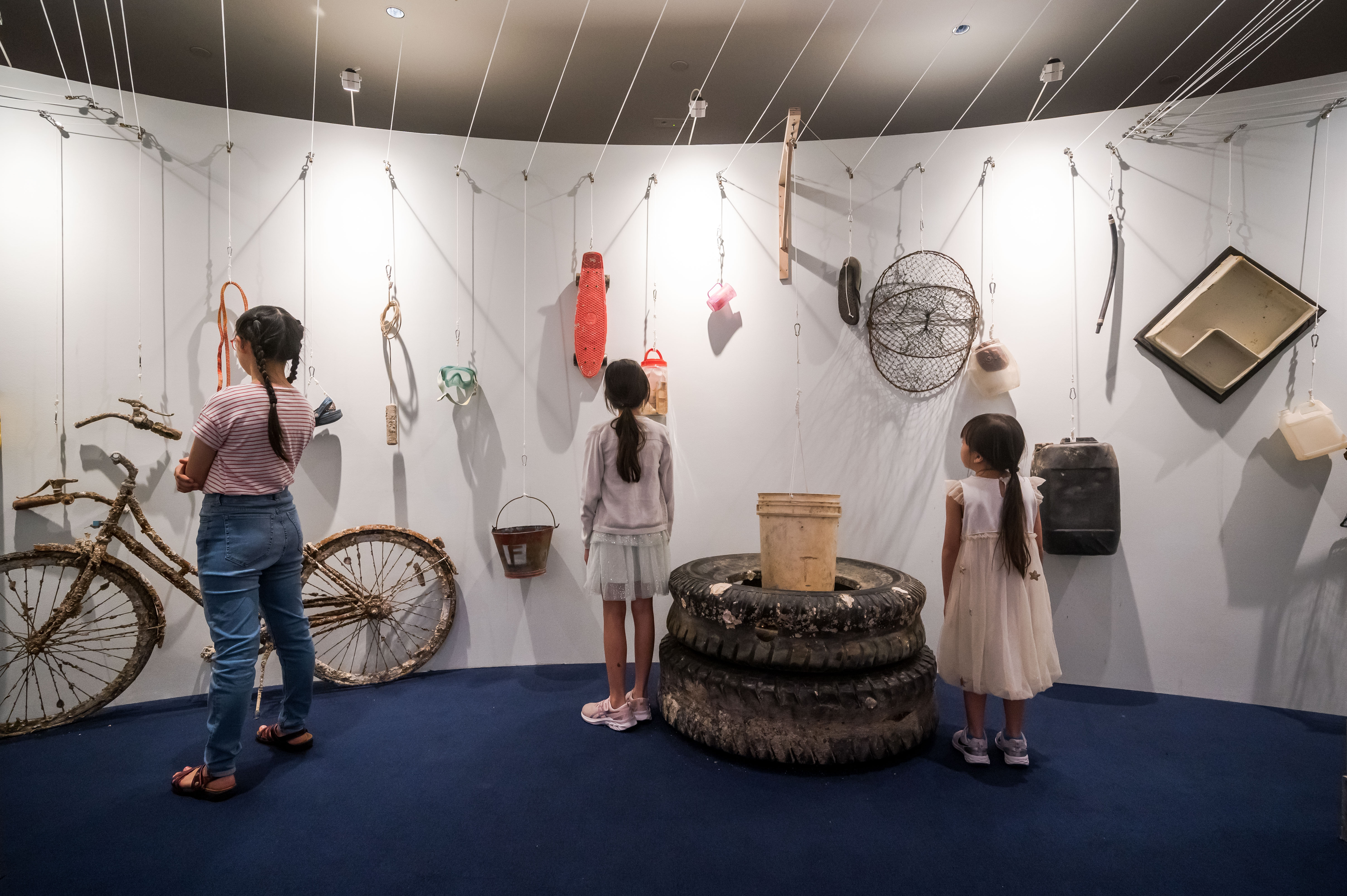 "Every one of us contribute(s) a part in building a sustainable environment to meet our needs but also without compromising the needs of our future generation."
As someone smitten with the ocean, Singaporean artist, art curator and educator Wang Ruobing dreams of a day when our oceans are pristine and secure from plastic bottles and broken wheels. This artwork is her battle horn, rallying all to combat pollution and its devastating toll on our world through an immersive kinetic installation. With one press of the button beside the circular contraption, it transports you into the midst of the ocean through its simulation of moving waves, while surrounded by debris. It's an entire experience that drives home the message of how everyone plays a part in keeping our oceans clean, no matter how big or small.
Tide is located at the City Hall Wing, Level 1, City Hall Foyer.
6. When I Am With You by Ly Yeow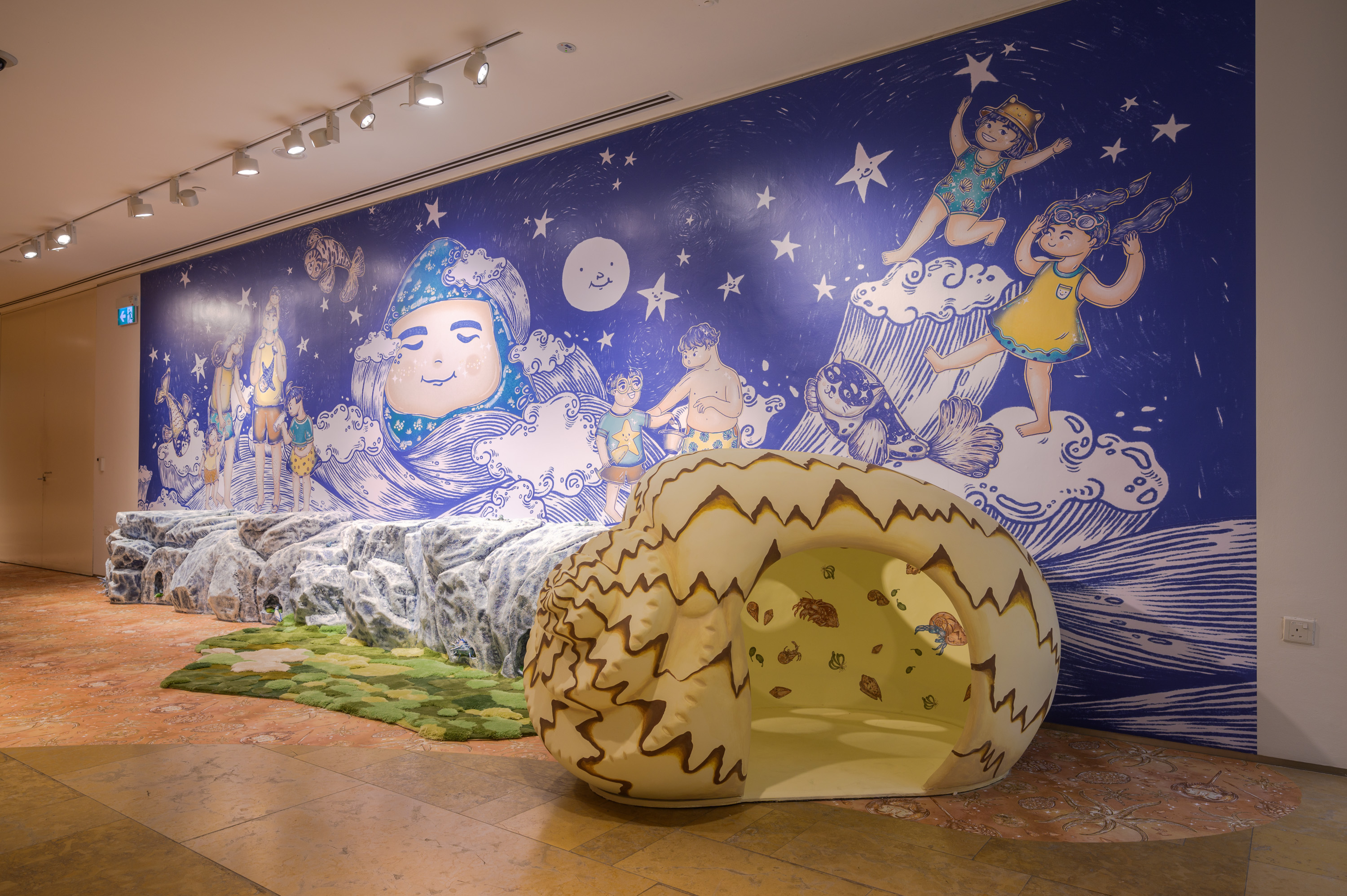 "It is such a beautiful thing to really enjoy the process and to be open to trying."
Artist-educator Ly Yeow possesses an insatiable romance with the ocean and weaves all her favourite things about the ocean into a tapestry of imagination in When I Am With You. Featuring all sorts of incredible wildlife found in the sea's intertidal realms, her hope is that children will appreciate and respect the beauty of the vast ocean and its inhabitants. Not only is it beautiful and invokes a child-like sense of wonder, children will also have a ball of a time trying to spot as many of the wildlife woven into Ly Yeow's art.
When I Am With You is located at the Supreme Court Wing, Level 1, Padang Atrium.
7. Compound by Tawatchai Puntusawasdi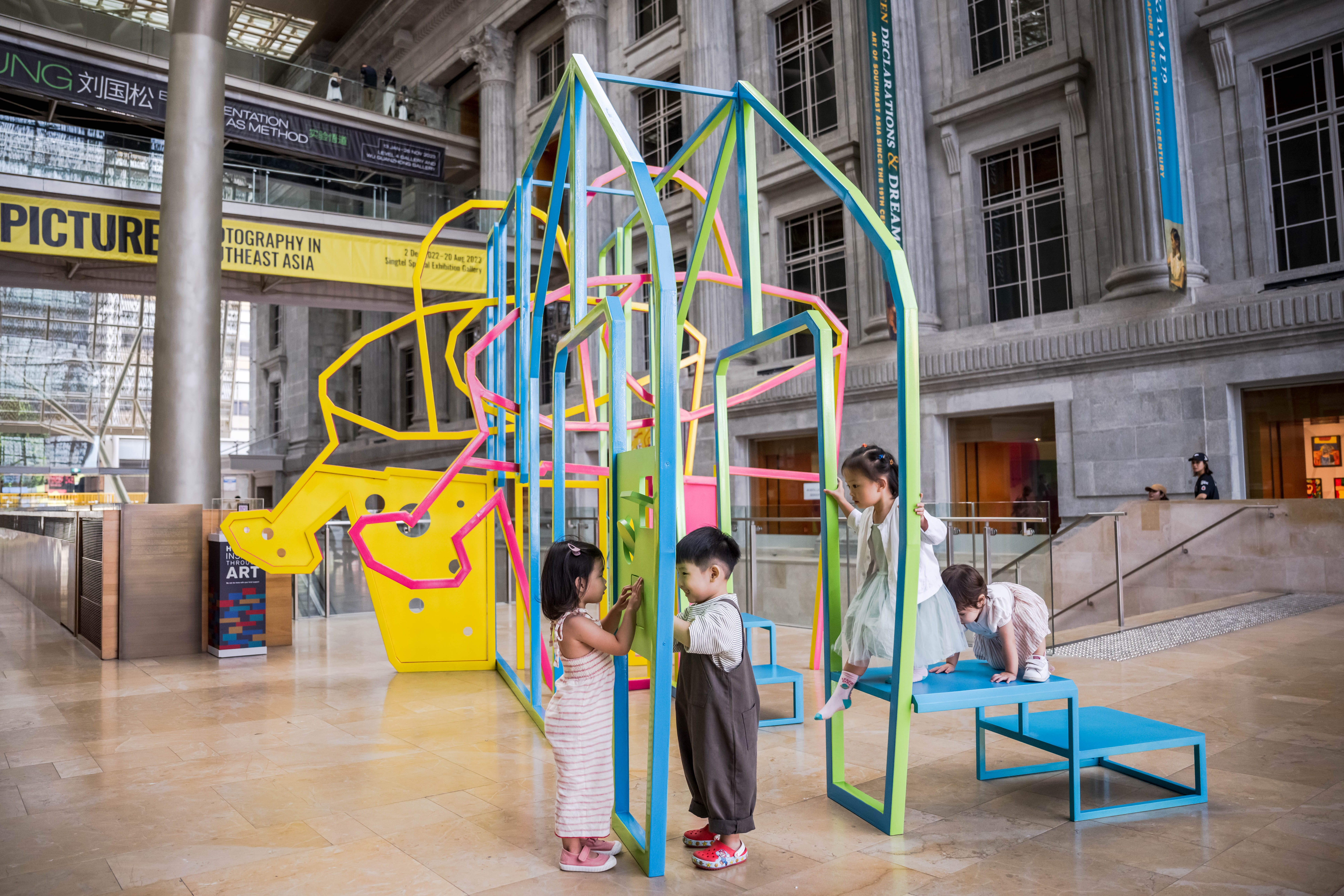 "Observation can bring about our inspiration to create artwork."
Often fascinated by the artistry of children, Thai artist Tawatchai Puntusawasdi looks at how they perceive and draw their worlds, and wields the tools of maths and geometry to construct sculptures that tantalise the senses, blurring the lines between reality and the fantastical.The title of this artwork is a nod to the kaleidoscope of shapes it conceals within. As you walk around this impressive structure, dance with the colours, patterns, and lines that weave its story.
Compound is located at Level 1, Padang Atrium.
8. We Move This City by Chiang Yu Xiang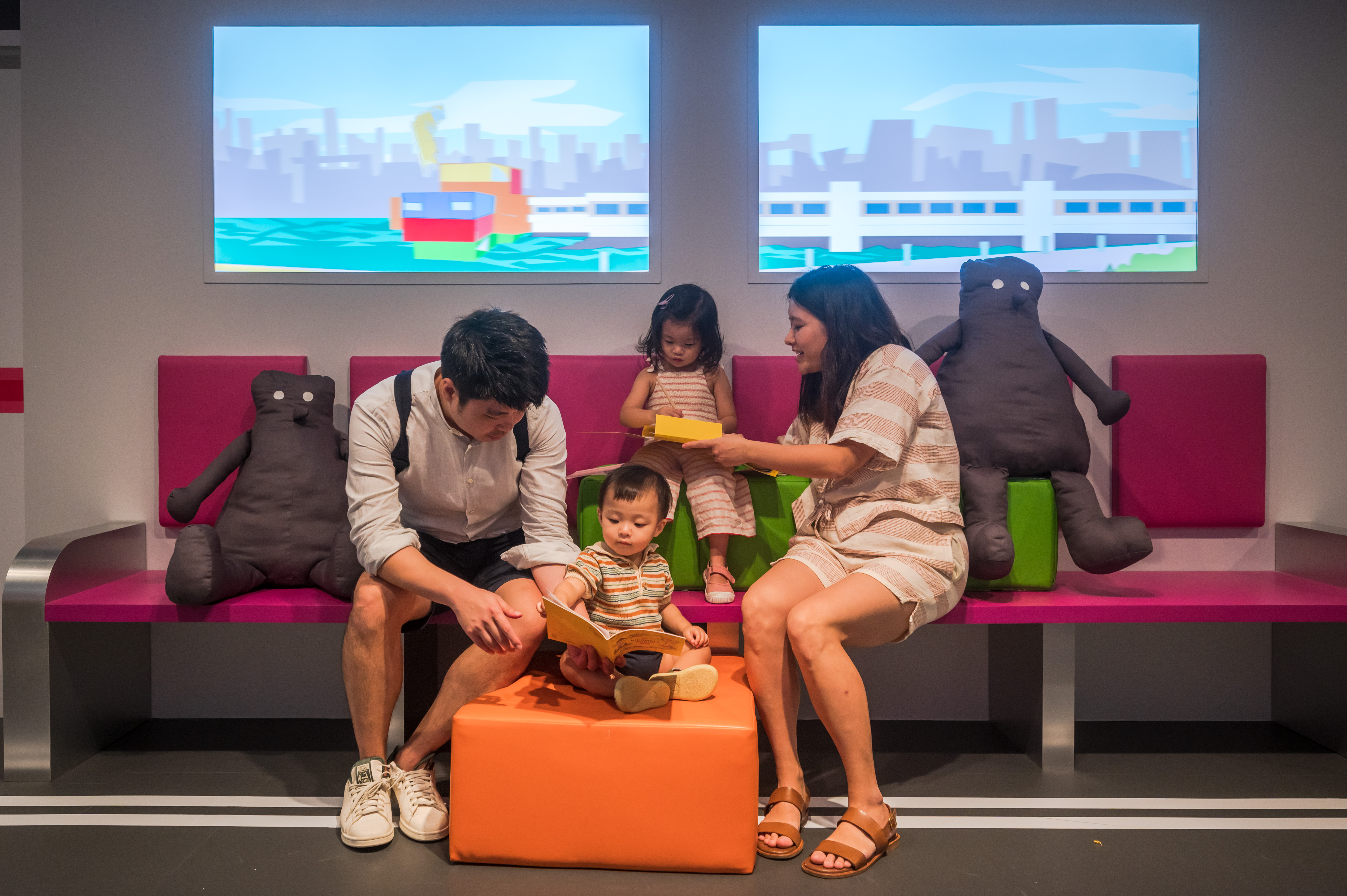 "I hope everyone gets to have fun building things, imagining how different building blocks would actually fit together to form a greater whole, forming a narrative about how this vehicle is supposed to take you through the world."
Librarian by day, illustrator by night. Singaporean artist Chiang Yu Xiang's soft spot for felt has led to the creation of whimsical felt murals of four fictional train stations woven into the tapestry of his artwork. Awaken your inner artistic builder by using the vibrant blocks to craft your own fantastical vehicles or hop aboard the futuristic MRT cabin. This artwork is also toddler-friendly and the perfect place to ignite the collective imagination of you and your young ones.
We Move This City is located at the City Hall Wing, Level 1, City Hall Foyer.
9. HUTAN by LittleCr3atures® x Jevon Chandra x Lynette Quek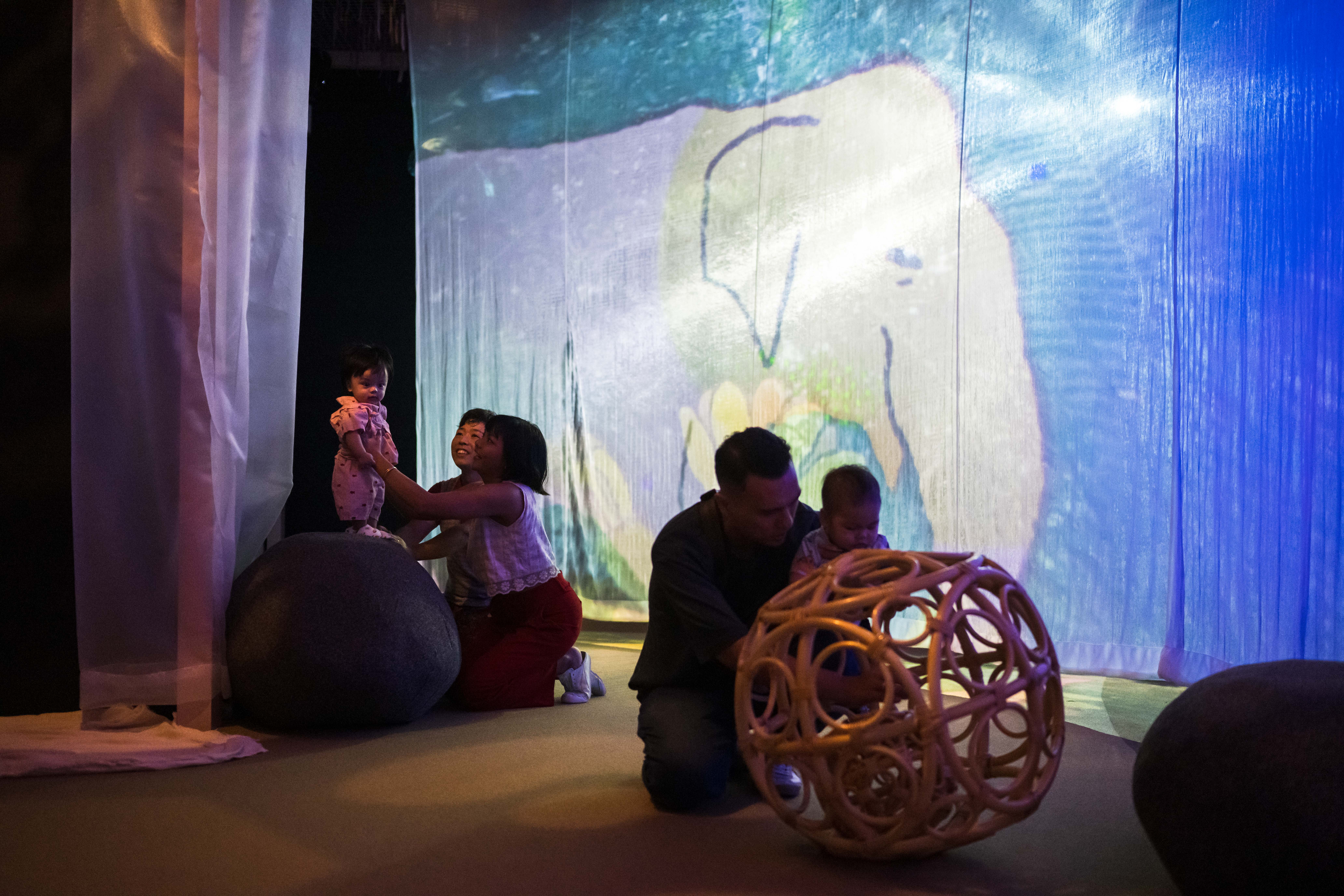 "I think HUTAN is an opportunity to kind of collaborate with the space, collaborate with our work, to just be in the space and exist in that very moment."
Created by a collective of three artists, HUTAN is a combination of what they each enjoy the most: creating safe spaces for the little ones to experience sounds, making art about love and hope, and blending art and technology. Step into an enchanted realm where sound paints the canvas of your imagination. It's not just a forest, it's a symphony of tales from you, those around you, and those before you. Slow your pace, soak in the moments, and let yourself truly immerse in the world around you.
HUTAN is located at the Supreme Court Wing, Level B1, Koh Seow Chuan Concourse Gallery.
10. SAMA-SAMA (together) by Fadilah Karim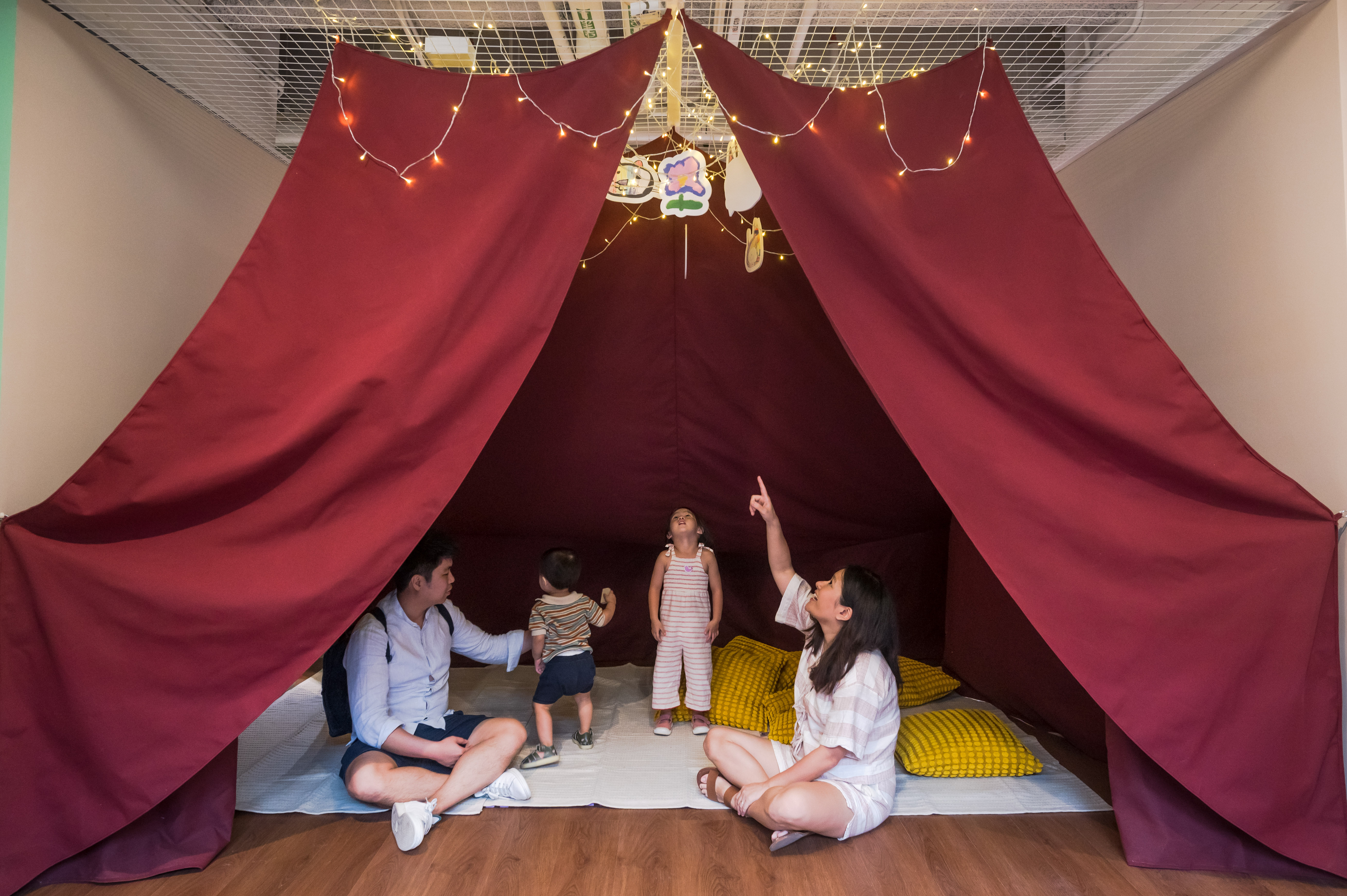 "'A better place'; to me, it is a safe place, free from anything negative."
As an artist and a mother, Fadilah Karim often sees her daughter, Aira, as her muse and paints priceless treasures of everyday moments shared with her. SAMA-SAMA, which means "together" in Malay) is the latest continuation to a series of her previous paintings: The Fort, Invading Territory and Sticker Book. This newest translation of her former works is a vibrant medley inspired by her studio and home escapades with Aira. SAMA-SAMA invites you to create your art with your family in this space and thereby create new memories that you can share with each other as well.
SAMA-SAMA (together) is located at the City Hall Wing, Level 1, Opposite Keppel Centre for Art Education.
A world of creativity and imagination awaits at the Gallery Children's Biennale 2023
With 11 interactive art installations to explore, we'd say that calls for a full day's worth of stimulating your child's creativity.
What's more, you can elevate their Gallery Children's Biennale adventure with the Art Pack! Inside each pack, you'll find a collection of illustrated activity cards, each one inspired by this year's artworks. And guess what? All this creative goodness can be yours for just $5!
What are you waiting for? Get ready to take you and your family on an art-venture at the Gallery Children's Biennale 2023!
Gallery Children's Biennale 2023 runs from now until 31 March 2024 at National Gallery Singapore. Opening hours are from 10am to 7pm daily. Admission is free.
All images are credited to National Gallery Singapore.