Planning for the perfect day out but racking your brains for what's on the agenda? We know it takes a little bit of research but don't you be thinking that there's "nothing to do in Singapore" because we're here to debunk that!
What's more, we've done the legwork for you! Whether you're looking for quirky date ideas, weekend plans with the squad, or a day spent with the family, Catch is here to cover that with eight exciting weeks of fun-filled arts and culture events.
Introducing our Curated Itineraries
From September to early November, you can look forward to 8 special itinerary themes with two different routes to choose from that will be released weekly.
Each route will comprise of five key elements that will take you on a whole journey dedicated to the world of arts and culture; enjoy two main events that range from gorgeous museum exhibitions and hands-on workshops to enchanting dance performances, concerts of both the soothing and dance-worthy variety, and rousing theatre performances to keep you on the edge of your seats.
Tuck into delicious meals at fantastic restaurants that come with exclusive perks in your itinerary, along with a must-visit pit stop that will have you appreciating Singapore's vibrant arts and culture scene.
Play the part of The Main Character through these arts and culture events from 26 October to 12 November 2023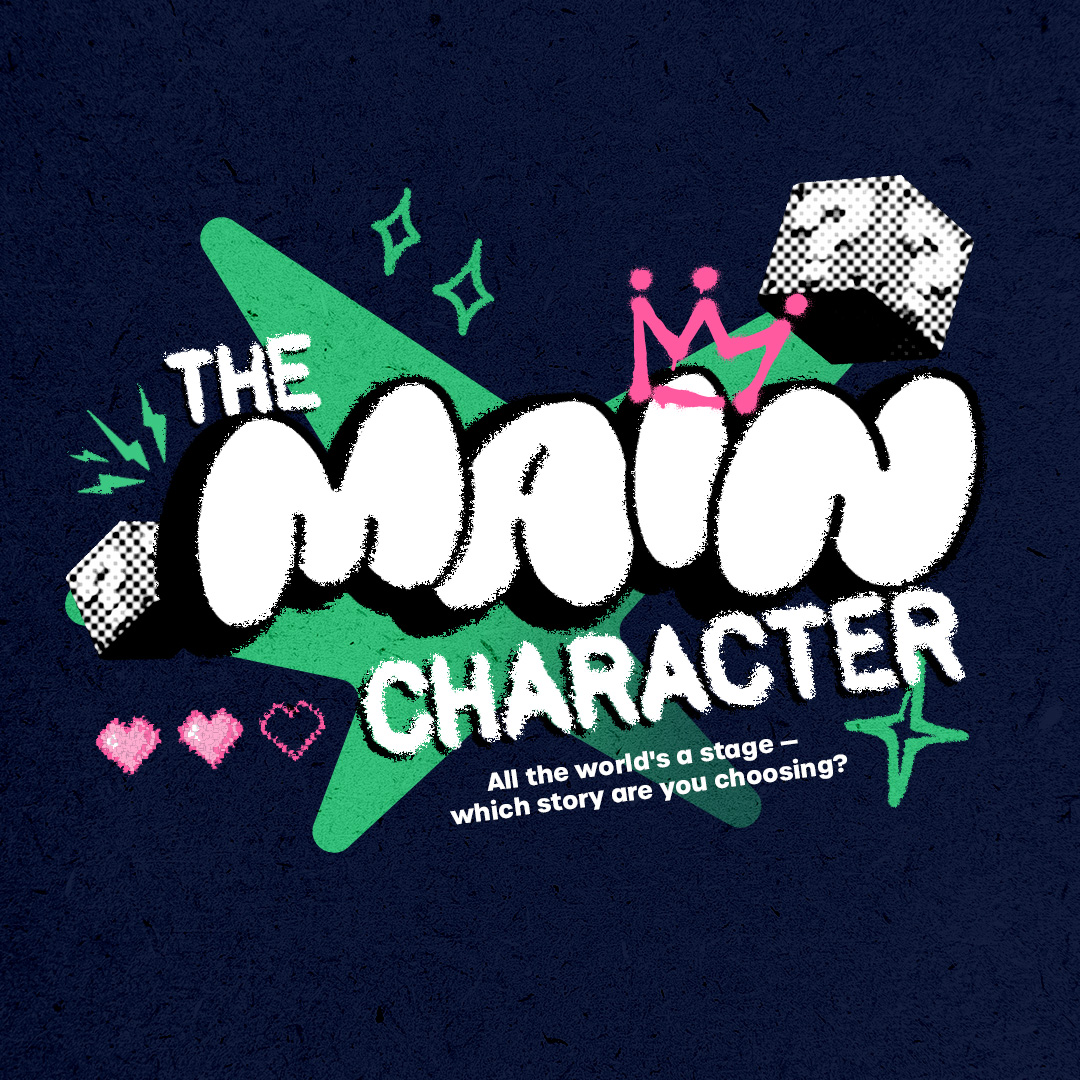 Main character vibes indeed–jump into whole new worlds with The Main Character!
All good things must come to an end and this week marks the last of our Curated Itineraries. To finish things off with a bang, The Main Character brings two exciting routes with stories unfolding in each event that give off main character vibes. Available from 26 October to 12 November 2023, this one's for those looking to fully immerse yourselves in tales as old as time (and some with surprising new twists!).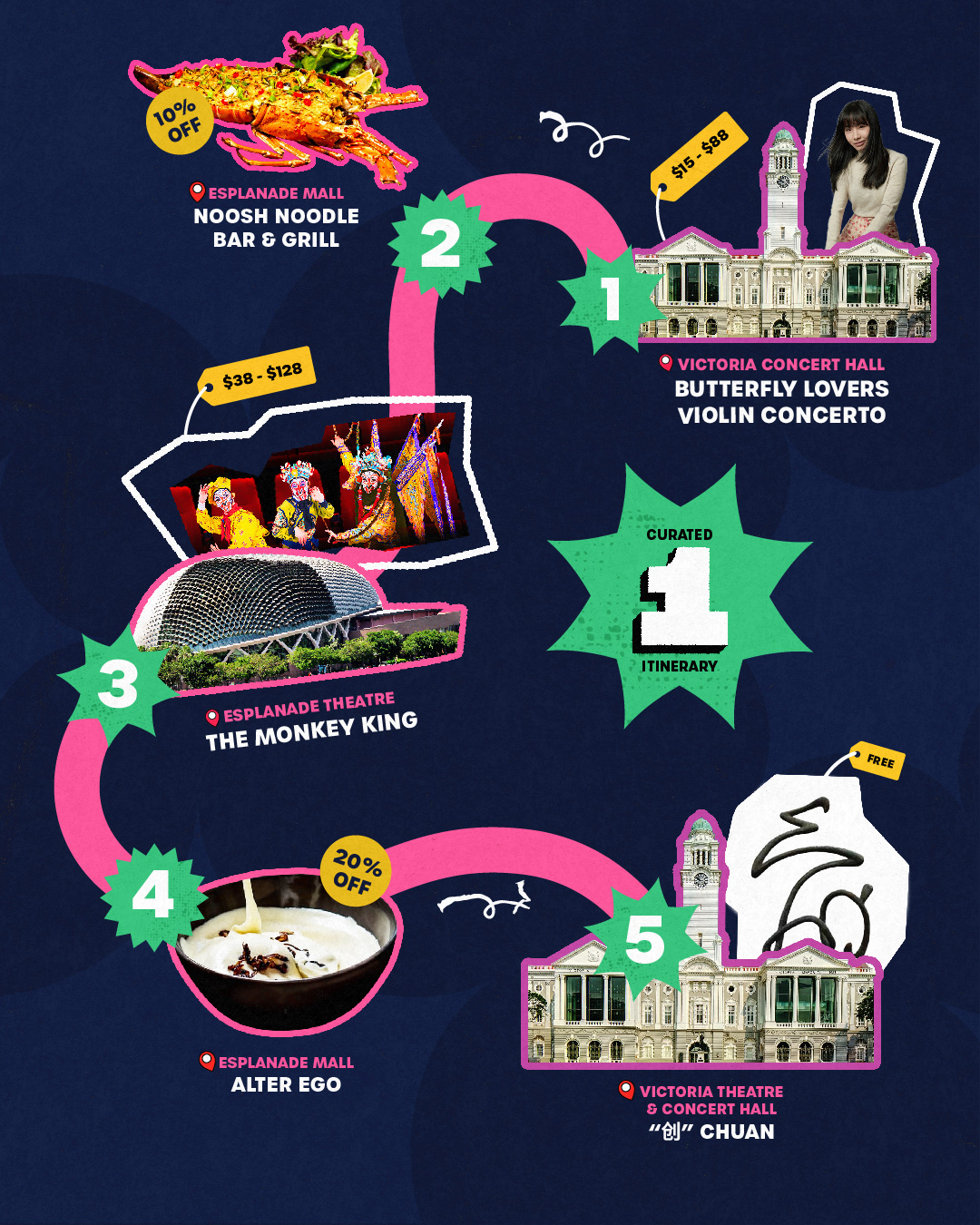 Folklore passed down through generations stays alive in Route 1.
Are you ready to step back into fictional worlds of the past? Route 1 features a line-up of events that will whisk you back to centuries past in their full mythic glory. Amp up the romance factor with the Butterfly Lovers Violin Concerto (10 to 11 November 2023), a 20th-century masterpiece inspired by the timeless Chinese legend of star-crossed lovers brought to life by Singapore Symphony Artist-In-Residence Chloe Chua alongside the Singapore Symphony Orchestra. Switch things up with The Monkey King (10 to 11 November 2023) for a fusion of authentic Chinese opera and cutting-edge theatre, featuring top-notch actors showcasing kung-fu skills and humour. Wrap up your journey outside the Victoria Theatre & Concert Hall for a gander at the majestic calligraphic sculpture "创" Chuan.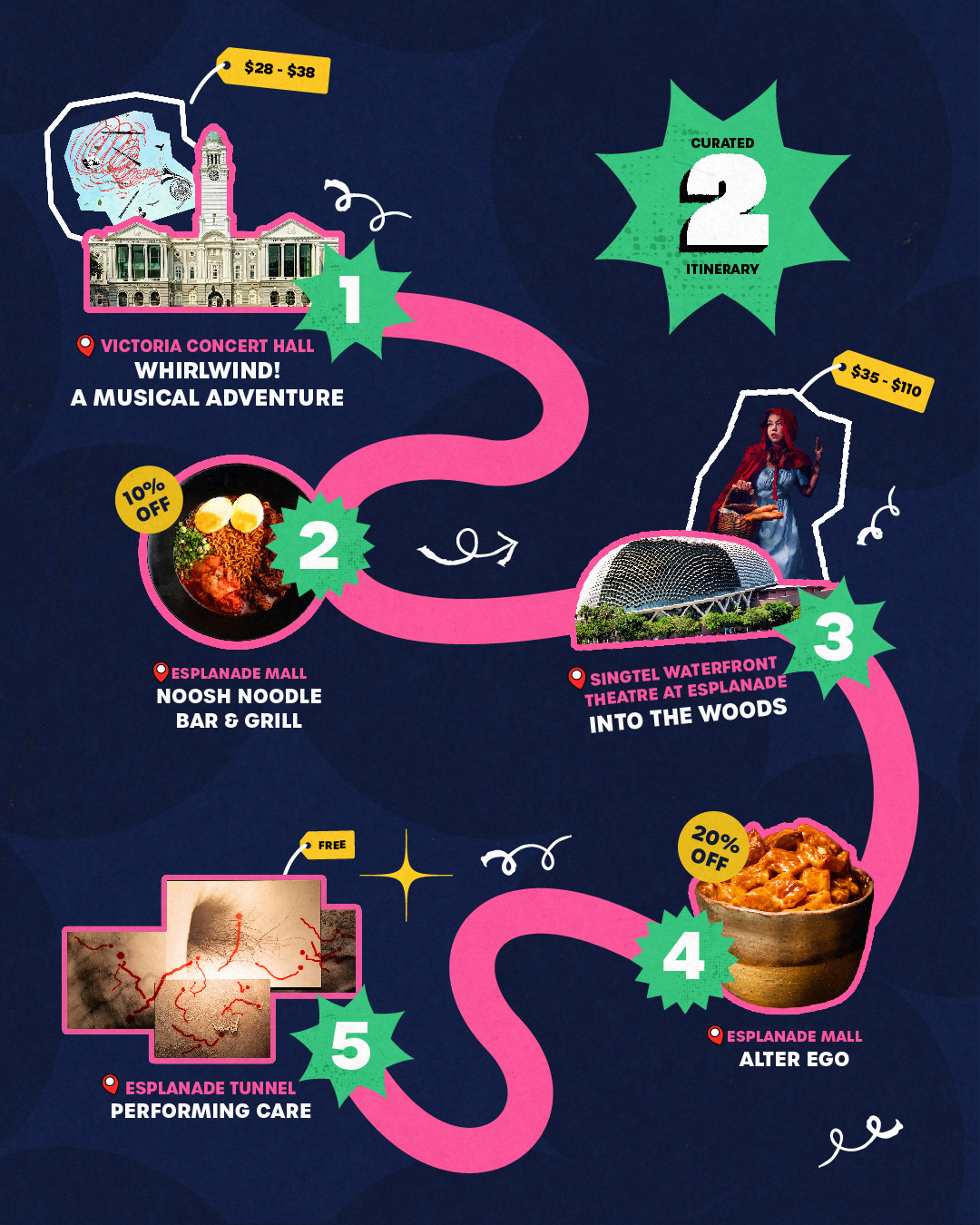 Route 2 is the answer to a fun-filled family day out.
For those who prefer wild and wacky twists to beloved classics, Route 2's for you. Hop into WhirlWIND! A Musical Adventure (12 November 2023) for a whimsical night of chamber music with a touch of French charm and two works of Mozart's musical mischief before letting Prokofiev's dramatic ballet sparks fly in a wind octet arrangement of Romeo & Juliet. Next, step into a fantastical multiverse where iconic fairy-tale characters like The Witch, The Wolf, and more cause delightful chaos in Pangdemonium's Into The Woods (1 to 12 November 2023). On your final stop, catch a glimpse of Performing Care at the Esplanade tunnel, a captivating video triptych exploring the art of care, resisting societal pressures, and the imagining of embodied movements as tools for empathic understandings of care.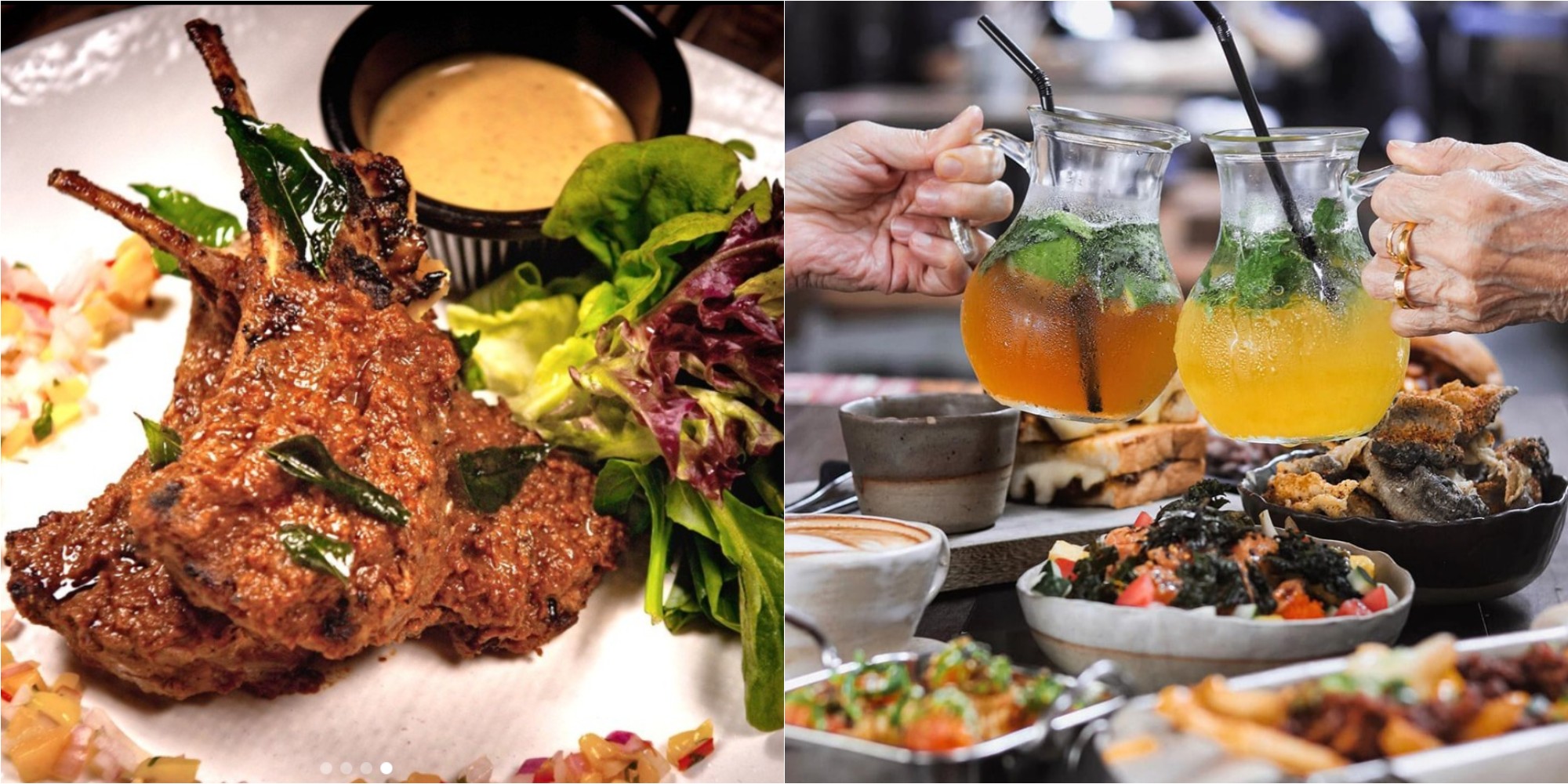 Perk yourselves up with fantastic deals at Noosh Noodle Bar & Grill and Alter Ego! Image credit: Noosh Noodle Bar & Grill and Alter Ego
Feeling hungry? Both routes offer great perks at two dining options that will have you fuelled up for the day. Indulge in a delectable fusion of Asian and Western cuisine at halal restaurant Noosh Noodle Bar & Grill at Esplanade – Theatres on the Bay. For a gastronomic feast of grilled meats, pasta, pizzas, and more, Alter Ego serves up quite a feast that will leave you in a satisfying food coma.
How to Catch these Curated Itineraries with 5 easy steps
Sign up as a Catch member on our website.

Pick your chosen itinerary through a special Curated Itineraries email sent to you upon registration.

Pop back over to catch.sg to book your tickets.

Upon receiving email confirmation on the success of your itinerary, embark on a journey that you'll never forget.

To claim your exclusive dining perks, flash your booking confirmation* upon payment.
*Dining perks at Esplanade – Theatres on the Bay would require flashing your Curated Itineraries email and Catch member profile page.
So much to do, so little time! The itinerary will only run until 12 November 2023 so be sure to tag us on Instagram (@catchsingapore) and TikTok (@catch.sg) to share how much you've enjoyed these Curated Itineraries. Keep your eyes peeled to see more exciting things Catch has in store for you (and we just might bring brand-new Curated Itineraries in the future). Until then, it's time to embark on The Main Character!