When we think of paintings, we think of pictures. Whether lifelike or abstract, rendered in oil, watercolour, ink or even through immersive digital art, paintings are a visual form clearly distinguishable from other modes like stage plays, art installations, and text.
But can words also be a form of art? Yes, according to The Neglected Dimension. By turns whimsical and playful, dark and brooding, the exhibit—which focuses on modern art in Indonesia from the 1960s onwards—brings together the works of four Indonesian artists and their forays into what it terms "calligraphic abstraction".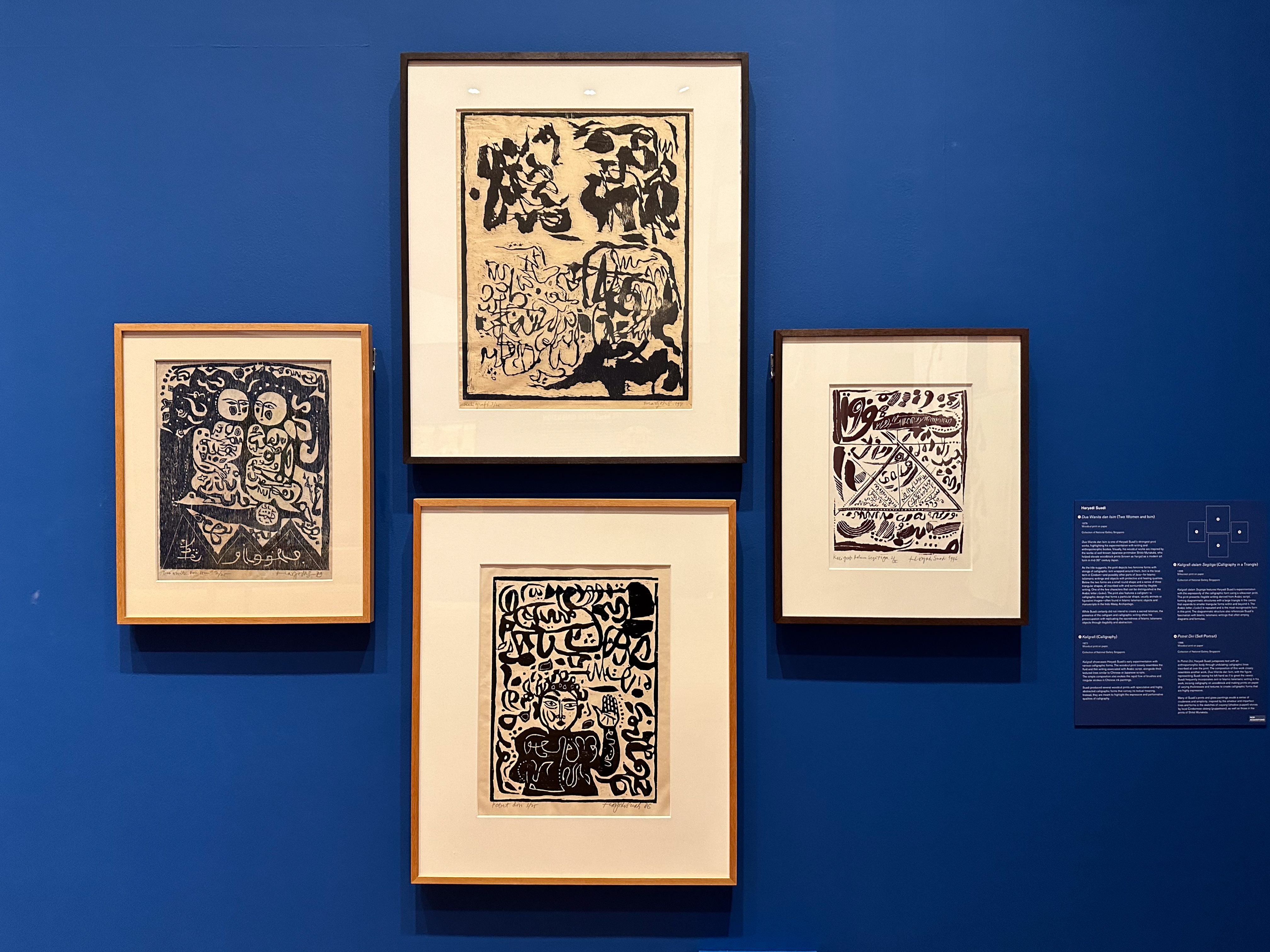 The Neglected Dimension explores four Indonesian artists' innovative interpretations of 'calligraphic abstraction', turning words into art.
Every painting features the looping cursive of calligraphic font, some illegible, others familiar Quranic prayers. Some are faint scrawls in the corner of the canvas, while others dominate the piece.
Beyond an aesthetic contemplation, the exhibit is a meditation on how artists should broach the question of spirituality in a modern age.
Four artists, one school
The Neglected Dimension takes its title from a 1987 essay by prominent Indonesian art critic Sanento Yuliman, and engages with broader political and social concerns through the lens of four artists from three artistic "generations".
They have one thing in common: they attended the same school.
Built in the early 20th century by Dutch colonists, the Institut Teknologi Bandung (ITB) once stood at the forefront of artistic experimentation in Arabic calligraphy and various forms of abstraction.
Featured artist Ahmad Sadali (1924-1987) and A.D. Pirous (b. 1932) were among its first generation of students. They were trained by Dutch teachers, such as painter Ries Mulder, in Western artistic traditions during a period of fervent nationalism in the 1940s and 1950s.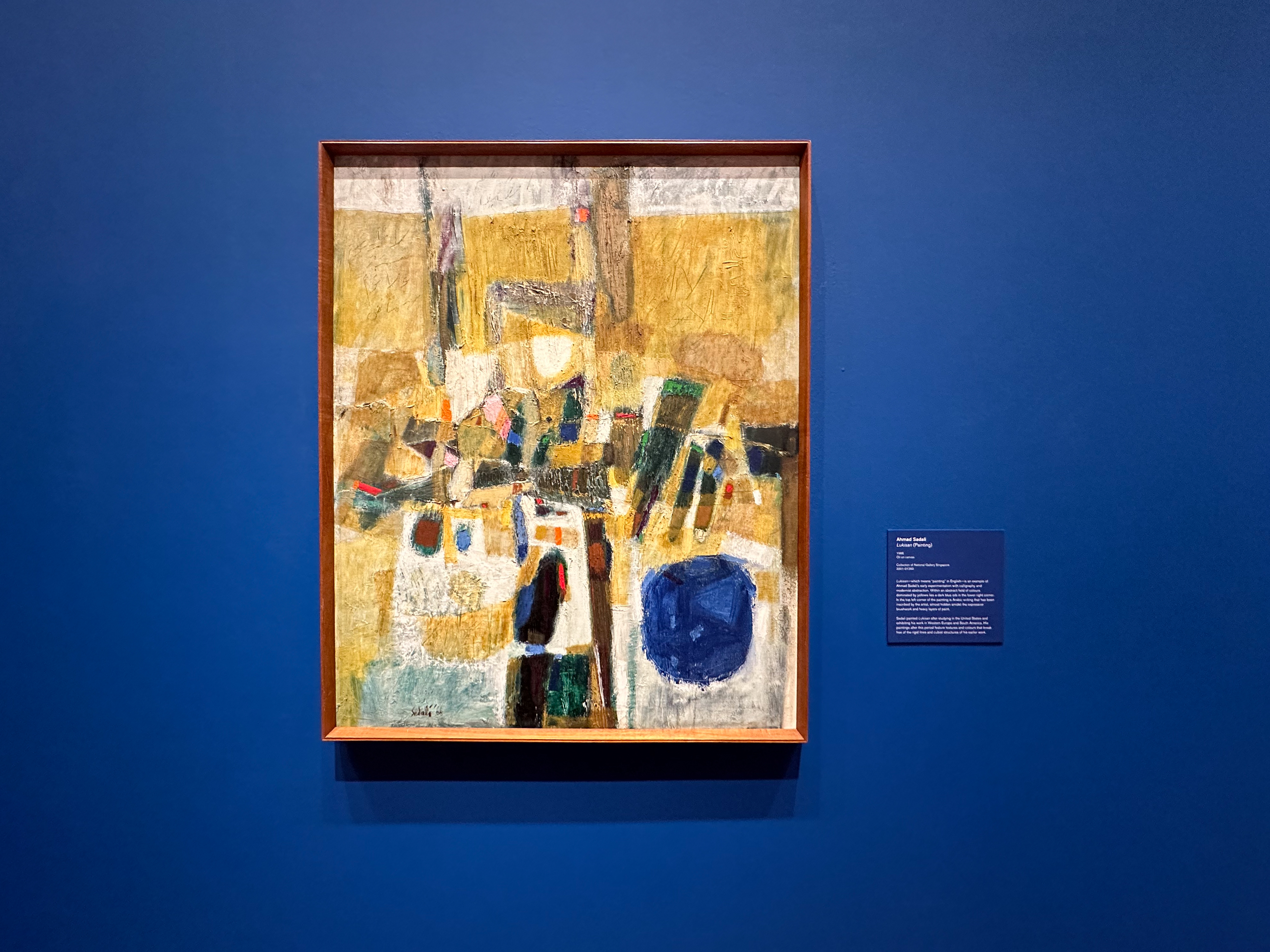 Lukisan, literally translated as "Painting," is the lone painting by Ahmad Saladi on display, featuring modernist abstraction styles inspired by Western art movements.
Consider Lukisan, the sole Saladi painting on display. Completed in 1966, it consists of a textured canvas of overlapping shapes, painted in the style of modernist abstraction. A large blue orb forms a focal point at the bottom right of the canvas. Diagonally across, at the top right, Arabic script is barely discernible.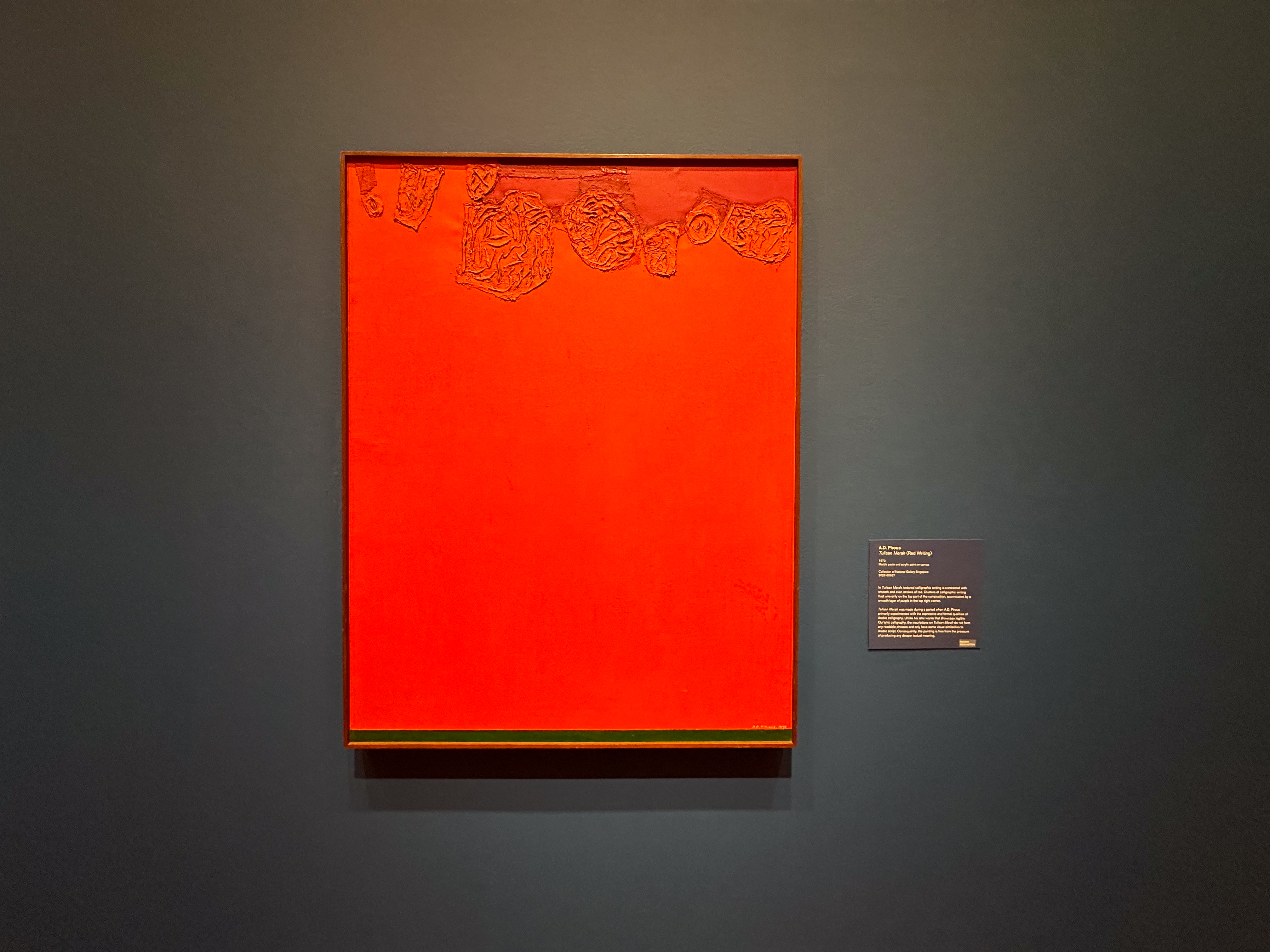 Check out A.D. Pirous' Tulisan Merah closely, and you'll spot calligraphic scribbles at the top—hinting that traditions too can use a new outlook.
Next to it is Tulisan Merah, a Pirous painting completed in 1974. Unlike Sadali's patchwork of colours and shapes, Tulisan Merah is a slate of crimson, with illegible calligraphic inscriptions spidering out near the top.
Both paintings present viewers with abstract and elemental forms that seem to resist deciphering. In a world devoid of certainty, the artists seem to say, meaning must be actively created, free from the yoke of old ideas. Even centuries-old calligraphic script must be looked at anew.
Forging multifaceted identities
If Western modes of expression are no longer enough, the question is what to put forth in its place. Haryadi Suadi (1938-2016) and Arahmaiani (b. 1961), whose works comprise the more recent artworks in the exhibit, respond to this thoughtfully.
Suadi's subjects are as diverse as his mediums. The artist, who grew up in Cirebon on the northern coast of Java, enrolled in ITB in 1959, joining Sadali and Pirous. He worked extensively with printmaking before transitioning to reverse glass painting, a traditional Cirebonese technique.
Reverse glass painting, which involves painting on a piece of glass before viewing the painting from the other side, is the mode used for Suadi's 1986 painting, Phrenology.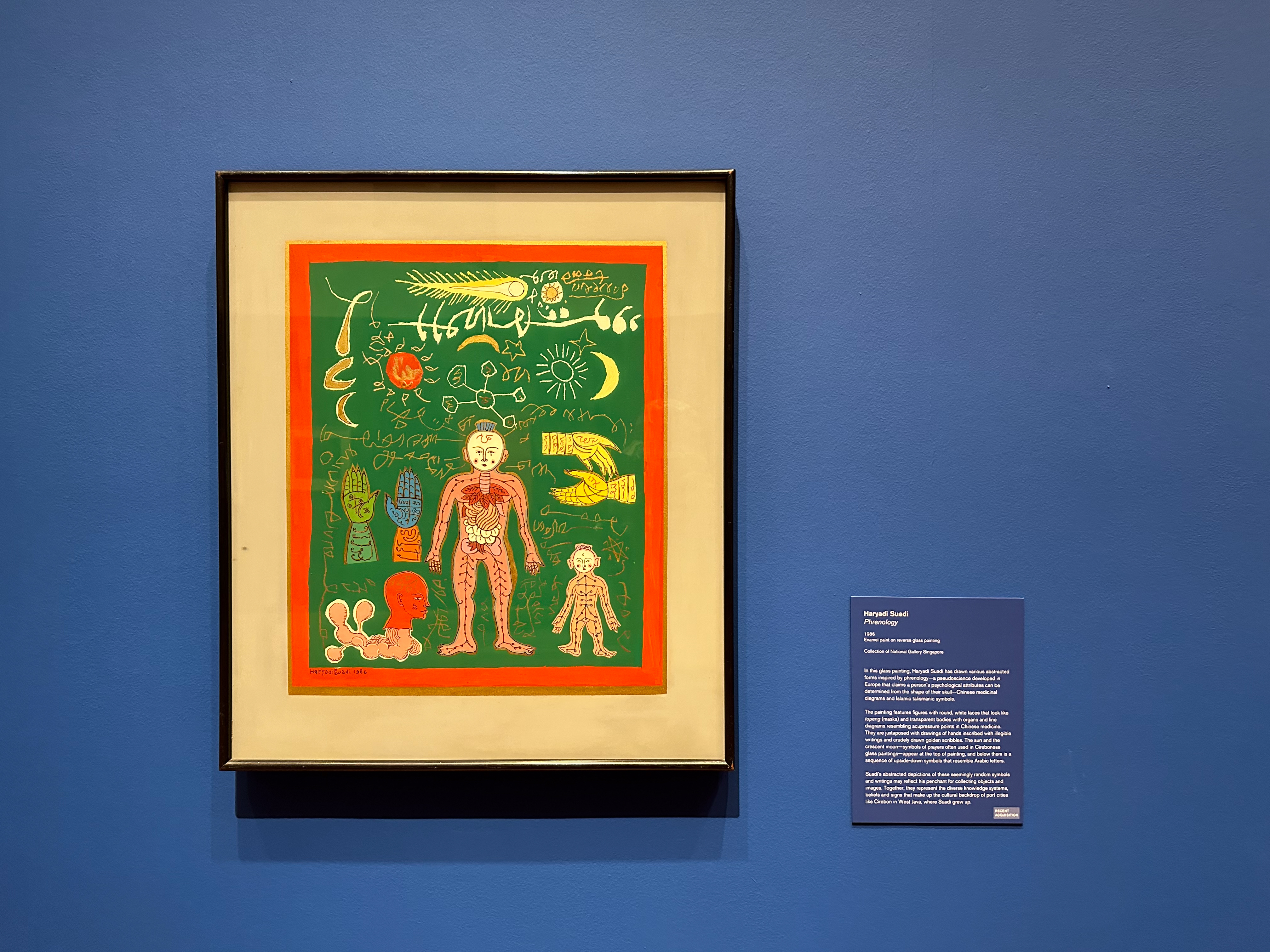 In Phrenology, Haryadi Suadi creates a delightful mashup of Chinese, Cirebonese, and Islamic elements, a loving nod to his coastal hometown of Cirebon.
Phrenology presents a human body with its inner anatomy bared, in a posture reminiscent of Leonardo da Vinci's Vitruvian Man. Abstract forms surround this figure, including a head with what looks like organs spilling out, and disembodied hands, inscribed with symbols. It is a collage of Chinese medicinal imagery, Cirebonese symbols of prayer, and Islamic talismanic writings.
Subtly and strangely, it pays homage to the diverse cultures that intersect in Suadi, who called a port city like Cirebon home.
Art inspired by community
For the final artist in the exhibit, the notion of "home" is a markedly more complicated one. Arahmaiani, the sole female artist featured, is recognised as one of Indonesia's most seminal personalities.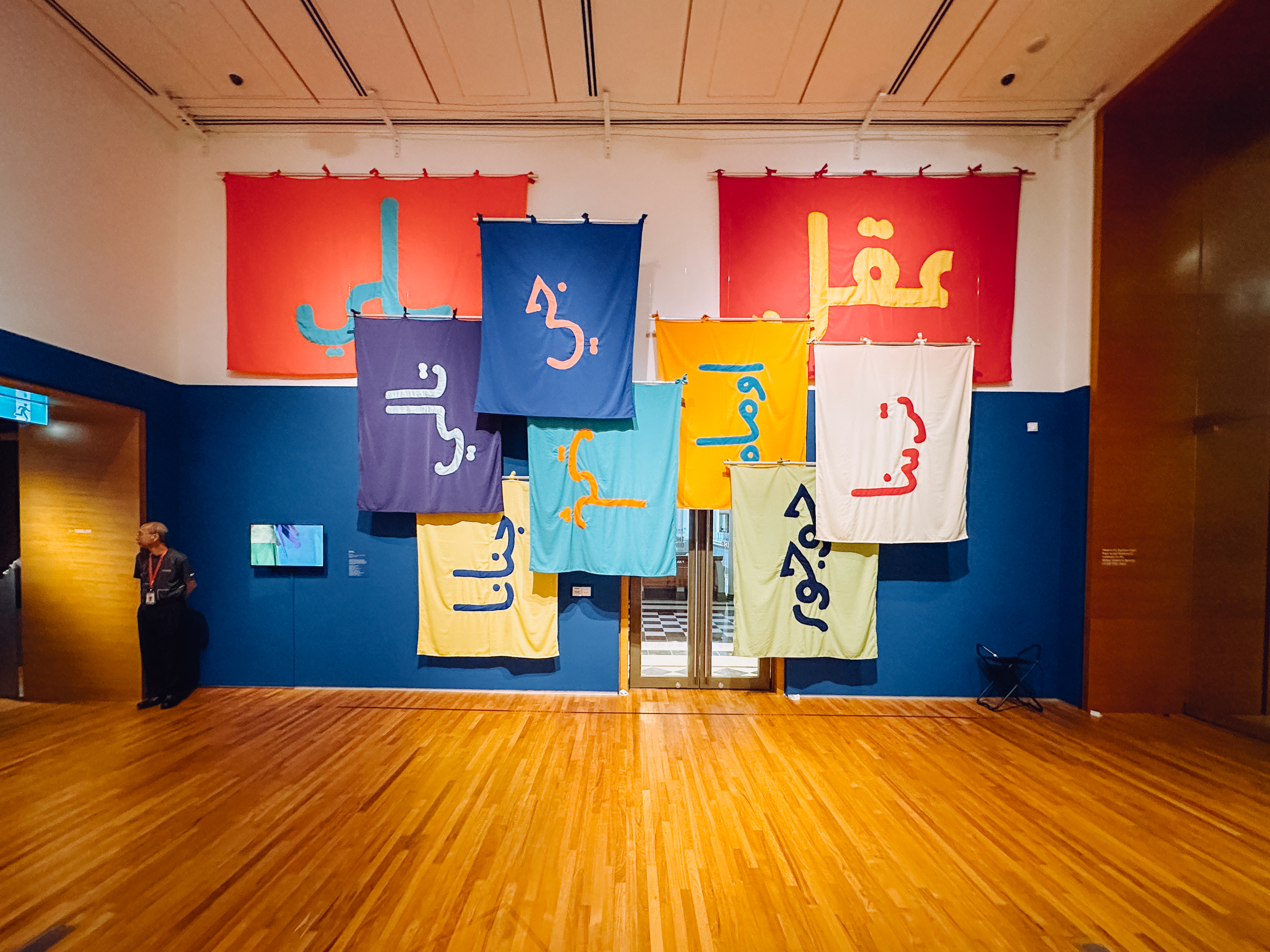 In her performance piece Crossing Point, Arahmaiani masterfully exhibits the myriad collaborations she's cultivated with global communities, encouraging viewers to contemplate the universal concepts like love, mortality, and wisdom that unite us all.
In 2011, she staged Crossing Point at the Singapore Art Museum, a performance piece which involved a procession of 14 flags each inscribed with words of different origins in Jawi script. The words varied from " ماوت", or "death" in Arabic, to "اوماہ", or "home" in Javanese, to "جنانا", "wisdom" in Sanskrit.
These flags hang from the ceiling of the exhibit, a colourful display of Arahmaiani's many collaborations with communities around the world. Like Suadi's Phrenology, Arahmaiani's Crossing Point invites viewers to consider their common roots in a shared script, in universal ideals of love, death, and wisdom.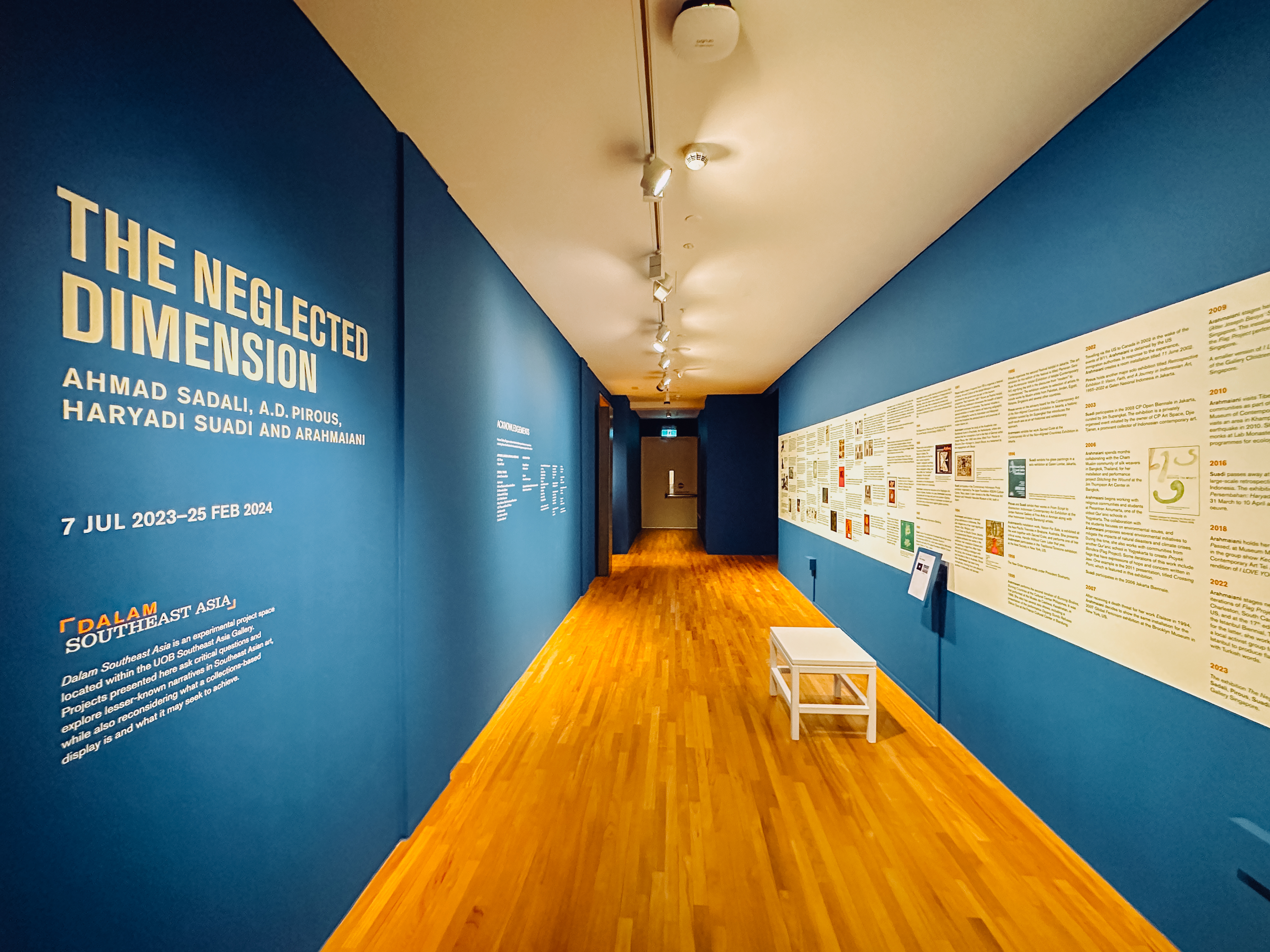 Uncover the dynamic interplay between modernity and art, exemplified by the diverse array of artworks within the Neglected Dimension exhibition.
In doing so, she opens up perspectives into dimensions long neglected: not just the barriers that separate us, but also the ways in which modernity, art, and religion bind us together in a shared experience of being human.
Step into the National Gallery Singapore to explore The Neglected Dimension for a fresh take on modernity and art. The exhibit is located on Level 3 of the UOB Southeast Asia Gallery and runs till February 25, 2024. Admission is free for Singaporeans and PRs.
If you love all things arts and culture and want to open your eyes to new takes on the old stuff, check out the other stops in our Fresh Takes itinerary – specially curated for you.
All images belong to Catch.