It's F1 season during the weekend from 15 to 17 September 2023 and the city's alive with excitement and fanfare over the action on the tracks and the lineup of incredible musicians taking the stage there by storm. It's also the perfect opportunity to beat the crowds and catch a whole list of equally incredible arts and culture events happening then, ranging from plays written by local talents to museum exhibitions dedicated to fashion and dollar bills. Here are five of our favourite arts and culture events that you definitely can't miss this September!
1. The Sound of Home Street Party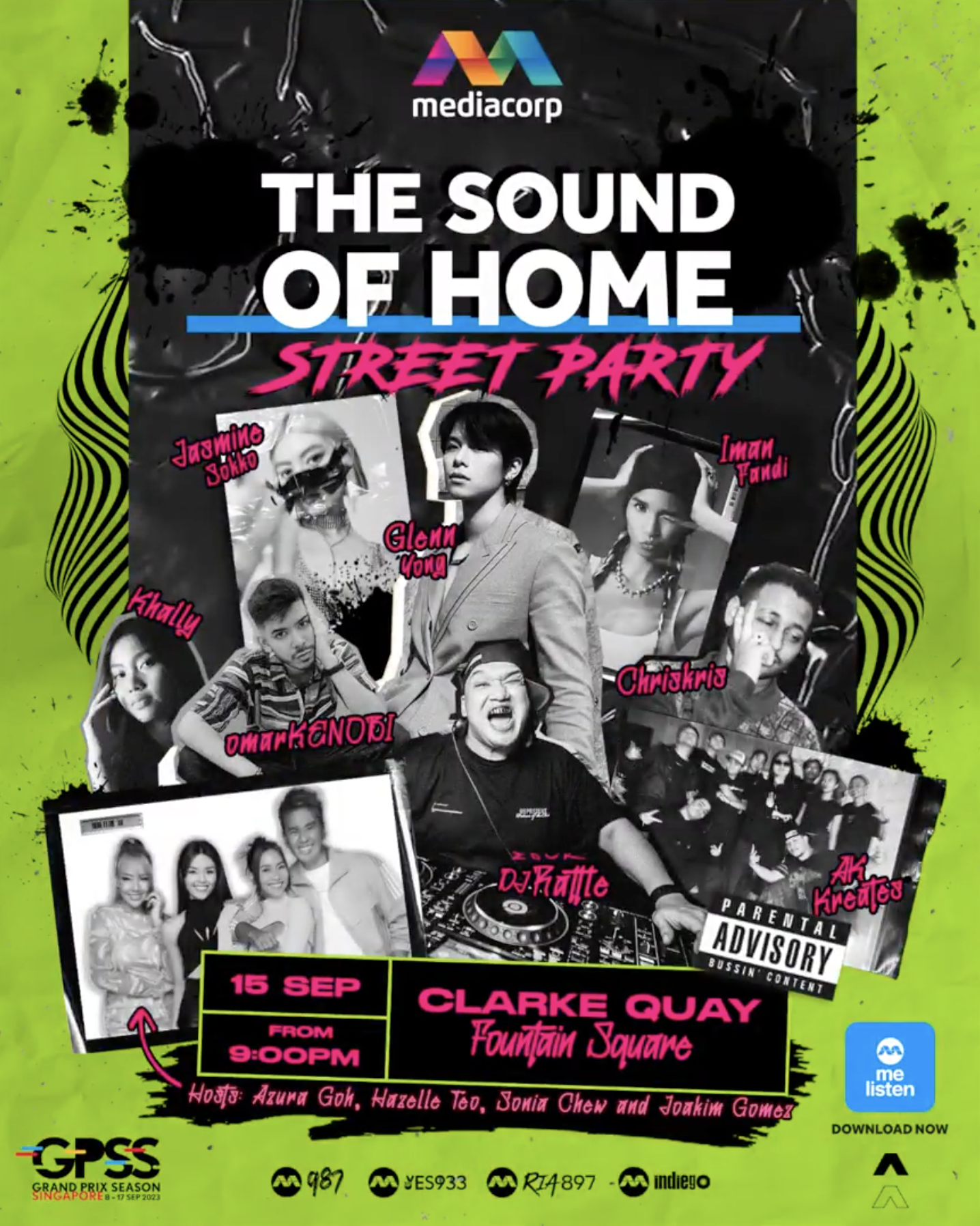 Party it up with our local artists at The Sound of Home Street Party! Image credit: Mediacorp
Mediacorp is turning up the heat with The Sound of Home Street Party at Clarke Quay! Brace yourself for an electrifying night hosted by Mediacorp DJs, where the beats are the stars and the entertainment is off the charts. With AK Kreates, Chriskris, DJ Rattle, Glenn Yong, Iman Fandi, Jasmine Sokko, Khally, and omarKENOBI on deck, it's a non-stop dance extravaganza under the starry sky that you won't want to miss!
Dance the night away at The Sound of Home Street Party on 15 September 2023 at Clarke Quay Fountain Square. Admission is free.
2. Lila: Unending Play by Jane Lee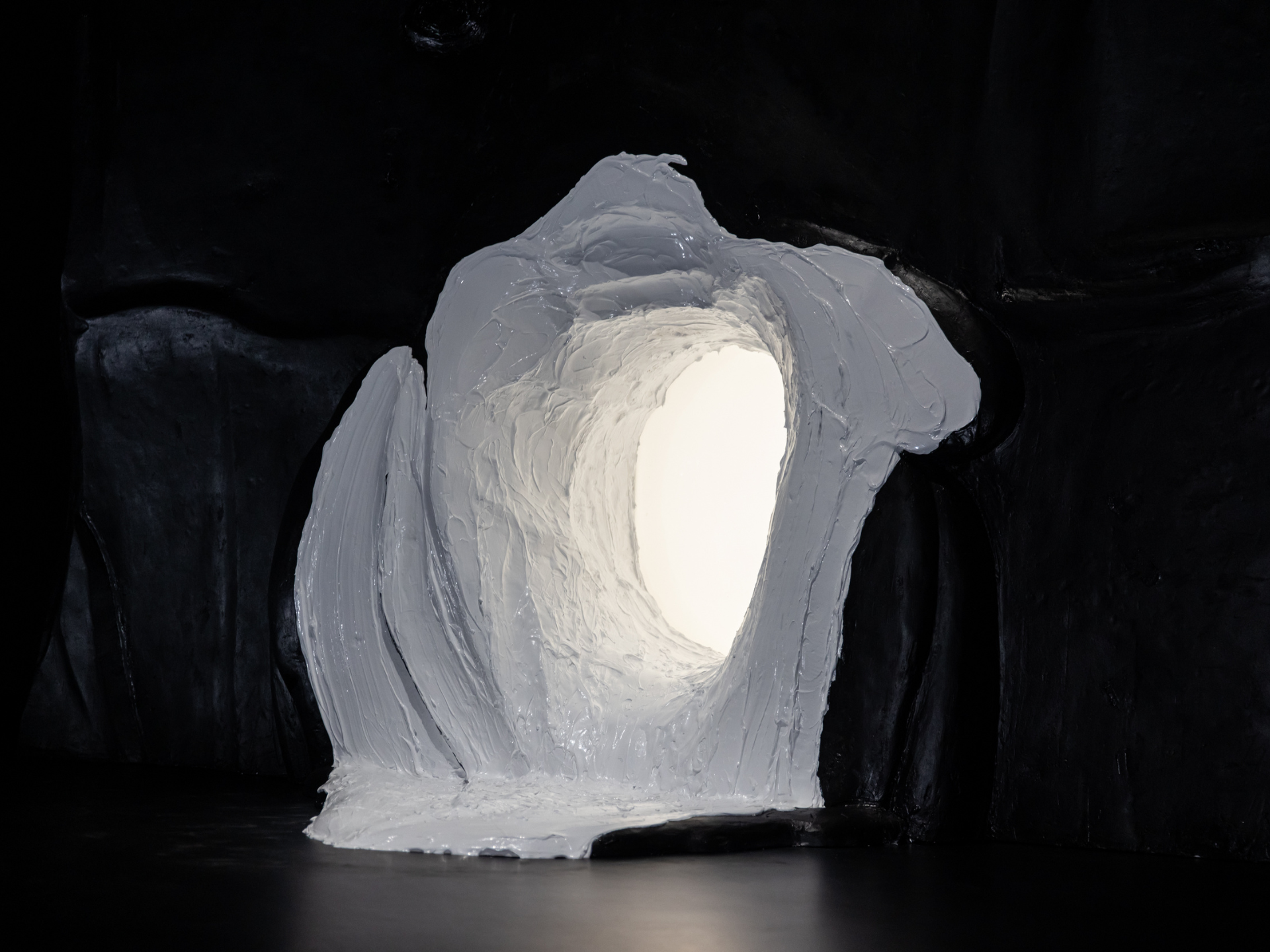 Jane Lee embarks on a quest for the elusive essence of life and "life in painting," pushing the boundaries of conventional art by using space, light, reflection, and shadows. Image credit: Singapore Art Museum
Jane Lee's artistic journey is a captivating dance between tradition and innovation. Her quest to unravel the essence of painting mirrors her quest for self-discovery amid the vibrant tapestry of Southeast Asia. Her canvases are a tactile symphony, weaving everyday acts and art fundamentals into mesmerising compositions. With spontaneity as her muse, Lee's creations break free, defying norms by stretching the canvas into its surroundings. Lila: Unending Play by Jane Lee isn't just an art exhibition; it's a whimsical playground for your senses, playfully redefining the art of painting's essence – from surface to object and beyond!
Delve into
Lila: Unending Play by Jane Lee
from now until 24 September 2023 at the Singapore Art Museum (SAM) at Tanjong Pagar Distripark. Admission is free.

2. Power of Paper by Paul Rousso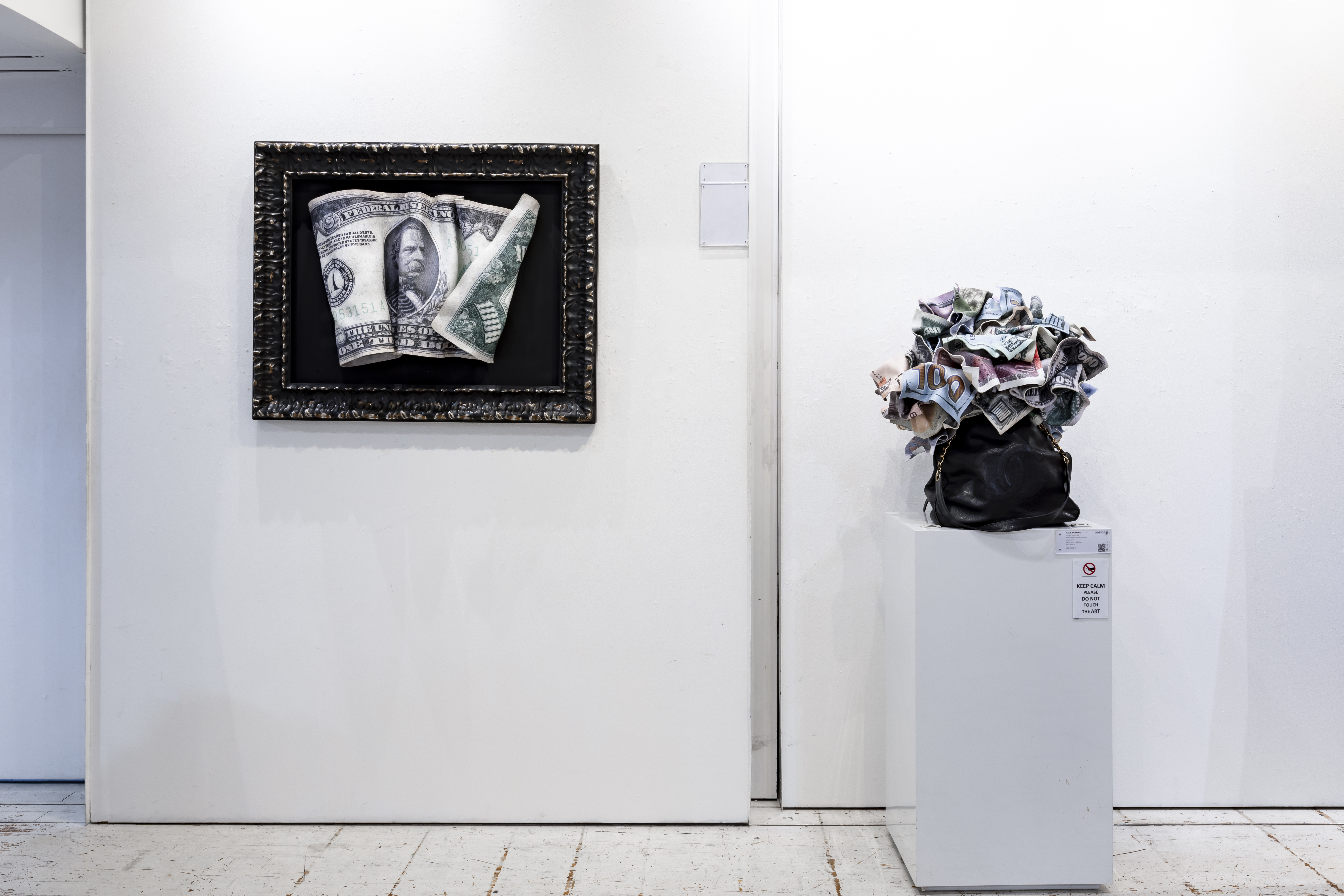 When money becomes art. And no, you can't take the dollar bills home with you. Image credit: Brand Cellar
Renowned artist Paul Rousso makes his Singapore debut with a groundbreaking exhibit, unravelling the intrigue of paper as his canvas. His Asian Bubble Cash series, a whirlwind of Asian currency bills, mesmerisingly illustrates the region's dynamic economic and cultural prowess. Rousso masterfully inflates these notes into colossal artworks, challenging their conventional purpose. His art playfully questions the evolution of physical media in our digital age, all while remaining universally accessible. Cash Money Overflow weaves a tapestry of global currencies, emphasising interconnected economies through a colourful three-dimensional piece. Cash on the Table narrates money's global reach that includes dollar bills from our very own Singapore, and The Big Money Bag marries luxury with financial fragility through a literally explosive Chanel bag. Rousso's bold exploration of paper's future captivates and provokes reflection.
Discover the
Power of Paper
from now until 15 September 2023 at the Ode To Art gallery. Admission is free.

3. SAM Contemporaries: Residues & Remixes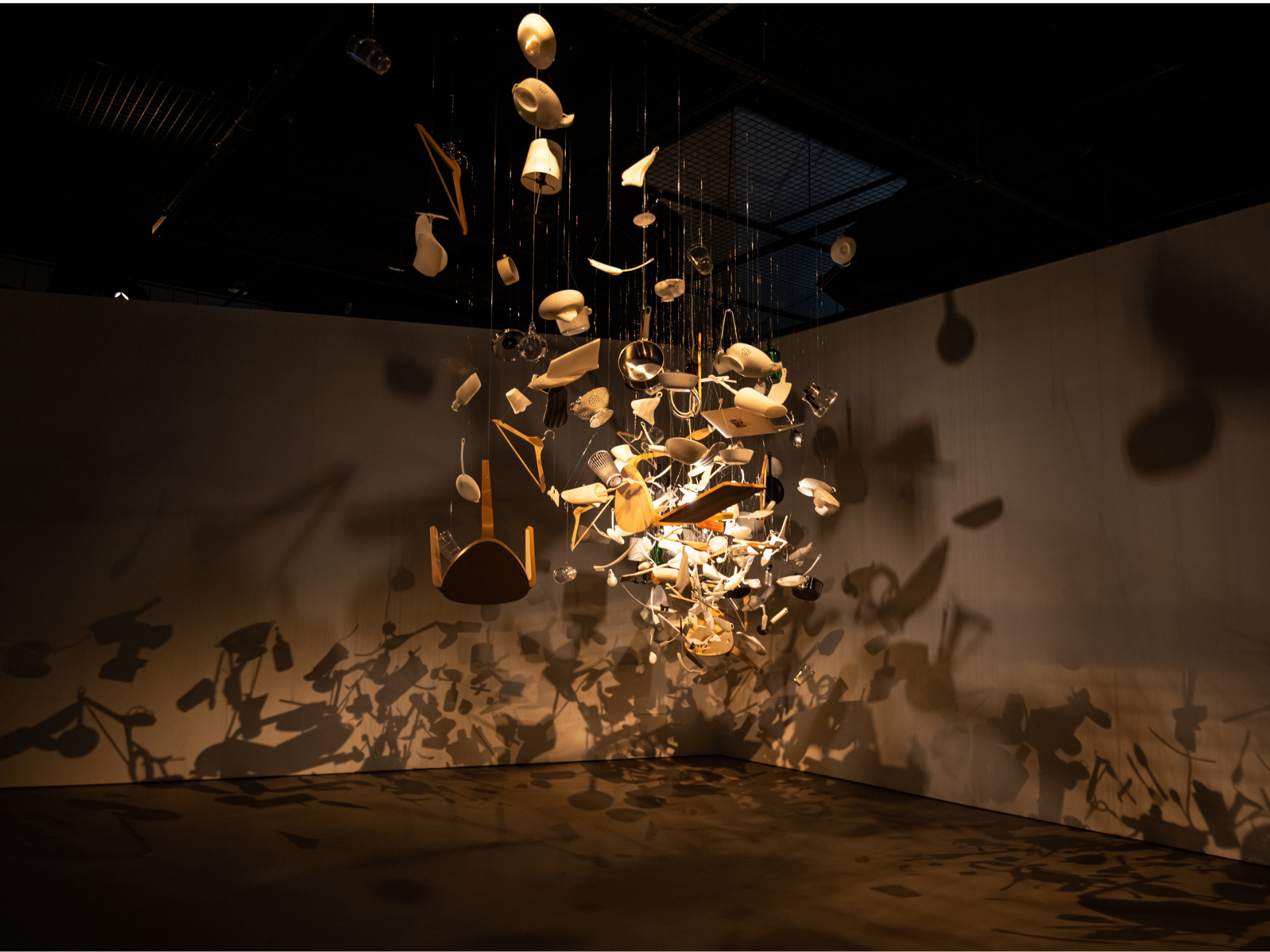 How does the digital age remix our perspective on the world? Image credit: Singapore Art Museum
Get ready to dive into the vibrant world of Singaporean art with SAM Contemporaries' debut showcase! Six local artists are your guides on a journey where history meets today's trends. SAM Contemporaries is a biennial sensation, sparking fresh ideas in Singapore's art scene. It's a hotbed of experimentation, where artists and curators join forces for exciting creations.
Residues & Remixes zooms in on the lasting echoes of history and the digital age's influence on our worldview. Migration and culture shape this region's story, and their artists dig deep to unveil hidden tales. They're turning time's remnants into captivating narratives, reimagining the past and present in a whole new light. Don't miss this art remix!
Take a step back into the past of the digital age with
SAM Contemporaries: Residues & Remixes
from now until 24 September 2023 at the Singapore Art Museum (SAM) at Tanjong Pagar Distripark. Admission is free.

4. The Wright Stuff Festival 2023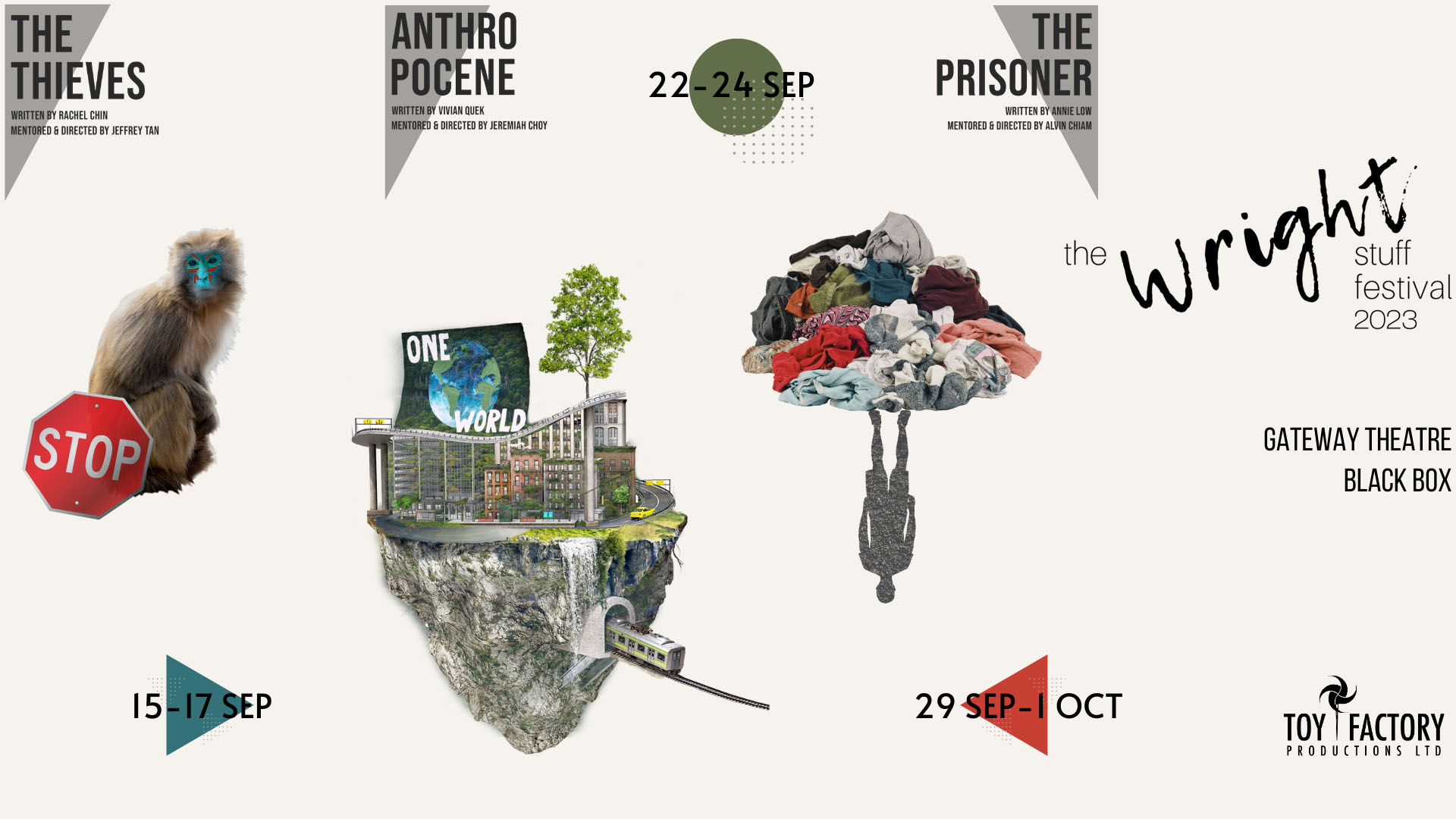 Climate change is an evergreen tale to talk about and The Wright Stuff Festival 2023 provides a fresh perspective. Image credit: Toy Factory Singapore
The Wright Stuff Festival is back this September, bringing you three rising playwrights and their climate-inspired masterpieces. These talents were nurtured by Toy Factory Productions Ltd's artistic wizards, and the theme is "Climate" – art for today and tomorrow! The Thieves by Rachel Chin, mentored by Jeffrey Tan, battles eco-heroes against profit-chasing titans. Jeremiah Choy's mentorship shaped Vivan Quek's Anthropocene, exploring our next era and Shawn's dilemma about our beloved planet. Lastly, Annie Low's The Prisoner, guided by Alvin Chiam, confronts fast fashion and our oblivious consumption. These plays crack open climate challenges, showing that theatre remains a vibrant space for self-exploration and diverse viewpoints.
Catch The Wright Stuff Festival 2023 from 15 September to 1 October 2023 at Gateway Theatre. Tickets are priced at $49.
5. Andrew Gn: Fashioning Singapore and the World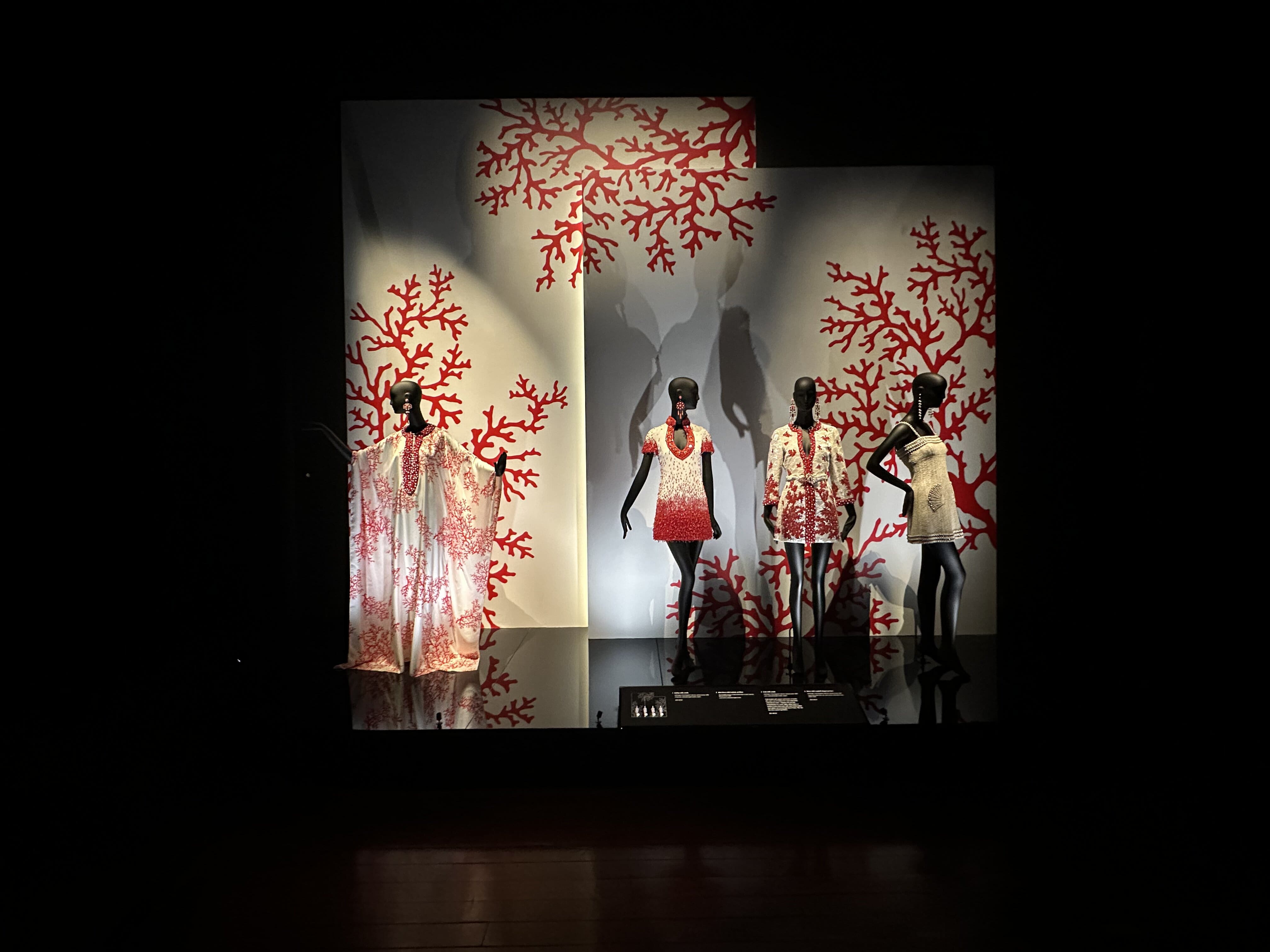 Travel worlds through fashion at Andrew Gn: Fashioning Singapore and the World.
Get ready to strut through the Asian Civilisations Museum's (ACM) trend-setting exhibit, Andrew Gn: Fashioning Singapore and the World. With over 100 fabulous pieces spread across five dazzling sections, this exhibit takes you on a fashion odyssey. Gn's multicultural inspirations, from porcelain to Peranakan heritage, weave through his creations, embracing nature's vibrant motifs. Step into Gn's Paris atelier, where the magic happens, and explore his haute "demi-couture" world. His couture-quality ready-to-wear graces influential women worldwide, from Lady Gaga to Queen Rania of Jordan. Don't miss the Fashion Try-On experience, where you can design your own outfits inspired by Gn's motifs.
Visit Andrew Gn: Fashioning Singapore and the World from now until 17 September 2023 at the Asian Civilisations Museum. Tickets are priced at $25.
What's more, Andrew Gn: Fashioning Singapore and the World is a part of our very first Curated Itinerary titled The 'Gram Tour. If you're one for snapping pretty pictures for the feed, this itinerary (complete with great dining perks!) is for you; step into the world of Andrew Gn, marvel over the psychedelic wonder of Future World: Where Art Meets Science and get that 'gram-worthy shot outside the giant camera entrance of the Vintage Camera Museum.
Escape the crowds and find your pick of arts and culture this F1 weekend
Singapore's arts and culture scene is every bit as exciting as the F1 festivities and the best part is that they're always churning out the most intriguing events 24/7! Catch is here to bring even more exciting things to discover and September is definitely a month to look out for.
Top image credit: Brand Cellar