Sebastian Tan has always been at ease with labels, wearing the Ah Beng one with pride through the years, endearing himself with a loyal audience who have grown older - or in his euphemistic denial of middle-age, "golder" - with him. Tan even celebrated his own "golden jubilee" - he turned 50 on 18th July - on stage during one of the performances of his eponymous Broadway Beng GROWING gOLD.
If you're unfamiliar with Tan or his series of concert-standup shows, Broadway Beng was first produced and staged by Dream Academy in 2006, when Tan had just concluded a long stint on London's West End in Cameron Mackintosh's mega-musical production Miss Saigon, playing the character, Thuy. As unlikely or as surreal as the experience was, Tan summarises it in GROWING gOLD without any weight of wistfulness: "An Ah Beng from Marsiling Primary School goes all the way to London to play a Vietnamese".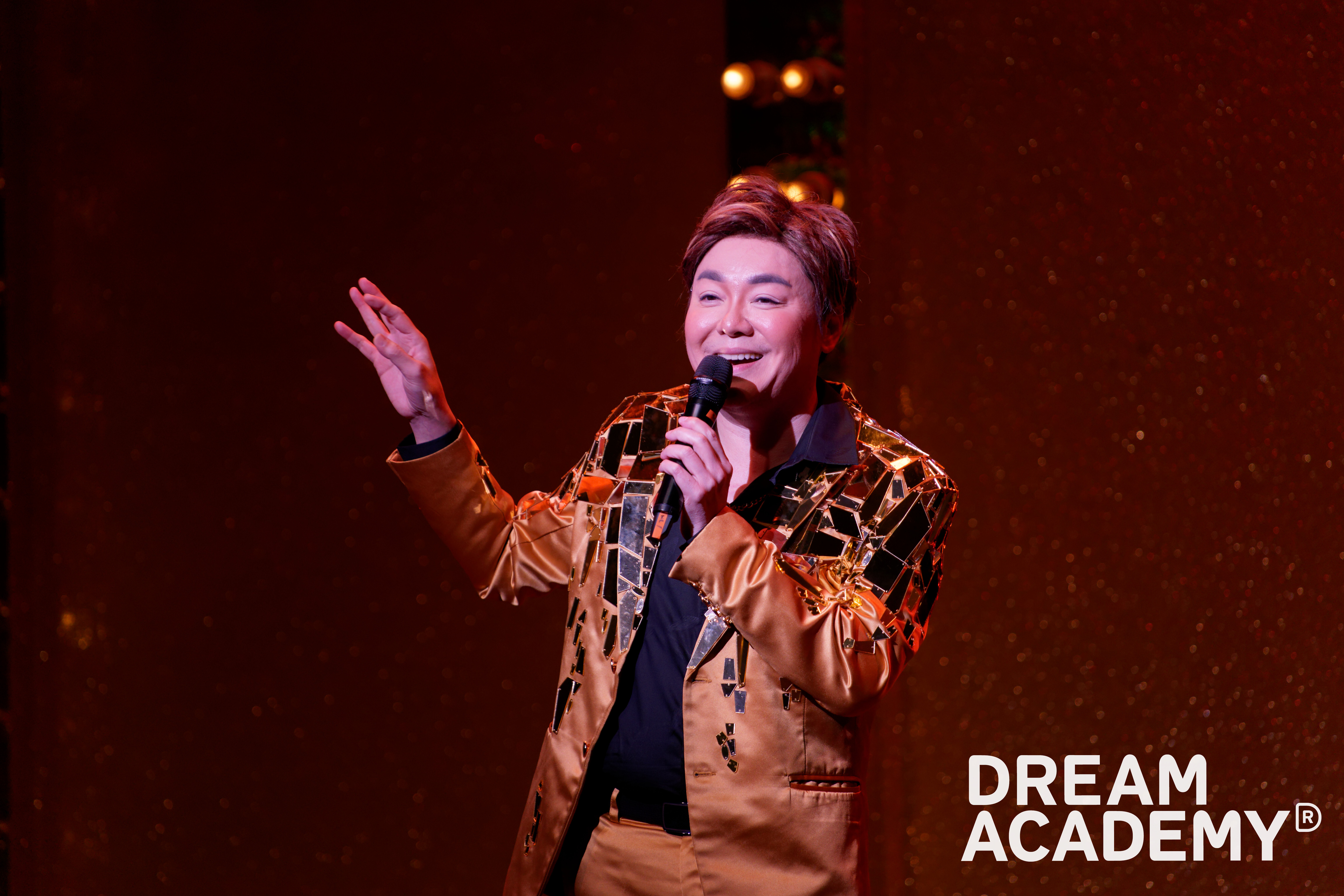 When people say Ah Bengs aren't made for fancy stages, tell them about Broadway Beng!
Returning to Singapore at the turn of the millennium, Tan had several stints on stage and television, but never lost his love for Hokkien torch songs and rousing standards sung at getai events and karaoke venues, like 爱拼才会赢 (Ai Pia Jia Eh Yia) or 一百万 (Jit Pa Ban). There were several impromptu performances at private events together with Dim Sum Dollies' Selena Tan before the pair decided that Tan's unique experience as an Ah Beng who had performed on the West End/Broadway was ample material for a stage show in 2006.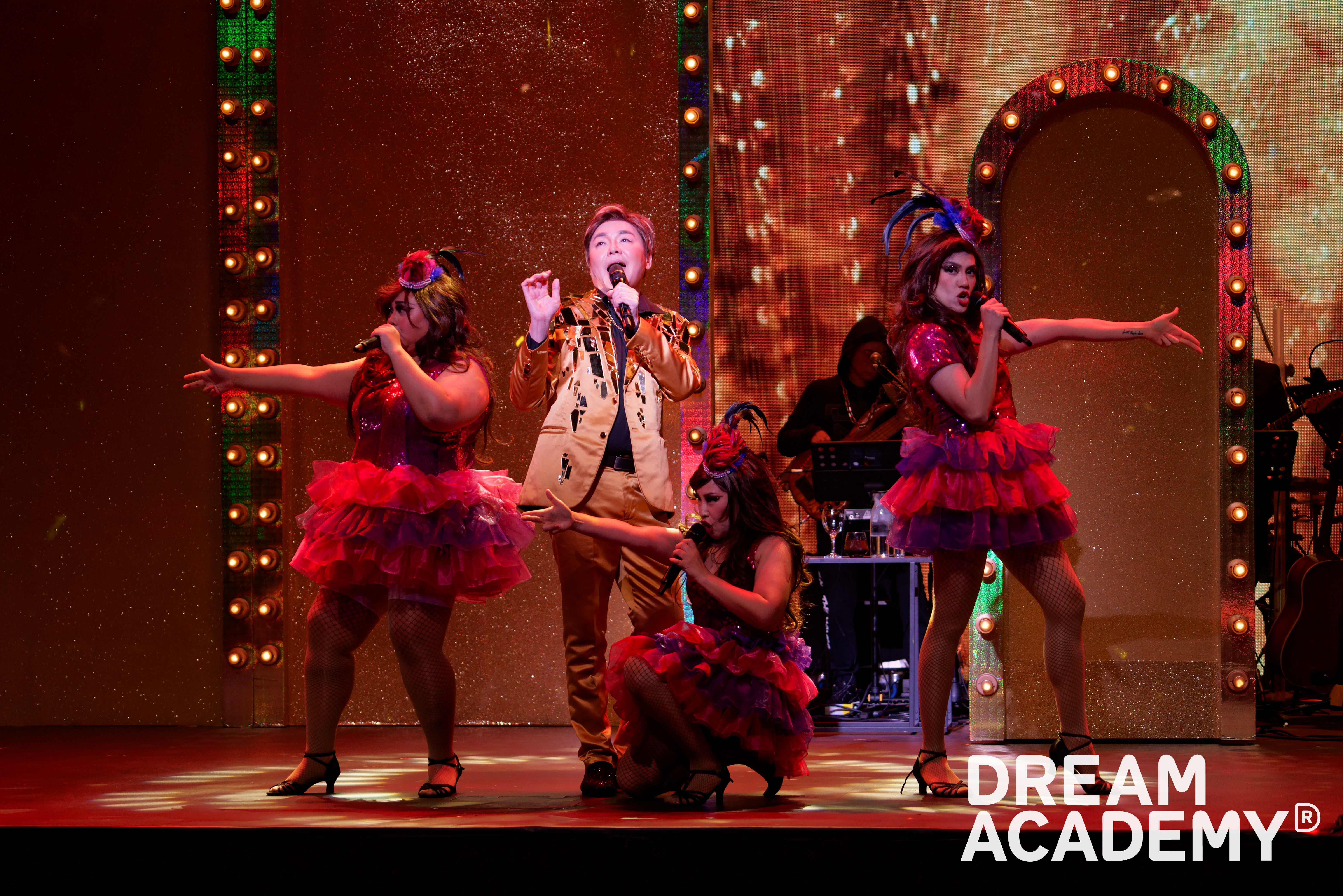 Sebastian Tan shares the limelight with his trio of Chio Bu in stunning renditions of popular Broadway hits
Seven editions of Broadway Beng shows later, Tan and his three Chio Bu (performed by Denise Tan, Hannah Nordin, and Sarah Smith) belt out parodic renditions and medleys from hit Broadway shows, with a staple of the shows being an eight-minute truncated version of a popular Disney movie-musical, complete with exaggerated plot tropes, and peppered with Hokkien and Singlish-substituted lyrics.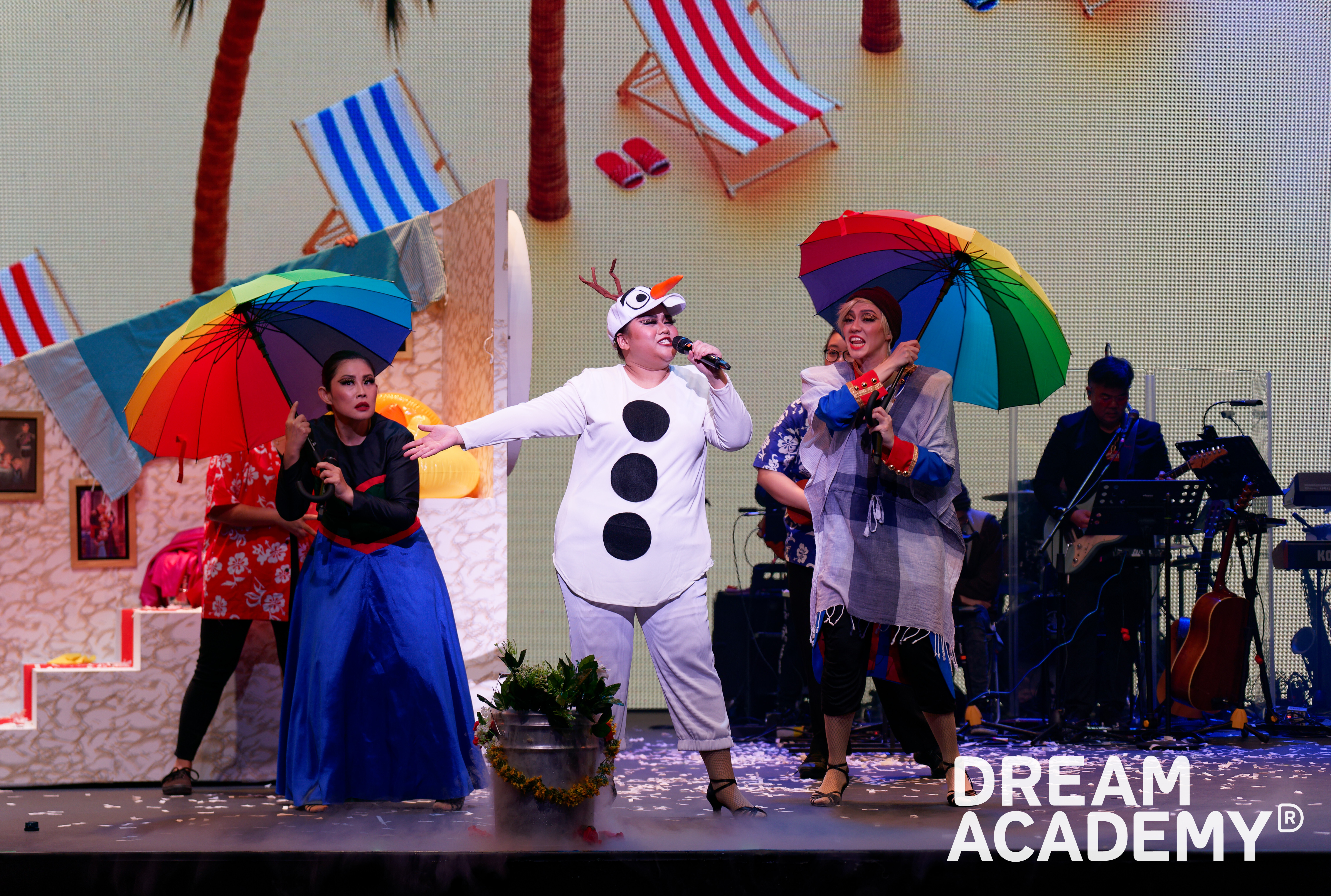 From Disney-fied shows to belting out Hokkien love ballads, Broadway Beng tickles all sorts of fancies.
As enjoyable as they are, the comedy and slapstick in GROWING gOLD is tempered by the undeniable fact that Tan can really sing. Just as you are about to catch your breath after laughing, Tan's soothing and soaring dulcet vocals takes it away again with his loving interpretation of Hokkien/Taiwanese love ballads.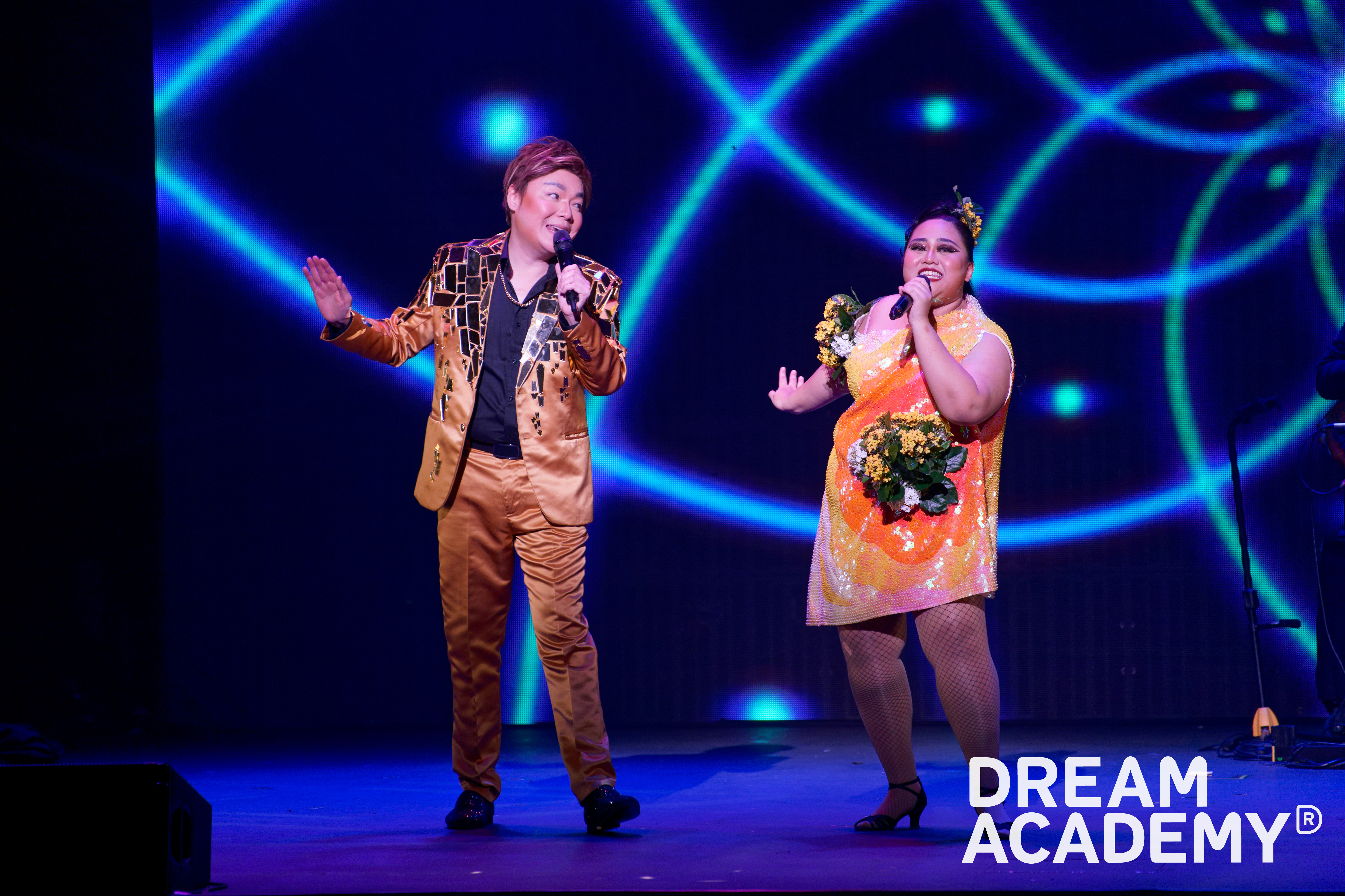 There's a soft side to Ah Bengs too, and Tan executes it well during performance segments.
If middle-age has taken a toll on his attempts at mimicking Michael Jackson's moonwalk, it has compensated Tan with an almost imperceptible layer of gentleness and quiet longing in his delivery, and as patiently as the titular wife in the Hokkien classic 家後 (Geh Au).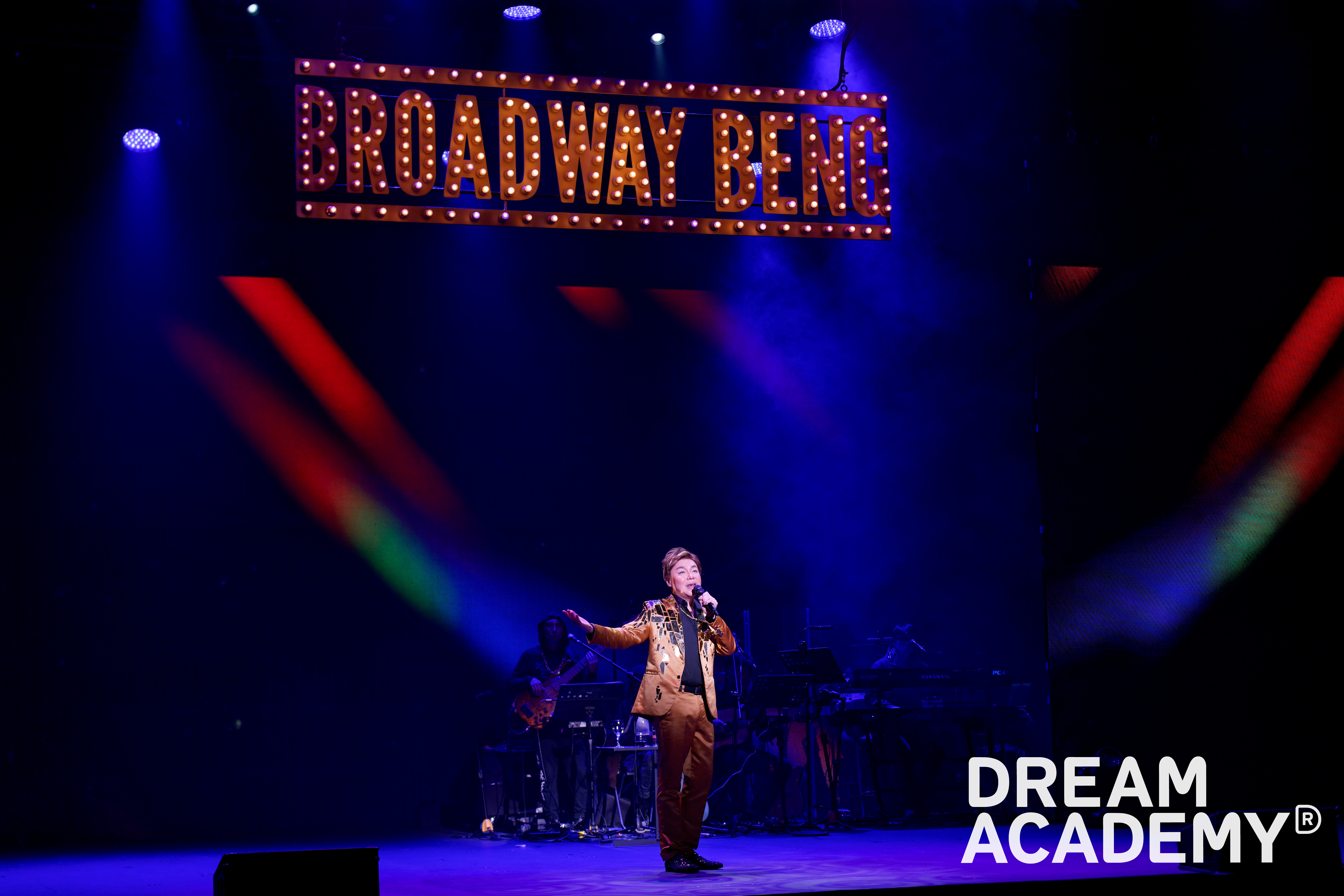 Showing love to an iconic local act in Singapore – Broadway Beng will certainly win laughter and hearts.
Greater attention may be paid to the visiting "歌神 (song god)" and fellow middle-ager Jackie Cheung, currently performing in Singapore, but it definitely is worth witnessing our very own singing angel and GROWING gOLD together with him.
Catch Broadway Beng GROWING gOLD at Capitol Theatre from 13 to 29 July 2023. Tickets are priced from $38.
All images are credited to Dream Academy.