Where words fail, music speaks – multi-award-winning musician Niranjan Pandian takes the popular saying to another level.
Asked in an exclusive interview with Catch about his work surrounding the fusion of Indian classical music and jazz elements, the accomplished flautist chose to show, rather than tell. Without missing a beat, he reached to the side for his bansuri, a type of Indian classical flute, effortlessly spinning a short tune.
The melody is based on a raga, he explained after his demonstration, a central melodic framework in Indian classical music that is similar to Western musical modes.
He picked up the bansuri once more, playing another excerpt – this time, with a jazzier twist.
"The dorian mode (which shows up in chord progressions frequently used in jazz music) works well with the colour of the different ragas," he revealed afterwards. Because both genres are "highly improvised music forms", it makes sense that both can be melded to produce new and unique sounds, sequences and textures.
That his demonstration seemed almost second nature to him also speaks volumes about his ideology as a musician, one who is fiercely passionate and eager to spread awareness about his craft.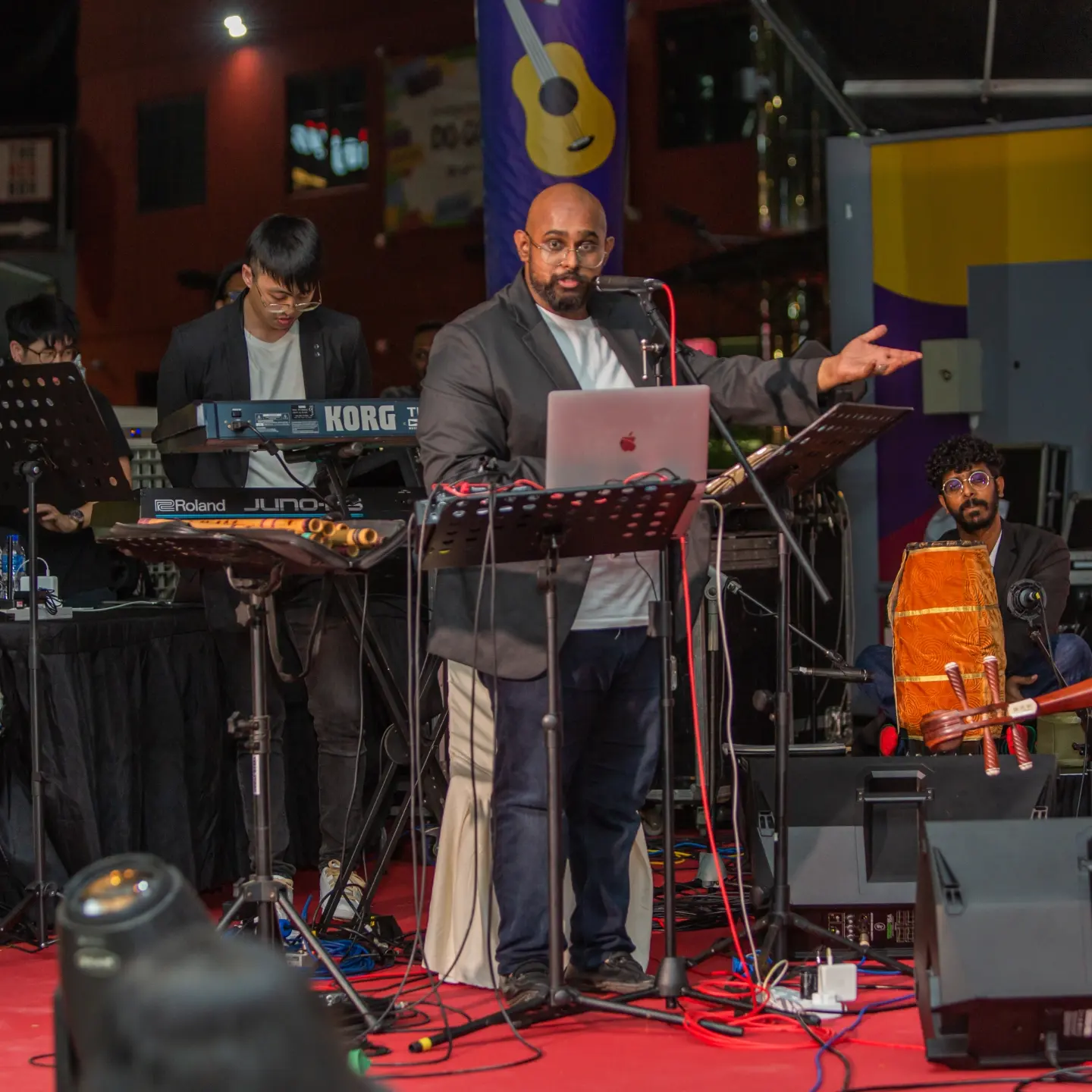 A man of many talents, Niranjan goes beyond his title as a flautist. Image credit: Esplanade – Theatres on the Bay
More than just a performer, he is also a musical director, producer and composer. And even though he wears many hats, one core belief lies at the heart of his work: to inspire youths to discover their identity through the arts and music while bridging communities through musical collaboration and storytelling.
All that jazz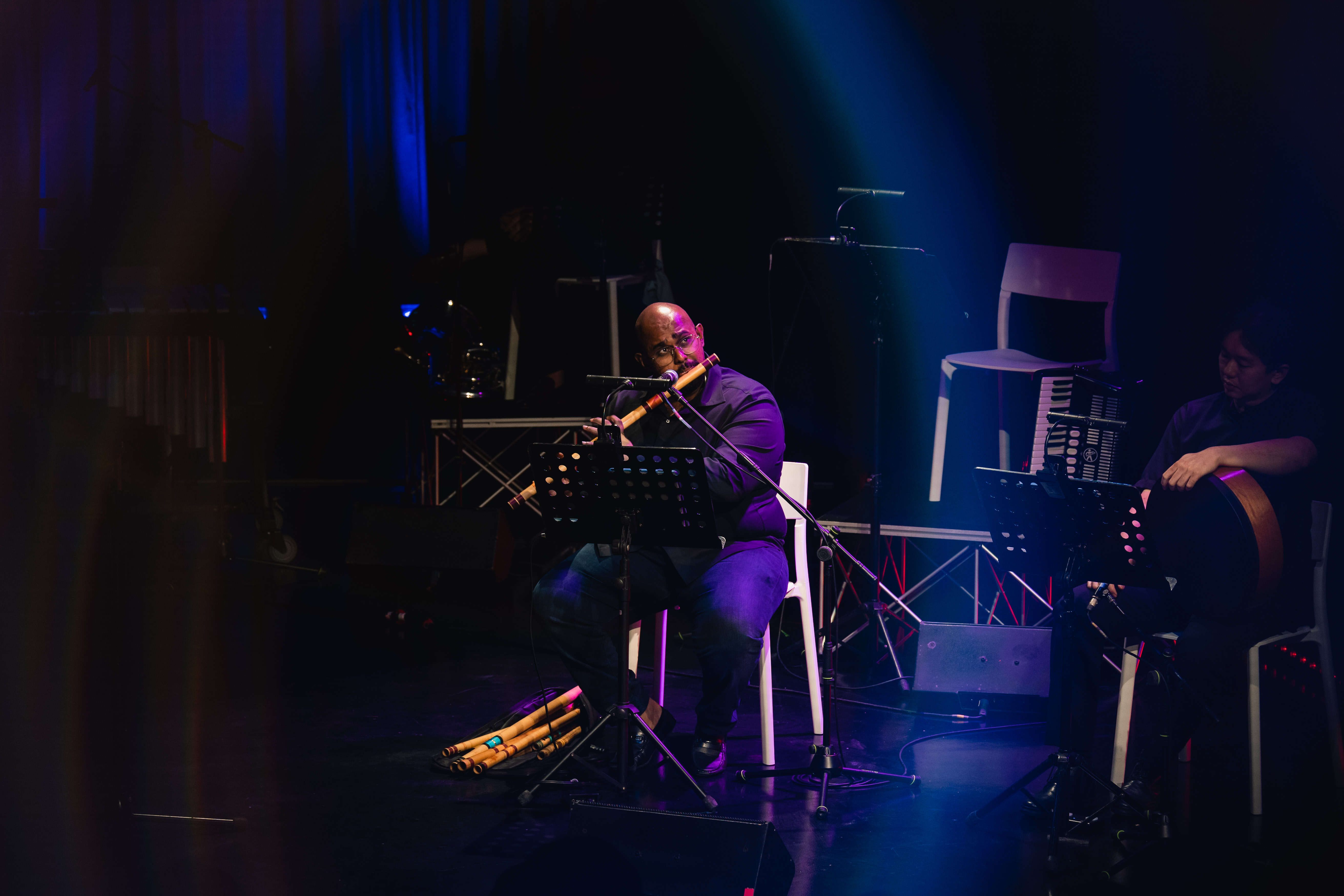 Samavaya - An Euphonious Convergence presents a fusion of the maestro's own creations and adaptations. Image credit: Esplanade – Theatres on the Bay
If his short live demonstration was anything to marvel at, then his upcoming show at the Indian Performing Arts Convention (IPAC) 2023 must be equally, if not more, captivating. Presented annually by Apsaras Arts Dance Company since 2012, IPAC seeks to inspire and spotlight Indian classical musicians and dancers.
Samavaya - A Euphonic Co-existence will showcase a mix of original compositions and arrangements by the man himself that marry Carnatic music with the varied sounds of jazz, blues, funk and pop. The instrumentation is no less diverse, including the likes of the tenor saxophone, drums, electric bass and more. Taking the stage will be the NP Collective, one of three specialised ensembles founded by Mr Niranjan.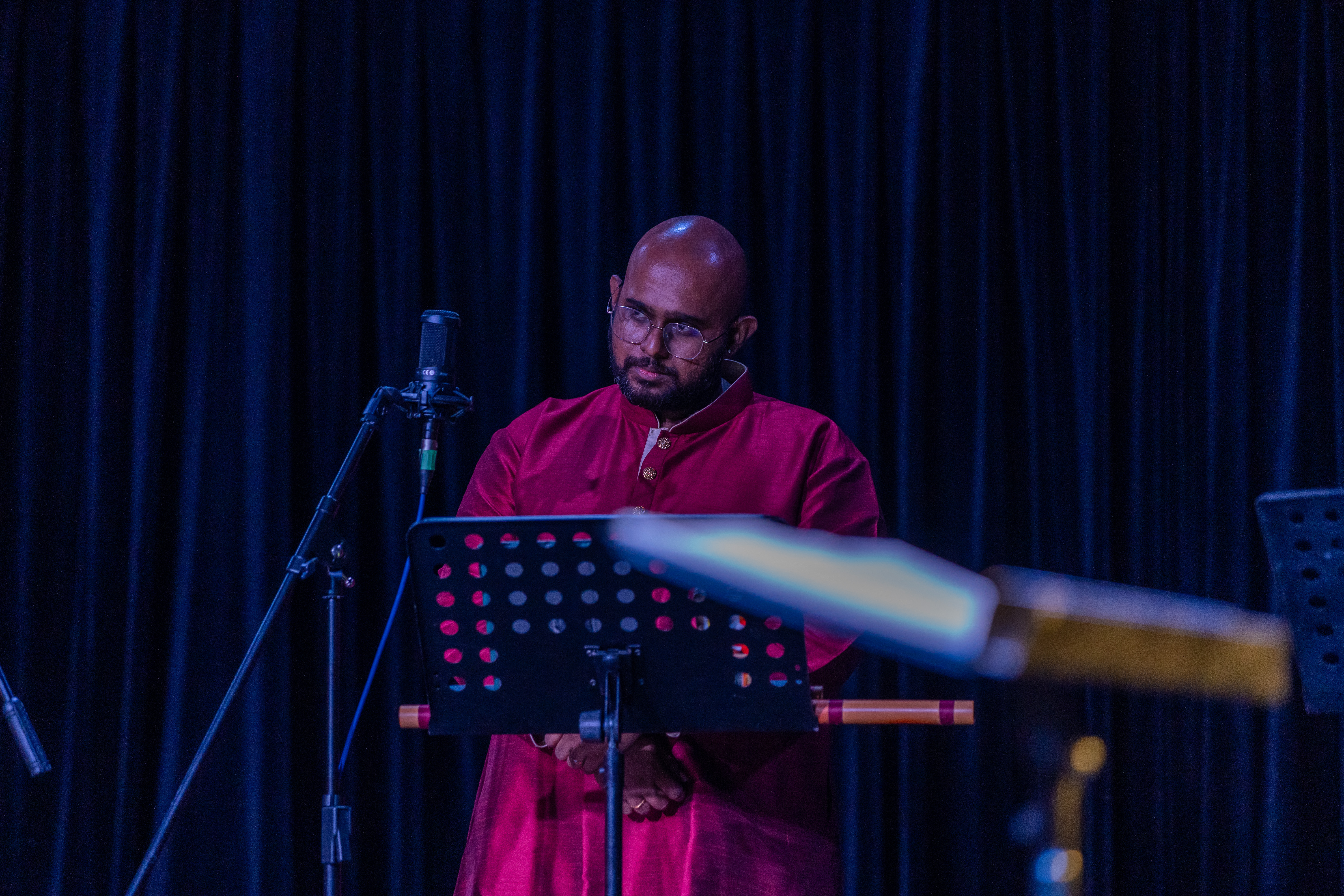 The three ensembles he founded each have their own distinct sounds. Image credit: Esplanade – Theatres on the Bay
"I didn't want jazz to creep into my other ensembles," he shared. While the Brahmastra Ensemble focuses on both vocal-based and instrumental Indian pop music and The Vamshika Quintet is dedicated to flute quintet music in Southeast Asia, the NP Collective's niche is Indian jazz material.
But experimenting with new sounds is not just a self-indulgent endeavour – it is crucial to the development of any 21st-century artist as well as the creation of a distinct Singaporean sound.
"That's how we differ from an artist in India, for example, where the objective of many classical musicians is to preserve heritage instead," he said.
Eat, breathe, live music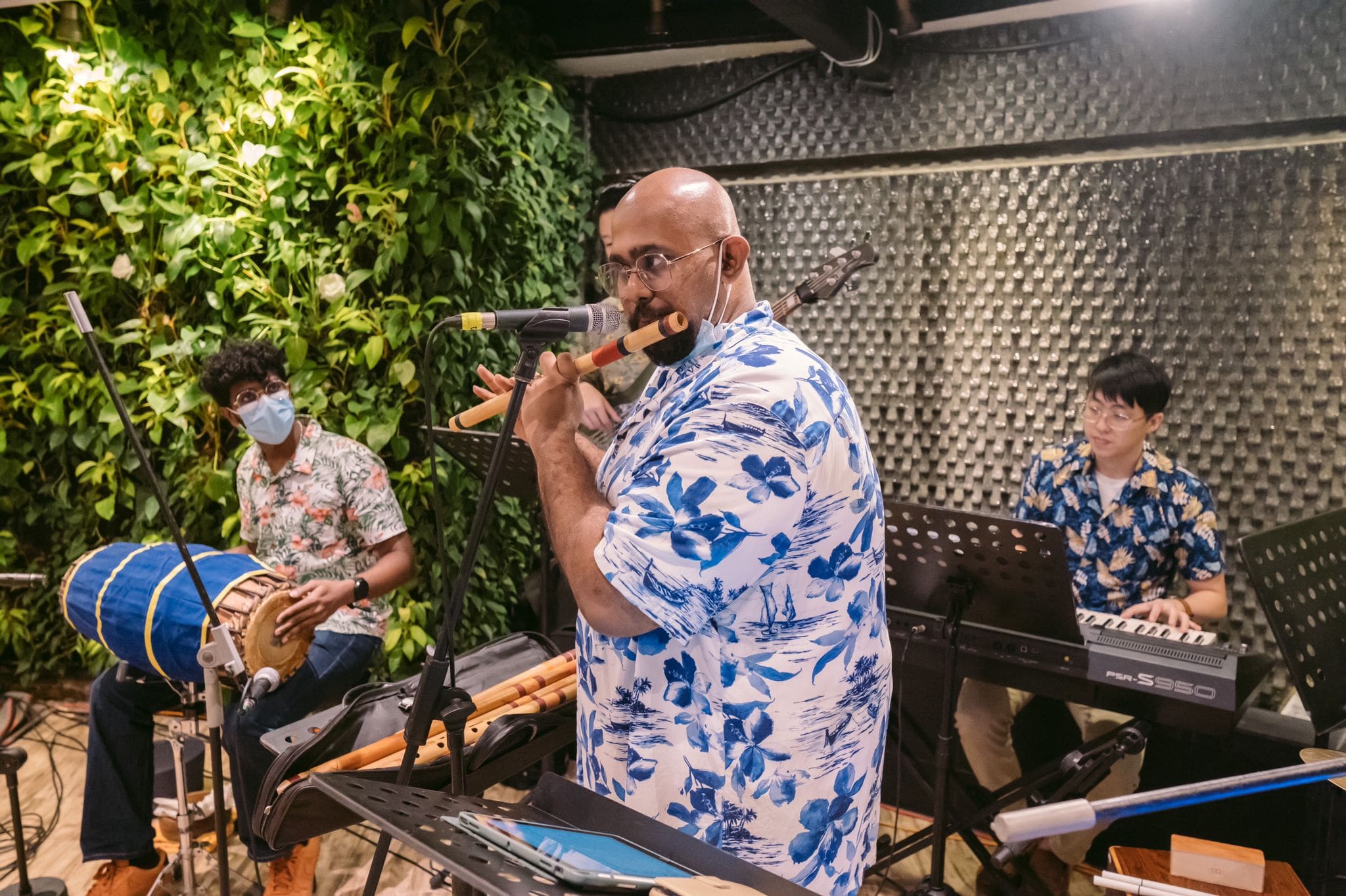 Taking a leap of faith from accountancy to music. Image credit: Esplanade – Theatres on the Bay
Ultimately, he sees music as less of a career than a way of life.
"I didn't have an identity before music. Before that, I was just Niranjan from accountancy," the 30-year-old quipped, referring to how he was studying accountancy at the Singapore University of Social Sciences prior to pursuing music full time. It was only in his final year there, after much encouragement from his long-time music mentors, that he realised music was much more than a part-time gig. He dropped out of the programme and never looked back.
At the same time, he is not one to box himself into categories. "I never saw myself as an Indian classical flautist – it is against my ethos. I am just a human being who really, really wants to be involved in music and the arts as much as I can."
This is why it is not enough for him to merely learn about the language of sound, but also about people and community through music, including the budding musicians who need just a little more help to figure out who they are. Out of his extensive oeuvre, which includes countless sold-out shows, it is the humble personal project in 2022, My Identity - To Seek Within, that remains one of his fondest productions.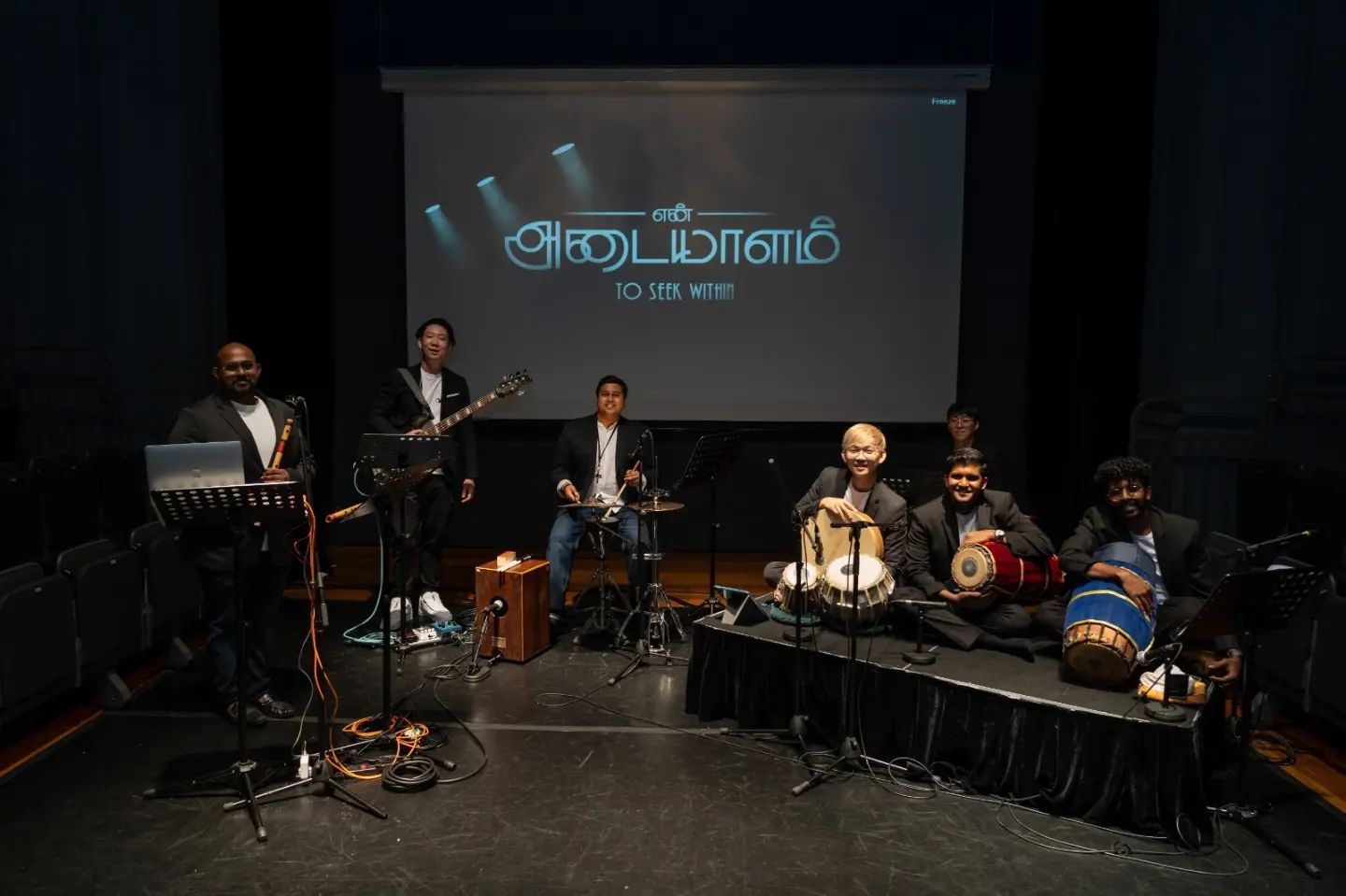 My Identity - To Seek Within was produced by Niranjan, who also took to the stage. Image credit: Brahmastra
Supported by the Tamil Language Learning and Promotion Committee, the musical brought to life five stories of youths who found themselves through the arts and music – just like Mr Niranjan did – through a series of original compositions and dance works performed by the Brahmastra Ensemble and other performing artists. And, to his delight, the musical will return in July this year for a second run, featuring five new performers and their stories.
These narratives are what humanise the arts scene to the public, whom he feels often lacks a sense of empathy towards artists and their labour. "Music is consumed extensively but little credit is given," he lamented.
You may find the event listing here.