At first glance, the photographs in Geraldine Kang's Live-in (Mattress provided) may seem puzzling. Nobody, or rather, no body is in sight, only image after image of cramped living quarters, some more than others. This is despite the fact that the theme for Women in Film and Photography 2023 is "Bodies".
Each image is accompanied by a vignette that provides a brief snippet of the artist's interaction with the owner of the house and their respective domestic worker(s), but the truth lies in what is not said—or seen.
It is arguably the standout piece of the exhibition
.
The
Singaporean artist
was inspired by the mandate that requires migrant domestic workers to live with their employers, a rule that has often been criticised for leaving workers vulnerable to exploitation.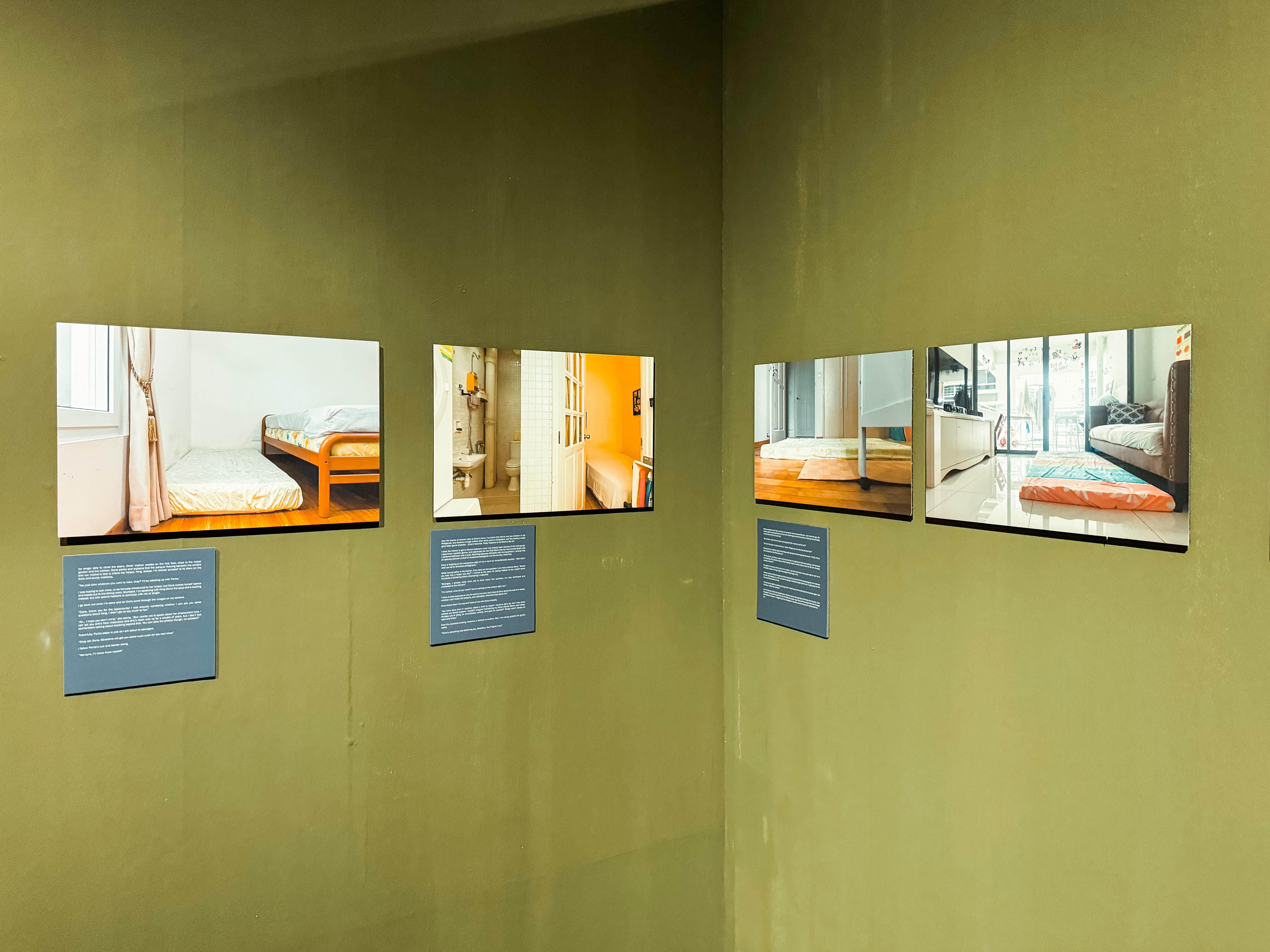 Geraldine Kang's powerful reflection on Migrant Domestic Workers
She is one of nine Asian artists whose works are exhibited at the seventh edition of Objectfis' exhibition, Women in Photography and Film 2023: Bodies. Through a diverse body of work (pun intended), they probe the concept of the body through their respective cultural and geographical lenses, exploring how it becomes a marker of both personal and collective identity.
My body, my choice?
Not quite, not always. For many women and people from other marginalised groups in society, their bodies do not often belong wholly to themselves. From state control to dress codes, their bodies are subject to scrutiny and policed to varying extents.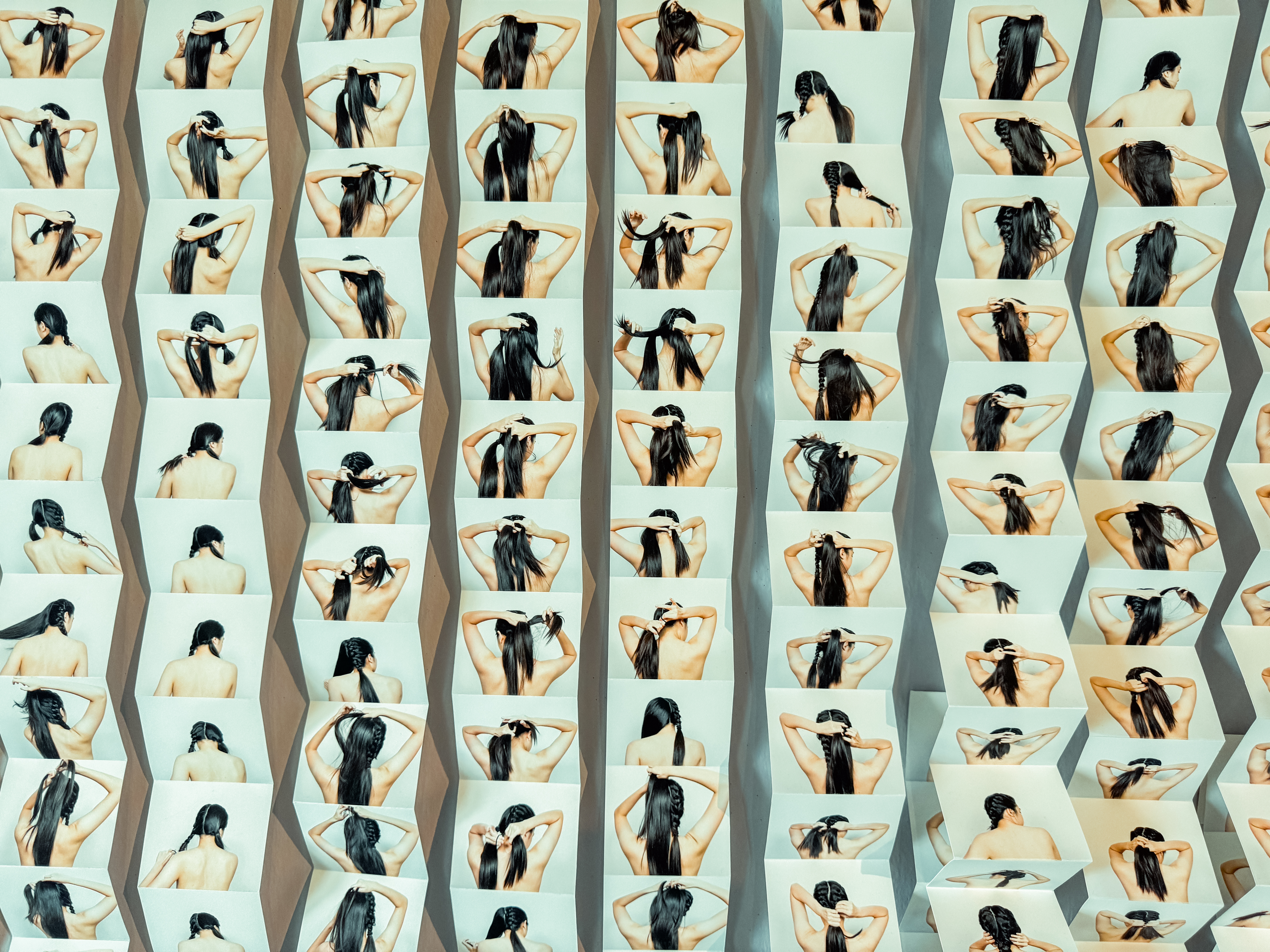 Dear Lisa challenges conformity from an early age, showcasing 72 braids in 24 school-acceptable hairstyles hairstyles
It starts as early as one's childhood years, Singaporean visual artist Lisa Peh argues. In her work Dear Lisa, she fleshes out, frame by frame, 72 different ways to tie a braid in the 24 different hairstyles that are deemed acceptable in Singapore schools. Seeing the rolls of tiny photographs tumbling down the wall like ivy is almost humorous because, well, "a braid is ultimately still a braid", in her words.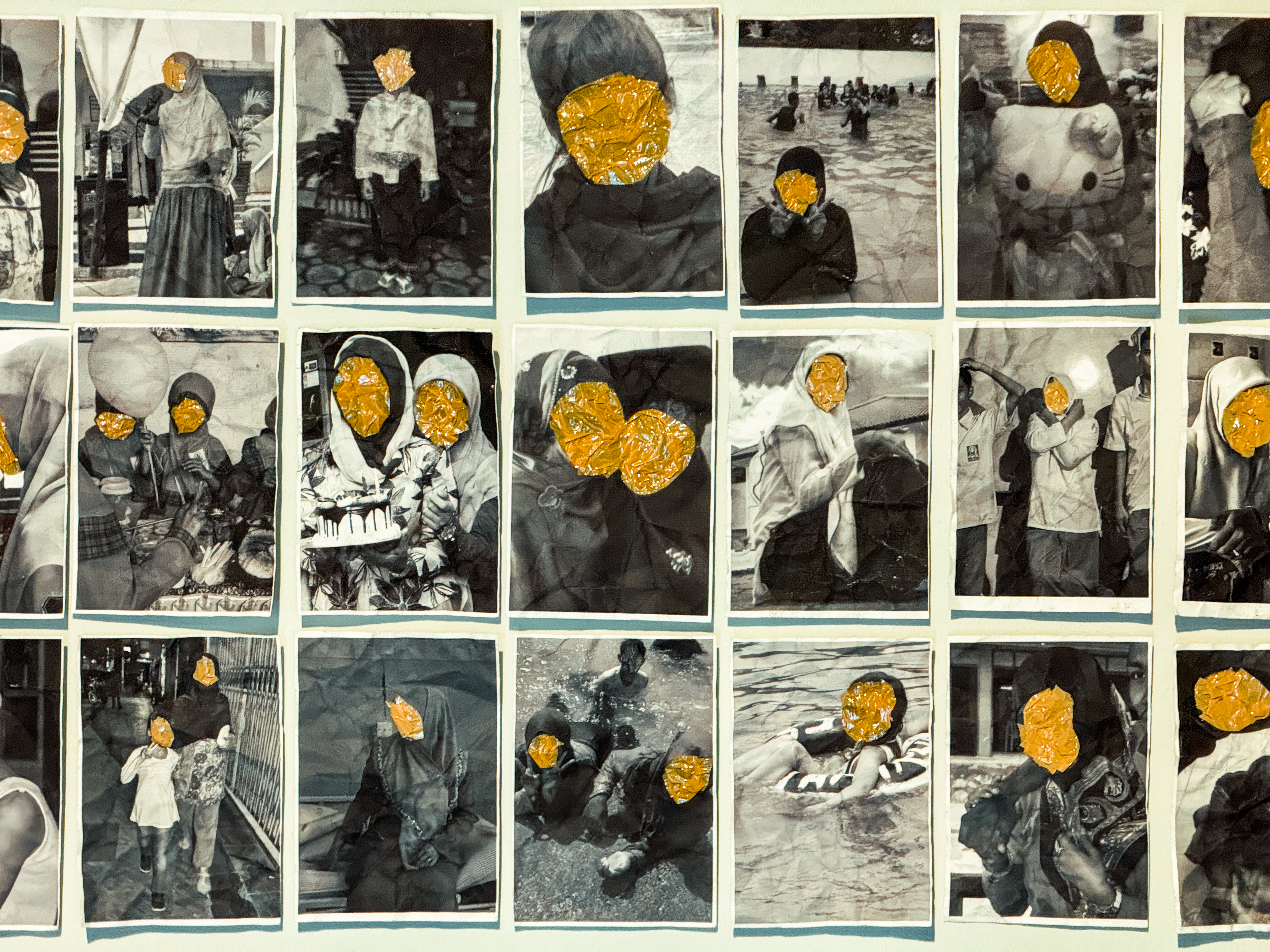 Unveiling the faceless warriors, Nisa Rizkya Andika's Powerful Reflection on Women's Identity in Aceh, Indonesia
As girls grow into women, the disciplining of their bodies only tightens. In Beudoh Dara, which translates into "wake up woman" in Acehnese, Indonesia multidisciplinary artist Nisa Rizkya Andika features a self-portrait series and accompanying images of her mother and sister from her family albums with a unique twist—not a single face is shown. Under Sharia law in Aceh, women are expected to adhere to a modest dress code and their bodies are effectively covered up. Blanking out all the faces in her portraits is a visual parallel to the women who have been reduced to faceless statistics.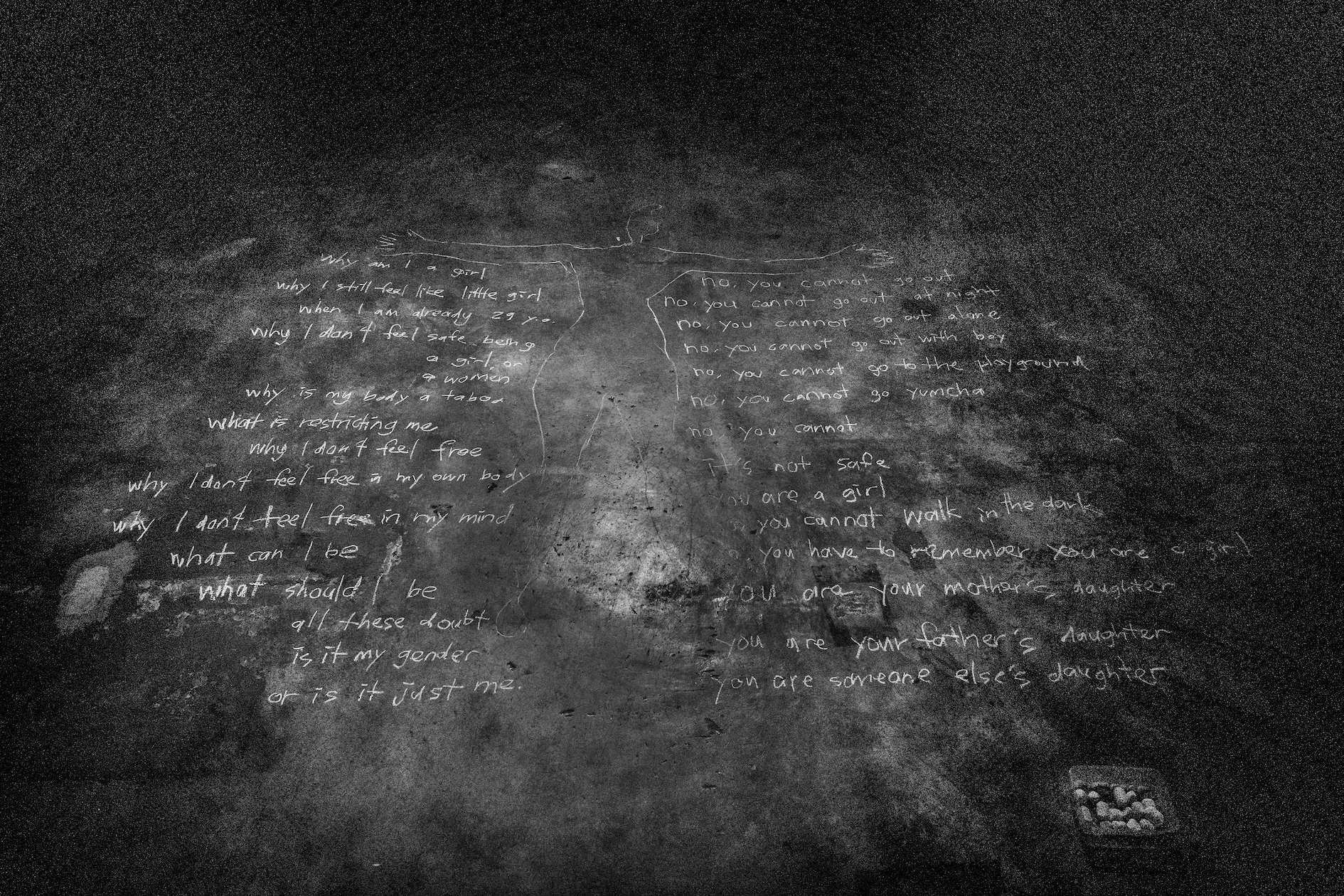 When isolation brings freedom and safety to Malaysian artist Low Pey Sien. Image credit: Objectifs
These societal standards are often internalised by women too. It is why Malaysian artist Low Pey Sien seeks to resist them in her work. For two solitary months during the 2020 pandemic lockdown, she holed up in a warehouse-turned-arts space to work on a visual diary of herself. As she began brainstorming, one particular idea kept resurfacing: the desire to be naked.
"Coming from a traditional Chinese-Malaysian environment, I've grown up associating nudity with the negative connotations of lust, shame, and immorality," she said in her accompanying exhibition write-up for The Future of (a Work that is Buried in a Hard Disk).
That perception is turned on its head at Bodies. One photo shows her perched upright atop a ladder—completely and abashedly nude. In another, she is seated on a workbench in a dimly lit room, pulling her T-shirt up to her neck to expose her breasts. Her piece represents her courage to lay herself bare, literally, to the world as she transforms that internalised sense of shame into "universal humanity, beauty, and self-empowerment".
Reclaiming the body
Even as the body is often a site of trauma, it can also be that of resilience and resistance.
Vietnamese photographer and artist Vân-Nhi Nguyễn's As You Grow Older firmly resists the dominant Western perception of Vietnam as merely the place where their wars were fought or where their sports shoes are made—a gross trivialisation of the complex realities of its people. Her portraits capture individuals from all genders, races, and sexualities in their own homes—and at their most vulnerable—gazing straight at the camera. This time, they are no longer just colonial objects to be passively observed as they also actively confront the viewer's gaze.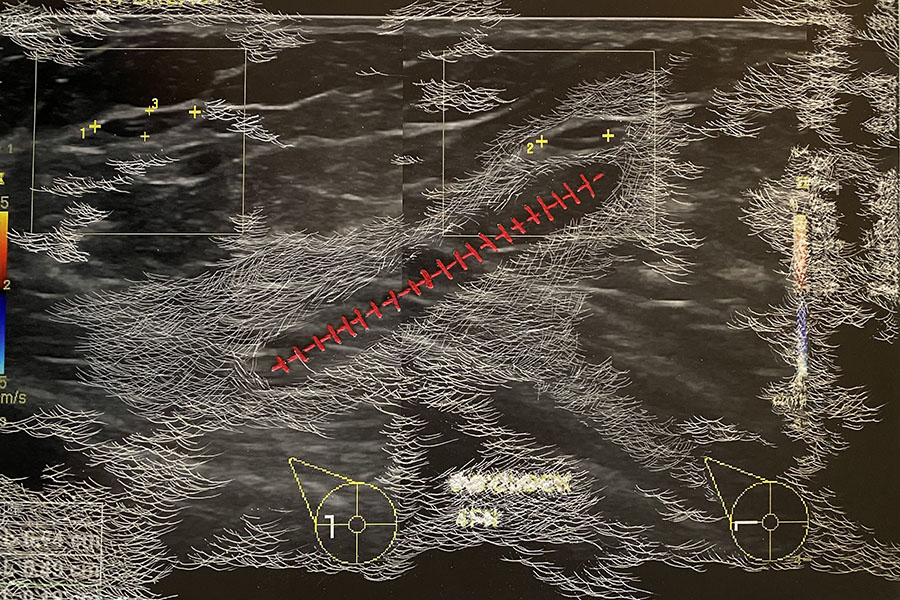 Sunaina Bhalla weaves a powerful narrative of survival and self acceptance. Image credit: Objectifs
Sharps and Such approaches healing bodily trauma in a more visceral sense. In her work, Singaporean Indian artist Sunaina Bhalla scratches prints of her mammograms after surviving breast cancer and embroiders them with red thread as a way to document the scars—physical and emotional—on her body, and move on from the pain at the same time.
Our relationships with our bodies are complex—they are vessels through which we experience the world. But if there's anything that Bodies made clear, it is that we are also more than just our bodies.
Listen to your body and head down to Women in Film and Photography 2023: Bodies from 14 September to 5 November 2023 at the Chapel Gallery, Objectifs. Admission is free.
All other images belong to Catch.