We are officially launched now! So, what is Catch? And what's the catch?
We are a new web content portal that is the go-to destination for all things arts and culture in Singapore. Launched by the National Arts Council (NAC) as part of the Our SG Arts Plan (2023 - 2027), Catch is a comprehensive resource for finding out about upcoming arts and culture events, reading in-depth reviews and previews, and getting inspired by curated itineraries.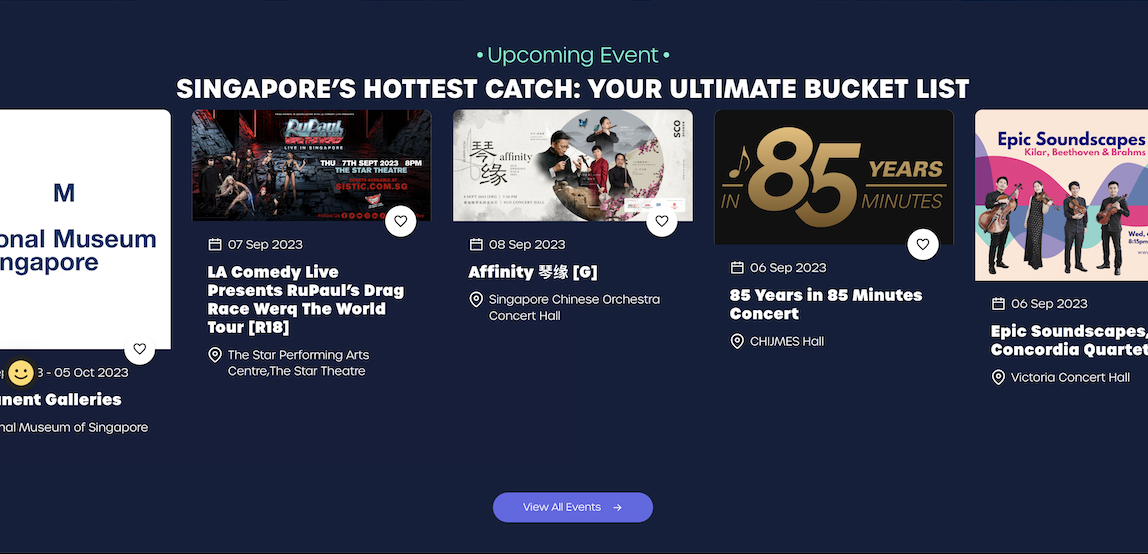 Discover 'em, list 'em – catch all the hottest arts and culture events in Singapore here!
Catch is not just a resource for arts lovers. It is also an important tool for the arts community itself. Now, Catch can help artists and arts organisations to promote their work, reach a wider audience, and build relationships with potential supporters. As we've been saying these past months when we were in beta, our listings are our content, and our content is our listings.
With a non-stop pipeline of previews, reviews, and listicles, Catch fosters a more vibrant and engaged arts community in Singapore. Both consumers and practitioners are already active on the platform.
We are proud to bring you this bold new initiative that has the potential to transform the arts and culture scene in Singapore. By providing a comprehensive and user-friendly resource for arts lovers and arts professionals alike, Catch aims to make the arts more accessible and inclusive.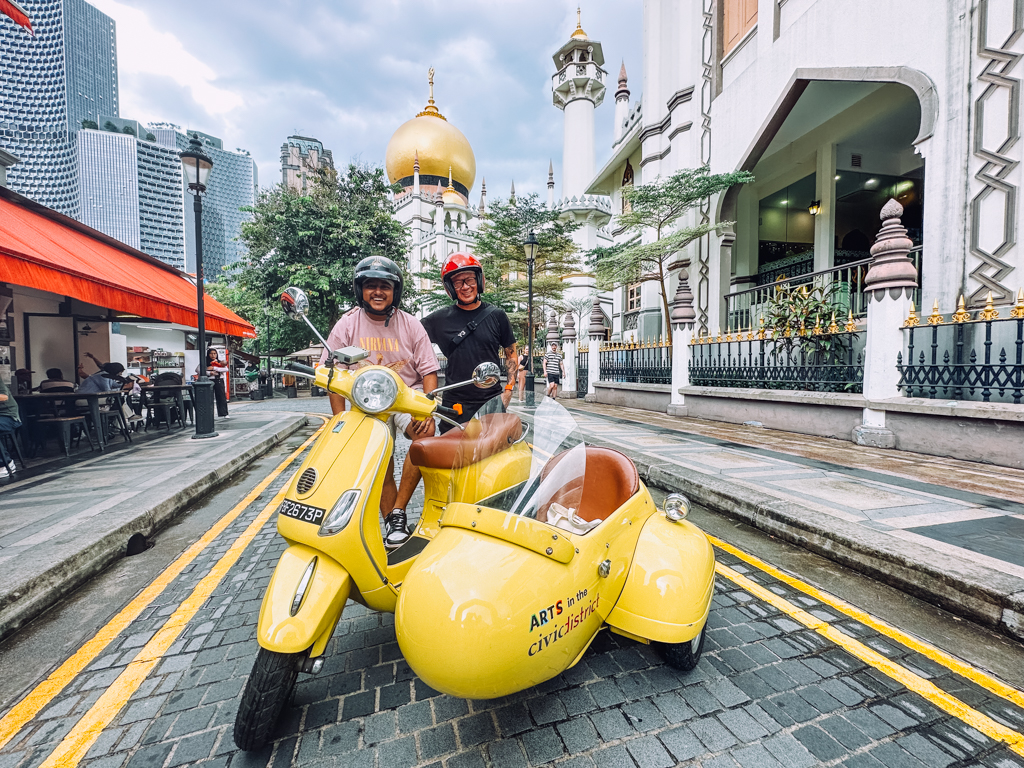 Catch first dibs and exclusive access to some of the coolest arts and culture events as a Catch Creator.
We are also excited that a growing number of people have signed up to become Catch Creators - arts lovers who share their experiences of the arts events they attend with their own online audiences. We know people get inspired by their peers' curations when it comes to lifestyle experiences, and in turn create their own curations for others to experience.
For a start, you can take a pick of our thoughtfully curated itineraries exploring different arts trails that involve museums, shows, galleries, and of course, for the Singaporean stomach, food and beverage options.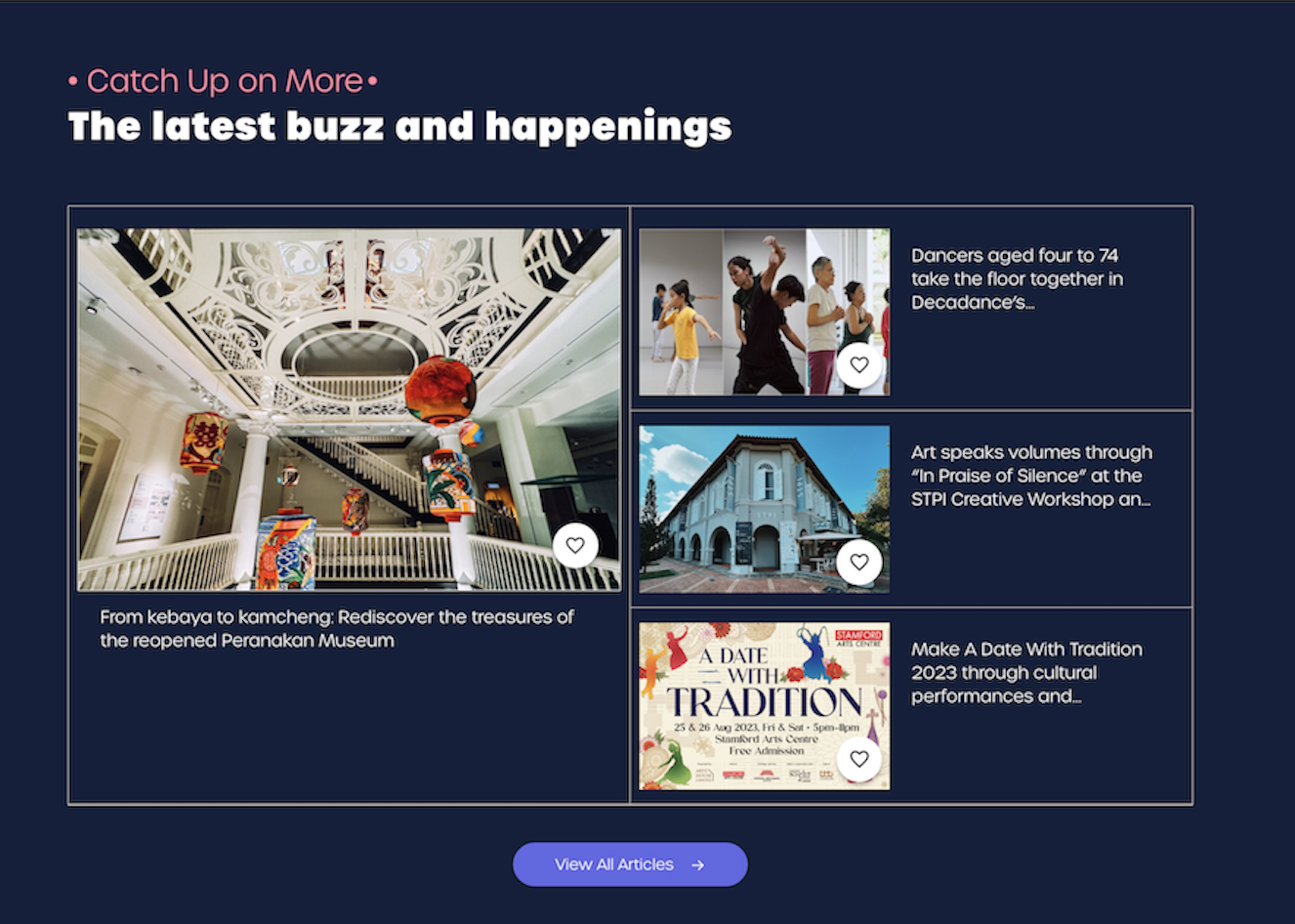 Reviews, walkthroughs, listicles, interviews, and opinion pieces – Catch is your guide to discovering more about our arts and culture scene.
Apart from our listings being the most comprehensive database of upcoming arts events, including performances, exhibitions, festivals, and workshops. Catch also contains longer-form content: In-depth reviews and previews of arts events, as well as interviews with artists and arts leaders. There'll also be regular opinion pieces, providing their point-of-view on the arts and culture scene in Singapore, which we know is alive and thriving!
Catch can only get better with everyone's support and participation, when there are more of you, the more we learn about how people enjoy the arts, and the better our arts organisations can tailor their work for you.

Stay up to date on the latest events we have on Catch through social media.
We're constantly buzzing with energy, and that means Catch is lighting up your social media feeds too! Find us on
Facebook
,
Instagram
, and
TikTok
, and make sure you hit that follow button. With Catch, you'll never miss out on the excitement around town, because there's always a thrilling adventure waiting to be caught!