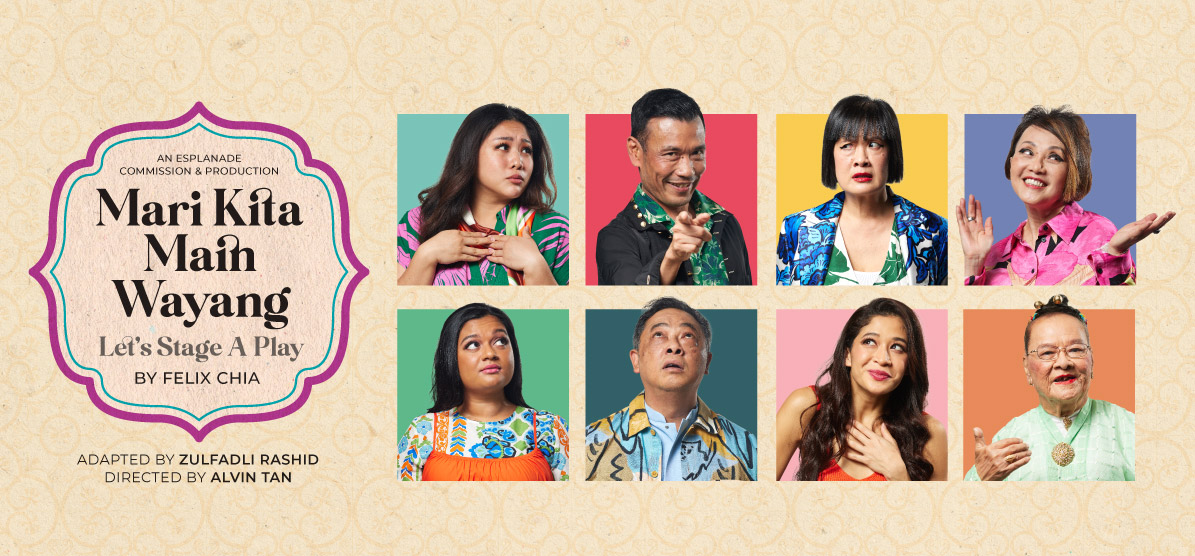 Esplanade Presents • Mari Kita Main Wayang by Felix Chia • Adapted by Zulfadli Rashid • Directed by Alvin Tan • An Esplanade Commission & Production
18 Nov 2023 (Sat) - 19 Nov 2023 (Sun)
28 Views
Date and Time
18 Nov 2023 : 14:30 - 16:30
18 Nov 2023 : 20:00 - 22:00
19 Nov 2023 : 14:30 - 16:30
19 Nov 2023 : 20:00 - 22:00
---
Location / Links
Singtel Waterfront Theatre at Esplanade
---
Event Details
Hijinks and humour abound in Mari Kita Main Wayang (Let's Stage A Play)!

This play-within-a-play follows a group of  Peranakans who come together to stage Empat Bini, an ambitious script that is set within the illustrious walls of a royal court. However, all is not as it seems—as the play unfolds, a gripping narrative of power gone awry among the players comes to light.

Presented in Baba Melayu and peppered with familiar expressions, Mari Kita Main Wayang is a love letter to the rich Peranakan cultural heritage deeply rooted in Singapore. It pays homage to the under-appreciated art form of Peranakan theatre, while highlighting the significance of having this heritage represented on stage. Witness the revival of this tradition and be transported to a bygone era where the past meets the present.

First staged in 1994, this adaptation of Felix Chia's script is comedic, unique and utterly captivating—look forward to witty banter, dramatic storytelling and masterful performances by the cast!
Admission Rule
Admission Rules of Esplanade:

Rating/Age Limit

- Admission is subject to tickets produced at the entrance.

- Infants in arms or children below the age of 6 shall not be admitted.

- Children aged 6 years and above must purchase ticket for admission.

Late Seating Advisory

- You are strongly advised to be seated before the performance start time.

- Latecomers will be admitted during suitable breaks, if any.

- Exceptions may be made at Esplanade's discretion depending on the nature of the performance.

Photography/Video Recording Rules

- No unauthorised photography, video and audio recording is allowed for this event.

- Please note that photographs and videos of patrons may be taken at this event for use in our archival and publicity material.

Help Us Keep Everyone Safe

- Strictly no food & beverage allowed in the performance venues.

- Stay at home if you're unwell.
Events That Match Your Vibe
Be The First To Catch the Hottest Events
Why settle for the ordinary?
Don't wait in line. Get the newest and hottest event updates sent to you!