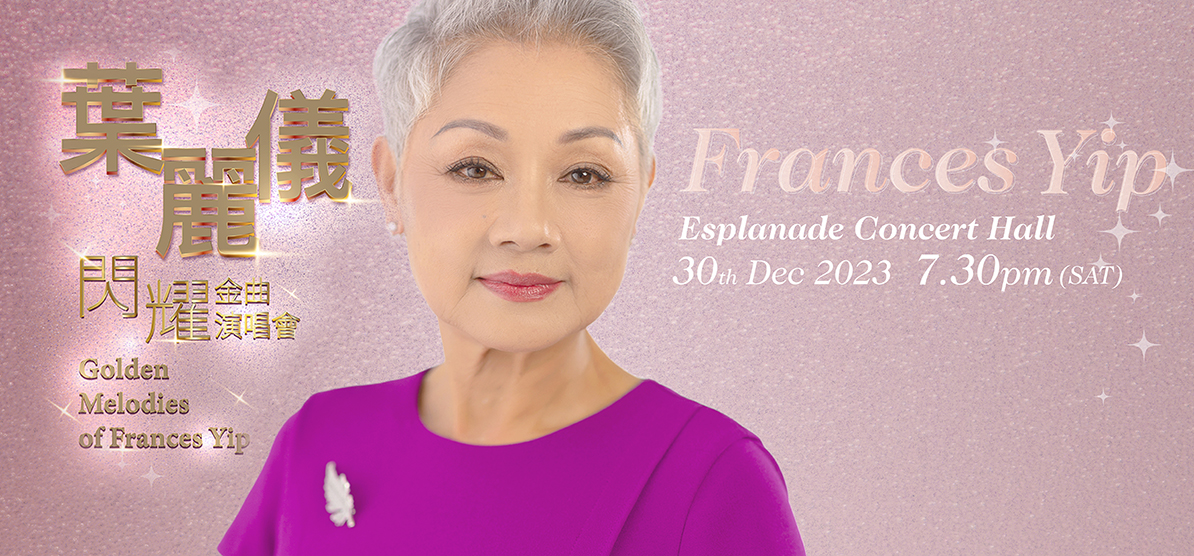 葉麗儀閃耀金曲演唱会 Golden Melodies of Frances Yip [G]
30 Dec 2023 (Sat)
Date and Time
30 Dec 2023 : 19:30 - 21:30
---
Location / Links
Esplanade Concert Hall
---
Event Details
Cantopop diva Frances Yip will return to Singapore performing for a one-night only concert that will bring her audiences down memory lane with her all-time favourite hit songs such as《上海滩》、《万般情》、《上海滩龙虎斗》、《红颜》、《愿你待我真的好》、《女黑侠木兰花》、《笑傲江湖》and more.

Frances Yip was discovered at the Sharp's Night Four Lights Competition on Hong Kong television in 1969. She began her career singing commercial jingles, and recorded her first album, Love without End, the same year.  In 1973, she was named Ambassador of Hong Kong for Cathay Pacific and the Hong Kong Tourism Board. She was then signed by EMI Records, and went on to record over 80 albums in a career that spanned almost half a century.

She was also known for her versatility, being able to sing in a variety of languages including Cantonese, Mandarin, English, Japanese, Malay, and Thai. At the Hong Kong sovereignty transfer ceremony in 1997, she was the face of the nation, serving as co-presenter.

Frances Yip had released more than 80 albums so far, with songs mostly in Cantonese, Mandarin and English as well as in Thai, Malay, Spanish and Japanese. She is best known for performing theme songs for Hong Kong TVB television drama series in the 1980s and early 1990s.

MARK your calendar for the Golden Melodies of Frances Yip 葉麗儀闪耀金曲演唱会which will take place at the Esplanade Concert Hall on 30th December 2023.
Admission Rule
Rating/ Age Limit


Rating: General
No admission for infants in arms
Children must be age 6 and above to be admitted into the hall.
Children under 6 will not be admitted into the hall, even with a ticket.
Please bring along proof of child's age, such as a student concession pass, as random checks may be conducted at the venue.
There is no admission without a ticket.


Late Seating Advisory


You are strongly advised to be seated 30 minutes before the performance start time
No admission will be allowed into the venue once the performance has commenced
Exceptions may be made at Esplanade's discretion depending on the nature of the performance


Photography / Video Recording Rules


Unauthorised photography, video and audio recording are not permitted during the performance.
Please note that photographs and videos of patrons may be taken at this event for use in our archival and publicity material.

 


Help Us Keep Everyone Safe


No changing of seats is allowed.
Use the hand sanitiser provided around the centre and in the performance venues.
Strictly no food & beverage allowed in the performance venues.
Esplanade reserves the right not to admit patrons who do not comply with prevailing safe management measures.
Stay at home if you're unwell.
Events That Match Your Vibe
Be The First To Catch the Hottest Events
Why settle for the ordinary?
Don't wait in line. Get the newest and hottest event updates sent to you!