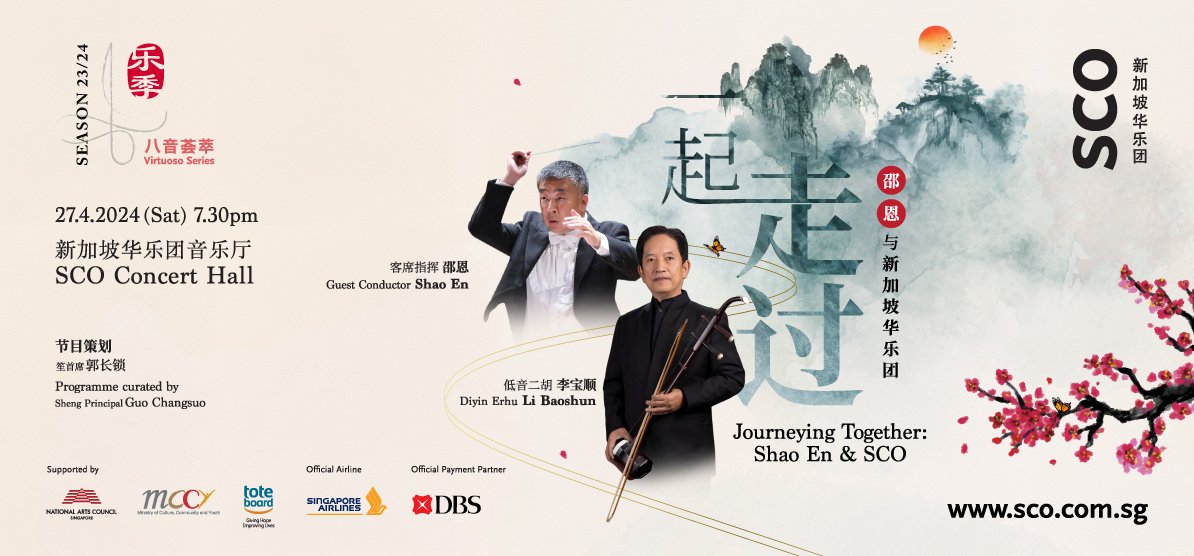 Journeying Together - Shao En and SCO 一起走过 - 邵恩与新加坡华乐团 [G]
27 Apr 2024 (Sat)
4 Views
Date and Time
27 Apr 2024 : 19:30 - 21:10
---
Location / Links
Singapore Chinese Orchestra Concert Hall
---
Event Details
Internationally renowned conductor Shao En has served as the music director of the Taipei Chinese Orchestra and several symphony orchestras, bridging East and West. With programme curated by SCO Sheng Principal Guo Changsuo, Shao En will take the audience on a journey together through works such as Flowers Blooming Everywhere, Days of Emancipation, Towards a Bright Future, Blossoms on a Spring Moonlit River, and Night Banquet at the Shu Palace. SCO Concertmaster Li Baoshun will perform the profound Autumn Moon over the Han Palace, and the audience can look forward to Dianxi Folk Tunes by Guo Wenjing. Join us to relive timeless classics and embrace new ones!
Admission Rule
Rating / Age Limit


Rating: General
No admission for infants in arms and children below 6 years old
Children 6 years and above must purchase ticket for entry
Admission is subject to tickets produced at the entrance


Late Seating Advisory


Please be seated 15 minutes before the performance start time.
There will be no admission into the venue once the performance has commenced.
Admission may only be permitted during a suitable pause, depending on the nature of the performance.


Photography / Video Recording Rules


Non-flash photography is allowed for this event.
No unauthorised flash photography, video recording and audio recording is allowed for this event.
Please note that photographs and videos of patrons may be taken at this event for use in our archival and publicity material.
Events That Match Your Vibe
Be The First To Catch the Hottest Events
Why settle for the ordinary?
Don't wait in line. Get the newest and hottest event updates sent to you!