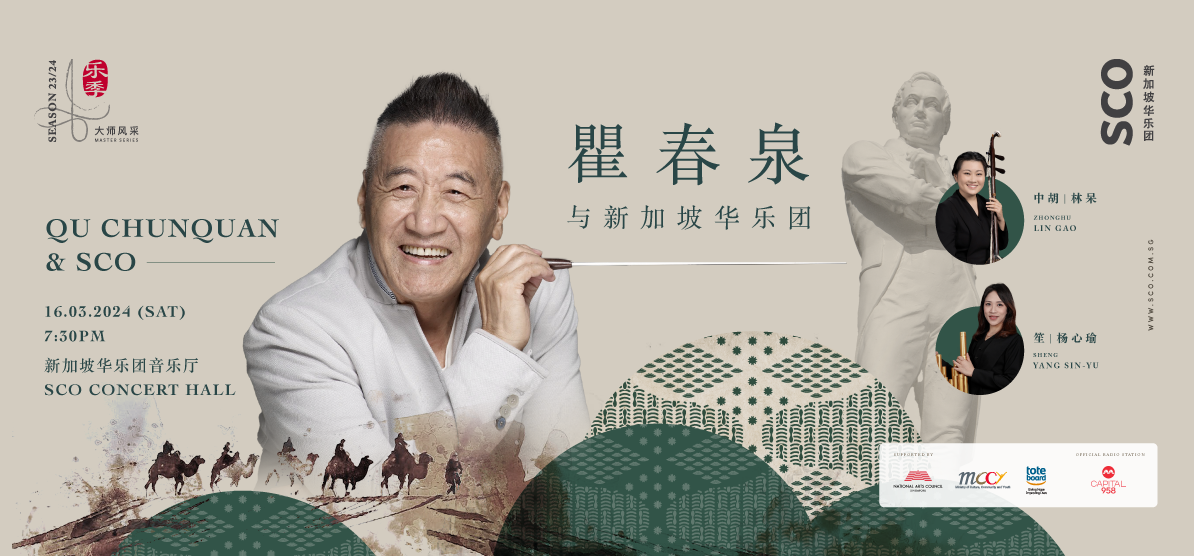 Qu Chunquan and SCO 瞿春泉与新加坡华乐团 [G]
16 Mar 2024 (Sat)
1 Views
Date and Time
16 Mar 2024 : 19:30 - 21:00
---
Location / Links
Singapore Chinese Orchestra Concert Hall
---
Event Details
Qu Chunquan is not only an international name in the Chinese music circle but also a pioneer of SCO in its budding stage, and this concert will feature a diverse and colourful repertoire of his works. SCO Zhonghu Principal Lin Gao will present the Singapore premiere of the zhonghu concerto Variations on a Theme of Rely. Legend of Paiwan, which depicts the folklore of Taiwanese indigenous peoples, will be presented by SCO Sheng musician from Taiwan Yang Sin-yu. Reverie at the Statue of Sir Stamford Raffles, created by Qu in Singapore, will bring the concert to a close on a high note.
Admission Rule
Rating / Age Limit


Rating: General
No admission for infants in arms and children below 6 years old
Children 6 years and above must purchase ticket for entry
Admission is subject to tickets produced at the entrance


Late Seating Advisory


Please be seated 15 minutes before the performance start time.
There will be no admission into the venue once the performance has commenced.
Admission may only be permitted during a suitable pause, depending on the nature of the performance.


Photography / Video Recording Rules


Non-flash photography is allowed for this event.
No unauthorised flash photography, video recording and audio recording is allowed for this event.
Please note that photographs and videos of patrons may be taken at this event for use in our archival and publicity material.
Events That Match Your Vibe
Be The First To Catch the Hottest Events
Why settle for the ordinary?
Don't wait in line. Get the newest and hottest event updates sent to you!