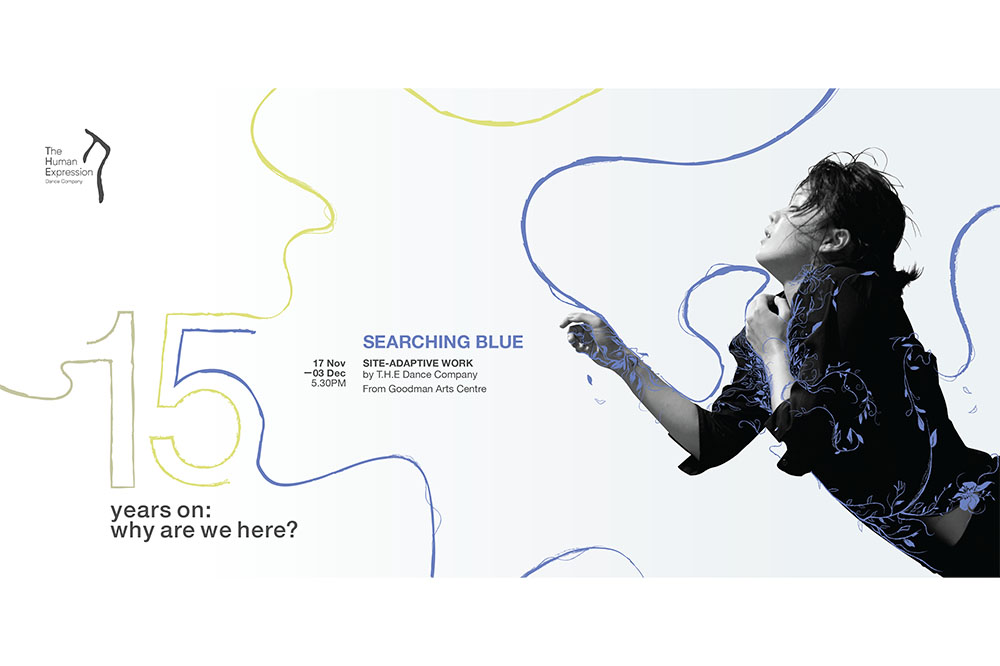 Searching Blue by T.H.E Dance Company
17 Nov 2023 (Fri) - 03 Dec 2023 (Sun)
42 Views
Date and Time
17 Nov 2023 : 17:30 - 19:00
18 Nov 2023 : 17:30 - 19:00
19 Nov 2023 : 17:30 - 19:00
22 Nov 2023 : 17:30 - 19:00
23 Nov 2023 : 17:30 - 19:00
24 Nov 2023 : 17:30 - 19:00
25 Nov 2023 : 17:30 - 19:00
26 Nov 2023 : 17:30 - 19:00
29 Nov 2023 : 17:30 - 19:00
30 Nov 2023 : 17:30 - 19:00
01 Dec 2023 : 17:30 - 19:00
02 Dec 2023 : 17:30 - 19:00
03 Dec 2023 : 17:30 - 19:00
Show More
Show Less
---
Location / Links
Goodman Arts Centre
---
Event Details
Moments of dissonance build up to a sense of oneness — the self re-encounters the world, others, and oneself. How do we perceive, and connect to, the wider physical world?

A site-adaptive, travelling work, this November's premiere of Searching Blue by Kuik Swee Boon and T.H.E Dance Company invites you on a journey like no other, weaving a hopeful web of interconnectedness that ripples through the city.

Searching Blue is presented as part of T.H.E Dance Company's programme lineup for its 15th anniversary.
Admission Rule
No admission for infants in arms or children under the age of six. This is a site-adaptive performance that will take you on a journey between multiple locations, beginning from outside T.H.E Dance Company's studio at Goodman Arts Centre.
Events That Match Your Vibe
Be The First To Catch the Hottest Events
Why settle for the ordinary?
Don't wait in line. Get the newest and hottest event updates sent to you!