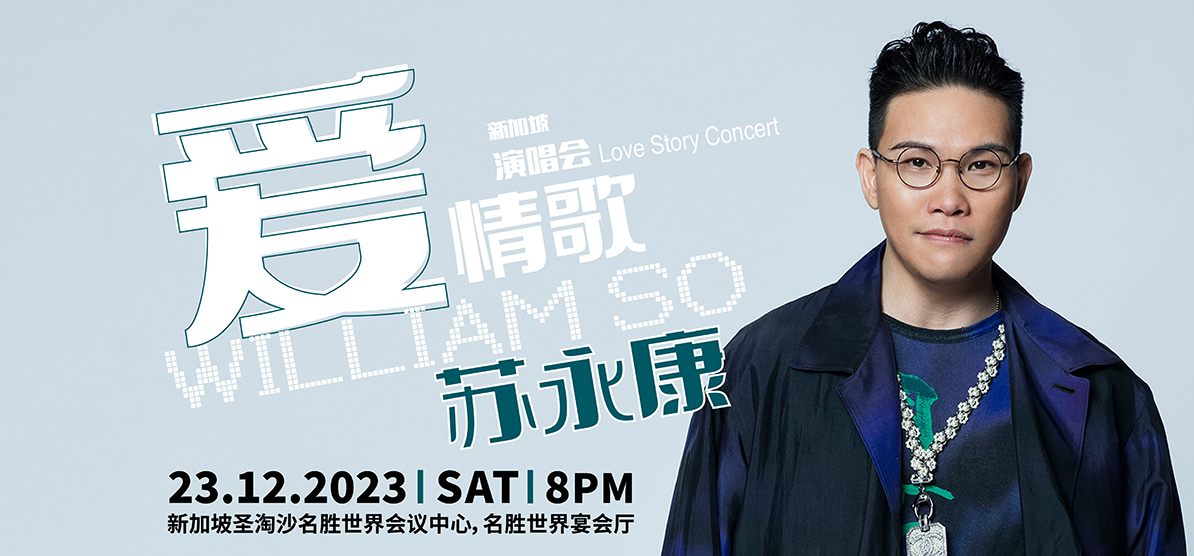 爱情歌苏永康新加坡演唱会 William So Love Story Concert
23 Dec 2023 (Sat)
29 Views
Date and Time
23 Dec 2023 : 20:00 - 22:00
---
Location / Links
Resorts World Ballroom, Resorts World Convention Centre®
---
$68.60 - $178.00
29 Views
Event Details
MANDOPOP HIT SINGER WILLIAM SO IS COMING TO SINGAPORE FOR A ONE-NIGHT ONLY PUBLIC CONCERT THIS DECEMBER, WILLIAM SO LOVE STORY CONCERT! >.

KNOWN FOR HIS MANY HITS, WILLIAM WON NUMEROUS AWARDS OVER THE YEARS, THE TOP WORLD MUSIC ARTIST WILL MESMERISE AND DELIGHT FANS WITH FAVOURITES INCLUDING >, >, >, > AND MORE.

MISS WILLIAM ACTING ON DRAMA SERIALS, CERTAINLY DON'T MISS BEING AT WILLIAM SO LOVE STORY CONCERT! 爱情歌演唱会 AND WATCH HIM LIVE IN PERSON – YOU HAVE TO BE THERE IN PERSON TO EXPERIENCE HIS LOVE BALLARDS.
Admission Rule
Rating / Age Limit


No admission for infants in arms and children below 6 years old.
6 years old and above must purchase a ticket for entry.
Admission is subject to tickets produced at the entrance.


Photography / Video Recording Rules


No Photography, video recording and audio recording is permitted for this event.
Events That Match Your Vibe
Be The First To Catch the Hottest Events
Why settle for the ordinary?
Don't wait in line. Get the newest and hottest event updates sent to you!