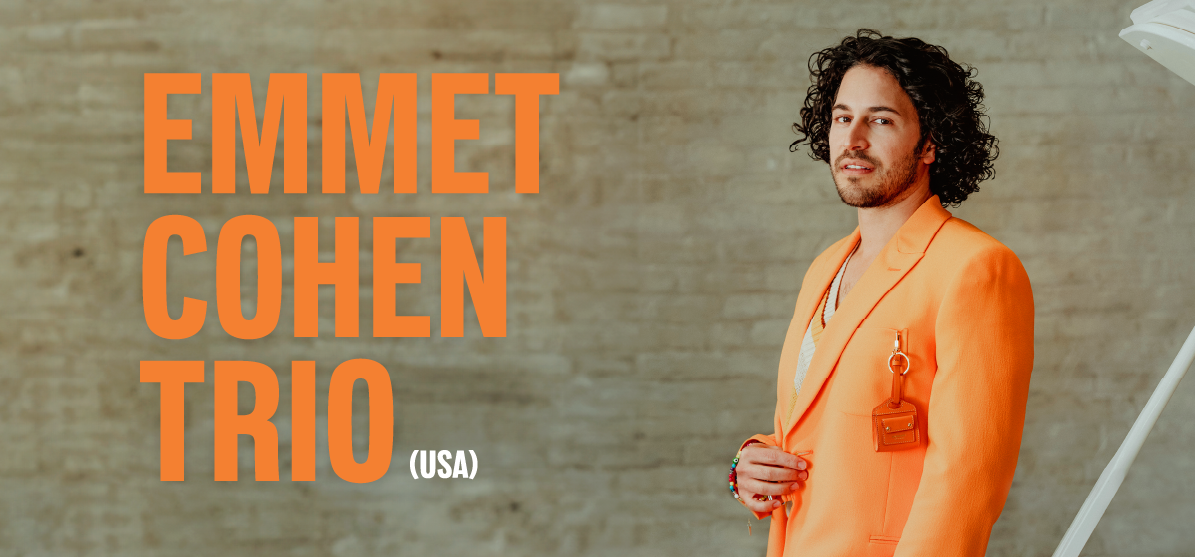 Esplanade Presents I Mosaic Music Series – Emmet Cohen Trio (USA)
02 Dec 2023 (Sat)
1 Views
Date and Time
02 Dec 2023 : 17:00 - 18:15
02 Dec 2023 : 20:00 - 21:15
---
Location / Links
Esplanade Recital Studio
---
Event Details
"Lots of young pianists have chops and energy, but Cohen also has an instinct for meaningful aesthetic form. His spilling runs and chiming resolutions are necessary to an overall design."
— Thomas Conrad, Jazz Times

"Cohen is a young piano virtuoso with a delicate touch, assured, swaggering swing feel, and debonair flow."
— Giovanni Russonello, NYTimes

Internationally-acclaimed and multi-faceted American jazz pianist and composer Emmet Cohen makes his debut in Singapore with the Emmet Cohen Trio, bringing us on an unforgettable and immersive experience of jazz standards and fresh compositions.

A leading figure of the jazz circuit today, Cohen is best known for developing Live From Emmet's Place, a weekly livestream which emulates the Harlem rent parties of the yesteryear, spearheading the sophistication and standards of live internet jazz performances whilst amassing millions of internet views from jazz lovers all across the world. Some notable artistes who have made guest appearances on his stream include Samara Joy, Lucy Yeghiazaryan, Cyrille Aimée, Pasquale Grosso and Nicholas Payton.

Cohen is committed to the intergeneration transfer of jazz traditions and knowledge, often sharing insight into the genre's rich history to foster deeper appreciation for the art form. A dynamic and charismatic performer, the close connection between Cohen and his audiences brings about intimacy and personability, invigorating the jazz world and enthusing jazz lovers both at home and abroad.

Cohen's accolades include winning the 2019 American Pianists Awards and being a finalist in the 2011 Thelonious Monk International Piano Competition. Cohen has headlined at renowned venues like Jazz at Lincoln Center, the Village Vanguard, and Birdland, and performed at major jazz festivals worldwide.

Emmet Cohen is a YAMAHA artist.
Admission Rule
Admission Rules of Esplanade:

Rating/Age Limit

- Admission is subject to tickets produced at the entrance.

- Infants in arms or children below the age of 6 shall not be admitted.

- Children aged 6 years and above must purchase ticket for admission.

Late Seating Advisory

- You are strongly advised to be seated before the performance start time.

- Latecomers will be admitted during suitable breaks, if any.

- Exceptions may be made at Esplanade's discretion depending on the nature of the performance.

Photography/Video Recording Rules

- No unauthorised photography, video and audio recording is allowed for this event.

- Please note that photographs and videos of patrons may be taken at this event for use in our archival and publicity material.

Help Us Keep Everyone Safe

- Strictly no food & beverage allowed in the performance venues.

- Stay at home if you're unwell.
Events That Match Your Vibe
Be The First To Catch the Hottest Events
Why settle for the ordinary?
Don't wait in line. Get the newest and hottest event updates sent to you!