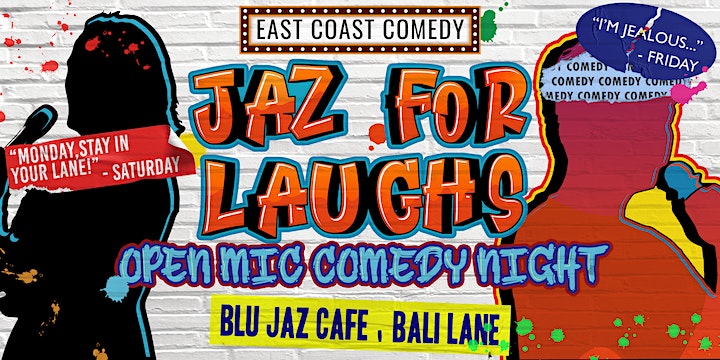 JAZ FOR LAUGH
16 Jul 2023 (Sun) - 12 Aug 2024 (Mon)
14 Views
Date and Time
Mon : 19:30 - 21:30
---
Location / Links
11 Bali Ln, Singapore 189848
---
Event Details
Never let the Monday Blues get you again!
It's date night and you need to stand out from the rest of the riff-raff on Tinder and Bumble.
Or it's team-building night at work and you've got to impress the bosses and colleagues with your ability to think outside the box.
East Coast Comedy has heard you.
Presenting the best and more importantly , the only regular Monday night comedy show in town, Jaz for Laughs, at the historic Blu Jaz Cafe & Bar.
This open-mic comedy show has a singular focus on up-and-coming comics.
Hosted by the hilarious Prem John , every night features a headline-level comedian closing the night with an extended set.
The rest of the lineup....well, they're not yet there among the best comics BUT that's what makes these nights extremely fun for the audience : the thrill of discovery.
Every single comedian on Netflix started off at nights like these and you never know, you just might witness the birth of a future comedy superstar.
And no matter what happens, laughter is always guaranteed!
Also extremely fun, the $12 ticket price.
Blu Jaz Cafe & Bar has a great dinner and drinks menu. You'll be spoilt for choice between their Italian, Indian and local meus.. Happy Hour prices till late on a Monday.
Admission Rule
THE NON-NEGOTIABLES
Entry only for vaccinated patrons
No Ticket Refunds
Minimum Age of Entry is 18
Free Seating
Events That Match Your Vibe
Be The First To Catch the Hottest Events
Why settle for the ordinary?
Don't wait in line. Get the newest and hottest event updates sent to you!