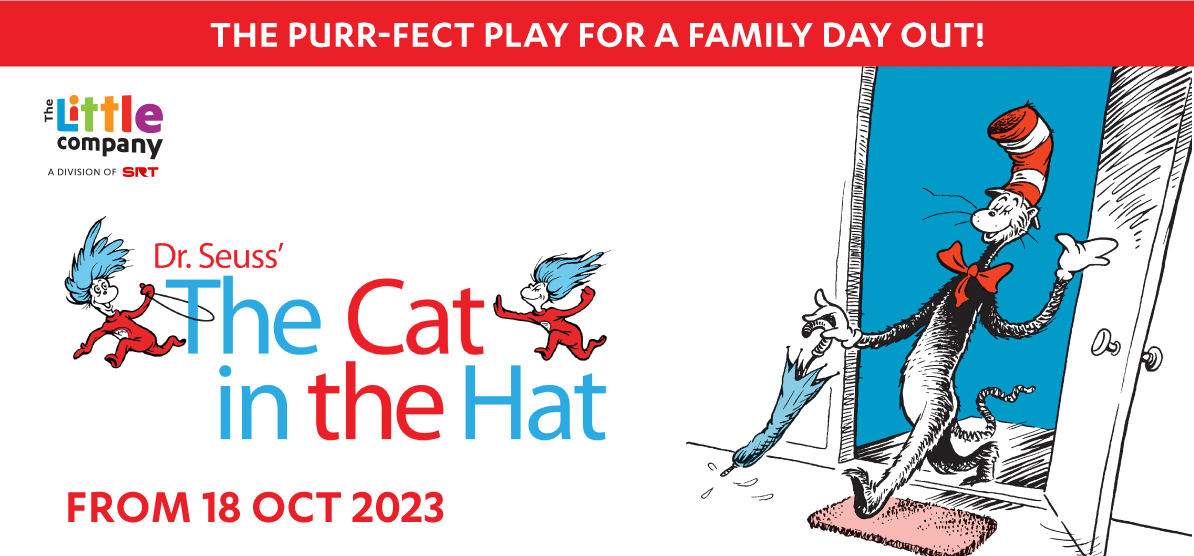 The Cat in the Hat [G]
23 Nov 2023 (Thu) - 30 Nov 2023 (Thu)
157 Views
Date and Time
23 Nov 2023 : 09:30 - 10:10
24 Nov 2023 : 09:30 - 10:10
23 Nov 2023 : 11:30 - 12:10
26 Nov 2023 : 11:00 - 11:40
26 Nov 2023 : 14:00 - 14:40
27 Nov 2023 : 10:00 - 10:40
28 Nov 2023 : 10:00 - 10:40
29 Nov 2023 : 10:00 - 10:40
30 Nov 2023 : 10:00 - 10:40
Show More
Show Less
---
Location / Links
KC Arts Centre - Home of SRT
---
$22.95 - $50.00
157 Views
Event Details
Based on the all-time favourite book by Dr. Seuss, The Cat in the Hat has been developed into a magically witty play by Britain's National Theatre. After the successful staging by SRT's The Little Company in 2012 and 2015, The Cat in the Hat is now back again!

If you have not read any Dr. Seuss lately, you will love this production of The Cat in the Hat. Every Dr. Seuss's story is a lesson in grammar, syntax, scansion, phonics, morality, ethics, tolerance and the human spirit. 

Sally and her brother get a surprise visit from the Cat in the Hat. With his endless tricks and crazy ideas, he certainly turned the dull rainy afternoon into one amazing adventure. 

Joined by the twin mischief-makers, Thing 1 and Thing 2, The Cat in the Hat promises to be a purr-fect day out for both children and parents alike!
Admission Rule
Rating / Age Limit


This show is recommended for 3 years old and above.
If parents wish to bring their infant-in-arm or children below the age of 3, purchase tickets will still be required. 
For the audience's enjoyment of the show, parent of children who are excessively noisy will be encouraged to bring them out of the theatre until they are ready to come back in. We seek your kind understanding on this matter.
Strictly no admission without ticket.


Late Seating Advisory:


Please be seated 15 minutes before the performance start time.
Latecomers will be admitted at a suitable point.


Photography / Video Recording Rules


No Photography, Video recording and Audio recording is allowed for this event.


Additional Information


There is a glass panel in front of Row AA at the Circle seats section.
Left and right balcony seats in the Circle are SINGLE seats in a row.
Balcony BL/1-2 and Balcony BR/1-2 at the Circle seats section are restricted view seats.


Booster Seats


Booster seats are available on a first-come-first-served basis. They are not guaranteed and are not included with the purchase of your ticket. Patrons are welcome to bring their own booster seats.
Events That Match Your Vibe
Be The First To Catch the Hottest Events
Why settle for the ordinary?
Don't wait in line. Get the newest and hottest event updates sent to you!