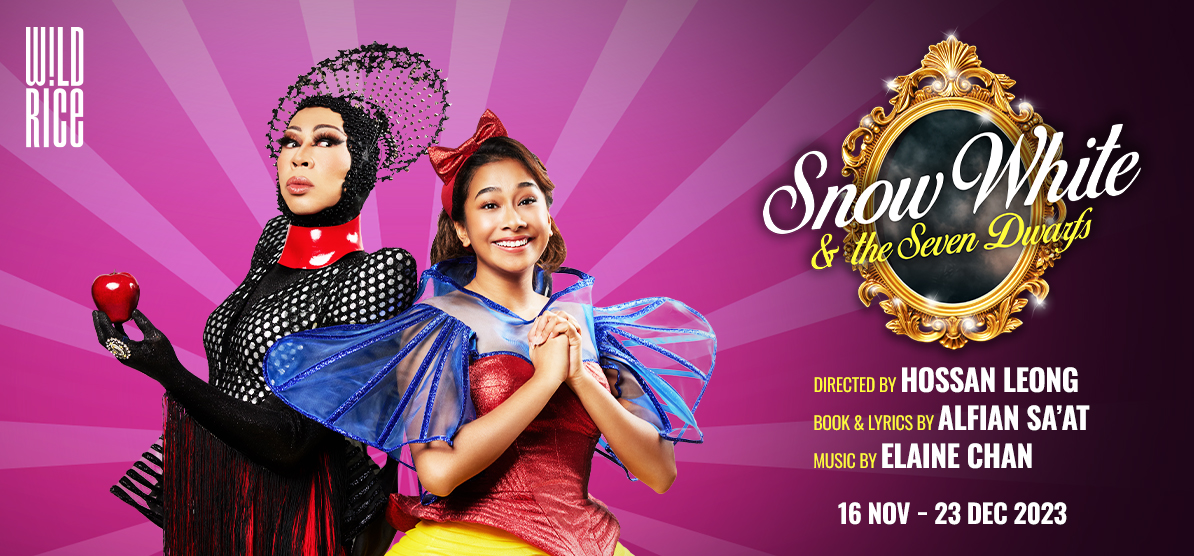 Snow White & the Seven Dwarfs
02 Dec 2023 (Sat) - 23 Dec 2023 (Sat)
55 Views
Date and Time
02 Dec 2023 : 19:30 - 22:50
03 Dec 2023 : 19:30 - 22:50
08 Dec 2023 : 19:30 - 22:50
09 Dec 2023 : 19:30 - 22:50
10 Dec 2023 : 19:30 - 22:50
15 Dec 2023 : 19:30 - 22:50
16 Dec 2023 : 19:30 - 22:50
22 Dec 2023 : 19:30 - 22:50
23 Dec 2023 : 19:30 - 22:50
02 Dec 2023 : 14:30 - 17:50
03 Dec 2023 : 14:30 - 17:50
09 Dec 2023 : 14:30 - 17:50
10 Dec 2023 : 14:30 - 17:50
16 Dec 2023 : 14:30 - 17:50
17 Dec 2023 : 14:30 - 17:50
23 Dec 2023 : 14:30 - 17:50
05 Dec 2023 : 19:30 - 22:50
06 Dec 2023 : 19:30 - 22:50
07 Dec 2023 : 19:30 - 22:50
12 Dec 2023 : 19:30 - 22:50
13 Dec 2023 : 19:30 - 22:50
14 Dec 2023 : 19:30 - 22:50
19 Dec 2023 : 19:30 - 22:50
20 Dec 2023 : 19:30 - 22:50
21 Dec 2023 : 19:30 - 22:50
Show More
Show Less
---
Location / Links
Funan,The Ngee Ann Kongsi Theatre @ Wild Rice
---
Event Details
Not so far away, in the Eternal Kingdom, lives a Queen who wants everything and everyone to be perfect – just not as perfect as her. So, when her subjects turn 18, they are sent for "Enhancement" – a programme to correct their flaws.

One day, her Magic Mirror, who cannot lie without literally cracking up, reveals to her that a new beauty has come of age – her own step-daughter, Snow White. Seething with jealousy, the Queen orders the girl to undergo a nip-tuck by the creepy Royal Surgeon.

To save her own skin, Snow White runs away to the Outer Limits, where she meets and befriends a host of misfits and outcasts – including the rapping, breakdancing Seven Dwarfs, who have been banished from the Kingdom for falling short of the Queen's impossibly high standards.

Will the Queen's relentless pursuit of perfection ever end? Will Prince Charming find his true love amongst the piles of trash in the Outer Limits? And can Snow White find a way to keep it real while saving herself, her friends and the Kingdom from the Queen's diabolical control? 

15 years after its world premiere, Snow White & the Seven Dwarfs makes a triumphant return to the Wild Rice stage with a brand-new cast led by Chua Enlai as the Queen and Nadya Zaheer as Snow White. With a cheekily satirical script by Alfian Sa'at and catchy original music by Elaine Chan, this hilarious, heartwarming musical comedy is the perfect show for the whole family. Join us at the theatre this holiday season for an unforgettable experience that will put a grin on your face, a spring in your step, and a song in your heart!

Written by Alfian Sa'at
Directed by Hossan Leong
Starring Chua Enlai, Nadya Zaheer, Siti Khalijah Zainal, Vester Ng, Marcus Chiau, Alecia Kim Chua, Benjamin Koh, Medli Dorothea Loo, Andrew Lua, Suhaili Safari & Tan Rui Shan
Admission Rule
Rating / Age Limit


IMDA Rating: General
Recommended for patrons 3 years old and above.
Admission is subject to tickets produced at the entrance.


Late Seating Advisory:


Late admission will only be permitted during a suitable moment in the show, depending on the nature of the performance.


Photography / Video Recording Rules


No Photography, Video Recording and Audio Recording is permitted for this event.
Events That Match Your Vibe
Be The First To Catch the Hottest Events
Why settle for the ordinary?
Don't wait in line. Get the newest and hottest event updates sent to you!