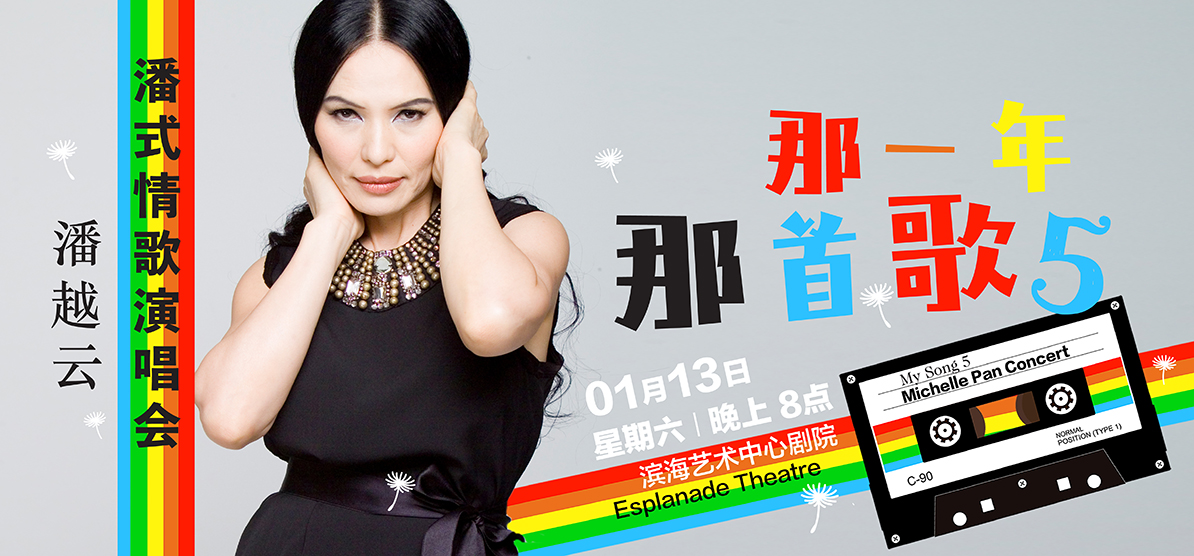 那一年那首歌5 ~ 潘越云潘式情歌演唱会 My Song 5, A Date with Pan Yueh Yun
13 Jan 2024 (Sat)
Date and Time
13 Jan 2024 : 20:00 - 22:00
---
Location / Links
Esplanade Theatre
---
Event Details
Michelle Pan Yueh Yun

Michelle Pan, also known as A-Pan, is a seasoned crooner and a famous Taiwanese singer since 80s.  Having released tens of albums, A-Pan has received numerous awards.  Her songs is commonly plugged on the radio, her songs were on radio chats, her hits include: 我是不是你最疼爱的人, 天天天蓝, 野百合也有春天,谢谢你曾经爱我 and many others.

Be her date and be charmed by her mesmerizing and distinctive voice.
Admission Rule
Rating/ Age Limit


Rating: General
No admission for infants in arms
Children must be age 6 and above to be admitted into the hall.
Children under 6 will not be admitted into the hall, even with a ticket.
Please bring along proof of child's age, such as a student concession pass, as random checks may be conducted at the venue.
There is no admission without a ticket.


Late Seating Advisory


You are strongly advised to be seated 30 minutes before the performance start time
No admission will be allowed into the venue once the performance has commenced
Exceptions may be made at Esplanade's discretion depending on the nature of the performance


Photography / Video Recording Rules


Unauthorised photography, video and audio recording are not permitted during the performance.
Please note that photographs and videos of patrons may be taken at this event for use in our archival and publicity material.

 


Help Us Keep Everyone Safe


No changing of seats is allowed.
Use the hand sanitiser provided around the centre and in the performance venues.
Strictly no food & beverage allowed in the performance venues.
Esplanade reserves the right not to admit patrons who do not comply with prevailing safe management measures.
Stay at home if you're unwell.
Events That Match Your Vibe
Be The First To Catch the Hottest Events
Why settle for the ordinary?
Don't wait in line. Get the newest and hottest event updates sent to you!