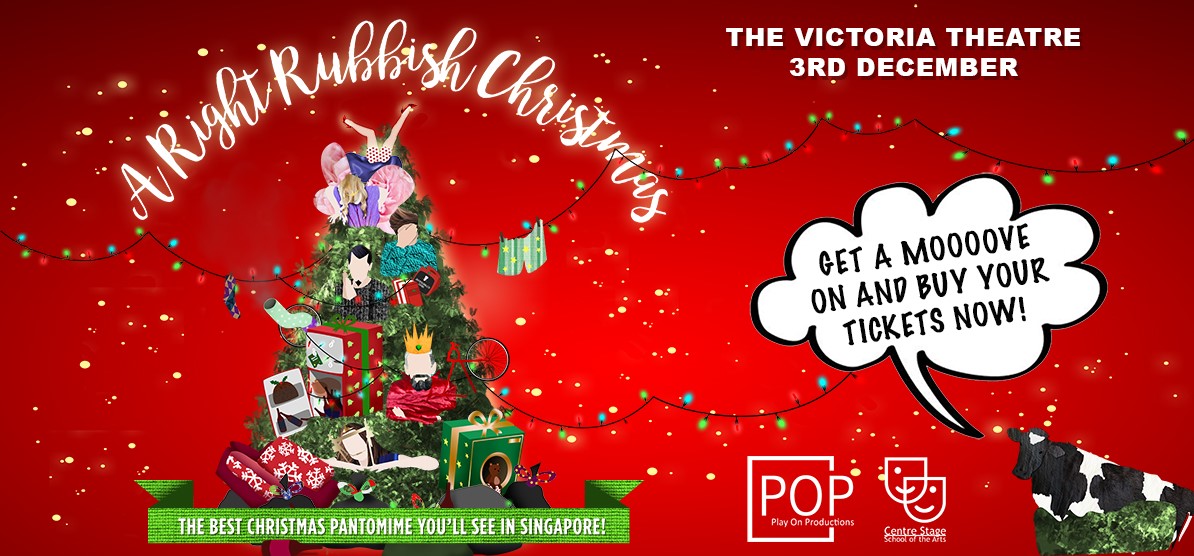 A Right Rubbish Christmas (NEW SHOW ANNOUNCED) [G]
02 Dec 2023 (Sat) - 03 Dec 2023 (Sun)
15 Views
Date and Time
03 Dec 2023 : 11:00 - 13:00
03 Dec 2023 : 15:00 - 17:00
02 Dec 2023 : 18:00 - 20:00
---
Location / Links
Victoria Theatre
---
$40.00 - $120.00
15 Views
Event Details
A Right Rubbish Christmas - Tickets are on sale NOW!

Take one greedy king, his dentally-challenged daughter, a wicked self-centred, self-indulgent, self-loving, self-serving, selfish, stuck-up advisor; throw in a pantomime dame, her long-suffering son, a fairy godmother and a cow, add a sprinkle of songs and a dollop of laughs, shake enthusiastically... and dump them in the rubbish - and hey presto, you have all the ingredients for this big-hearted, fast-paced and hilariously funny family show! 

Presented by Play On Productions with a cast from the UK and supported by performers from Centre Stage School of the Arts:

What a way to kick off Christmas! This show promises to WOW audiences aged 3 to 103! Performed in the style of a Traditional British Pantomime, this is very much a family-friendly show; children will love the slap-stick humour and fairy-tale plot, whilst parents will appreciate the hilarious, fast-paced script, the fabulous characters and be warmed by the joy that is pouring from the stage.

If you have any questions at all, please don't hesitate to get in touch with at any of the following contacts:

Play On Productions                      info@play-on.uk Centre Stage Productions            info@centre-stage.com or  6732 7211

Simply the best fun you'll have this Christmas!
Admission Rule
Rating:


Rating: General
No admission for infant in arms and children below 1.5 years old (18 months)
Children aged 1.5 (18 months) and above must purchase a ticket for admission 
Children under 1.5 (18 months) are not allowed into the standing areas.


Late Seating Advisory


You are strongly advised to be seated 15 minutes before the performance start time
No admission will be allowed into the venue once the performance has commenced
Late arrival may result in non-admittance until a suitable break in the performance


Photography / Video Recording Rules


Camera without flash allowed
Professional Photography and Videography are not allowed
Events That Match Your Vibe
Be The First To Catch the Hottest Events
Why settle for the ordinary?
Don't wait in line. Get the newest and hottest event updates sent to you!