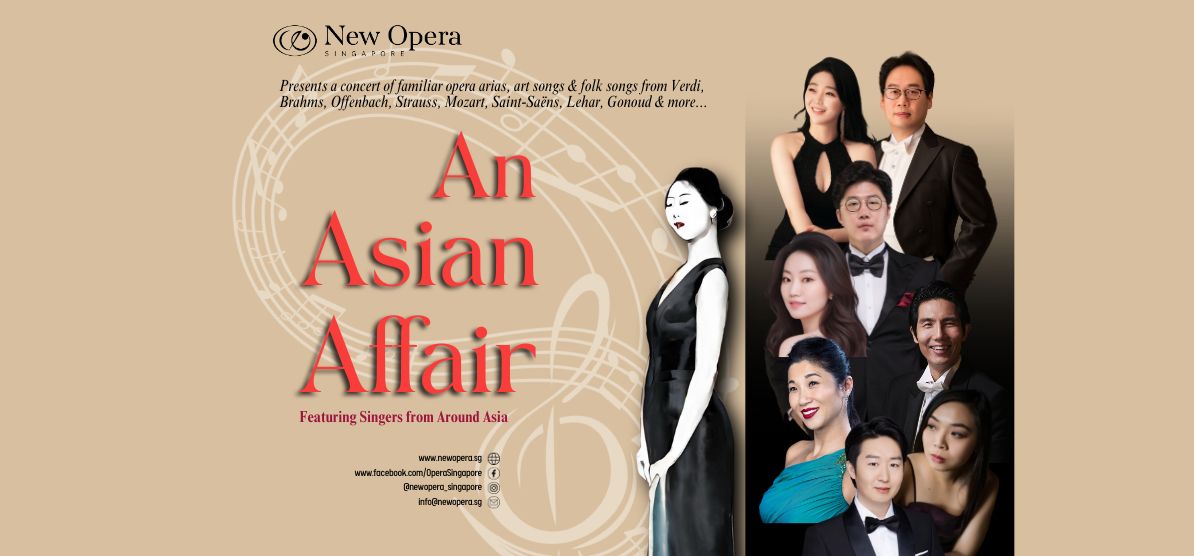 An Asian Affair [G]
14 Dec 2023 (Thu)
2 Views
Date and Time
14 Dec 2023 : 20:00 - 21:15
---
Location / Links
SOTA Concert Hall
---
Event Details
Embark on a musical journey with New Opera Singapore with "An Asian Affair", a vocal concert featuring renowned operatic singers from Singapore, Korea, Japan and China. This special event will showcase the rich diversity and beauty of vocal music, spanning a wide range of styles and traditions.

From delicate folk melodies to world-famous opera arias, there will be something to captivate and amaze every audience member. The concert will feature performances by the following celebrated singers of our time:

Akiko Otao (Soprano)
Joyce Lee Tung (Soprano)
Kwak Bora (Soprano)
Kim Bora (Mezzo-soprano)
Young Min Oh (Tenor)
Zhuang Jie (Tenor)
Bang Sung-Tack (Baritone)
Yun Sung-Woo (Bass)

These talented artists will bring their unique voices and interpretations to some of the most beloved arias and art songs, as well as lesser-known gems from the region's rich musical heritage. "An Asian Affair" is a must-see event for any fan of opera or vocal music.

Don't miss out on this unforgettable musical experience!
Admission Rule
Rating / Age Limit


Rating: General
No admission for infants in arms and children below 6 years old
Children 6 years and above must purchase a ticket for entry
Admission is subject to tickets produced at the entrance


Late Seating Advisory


You are strongly advised to be seated 15 minutes before the performance start time
No admission will be allowed into the venue once the performance has commenced
Exceptions may be made at Esplanade's discretion depending on the nature of the performance


Photography / Video Recording Rules


Flash Photography is permitted for this event
Events That Match Your Vibe
Be The First To Catch the Hottest Events
Why settle for the ordinary?
Don't wait in line. Get the newest and hottest event updates sent to you!