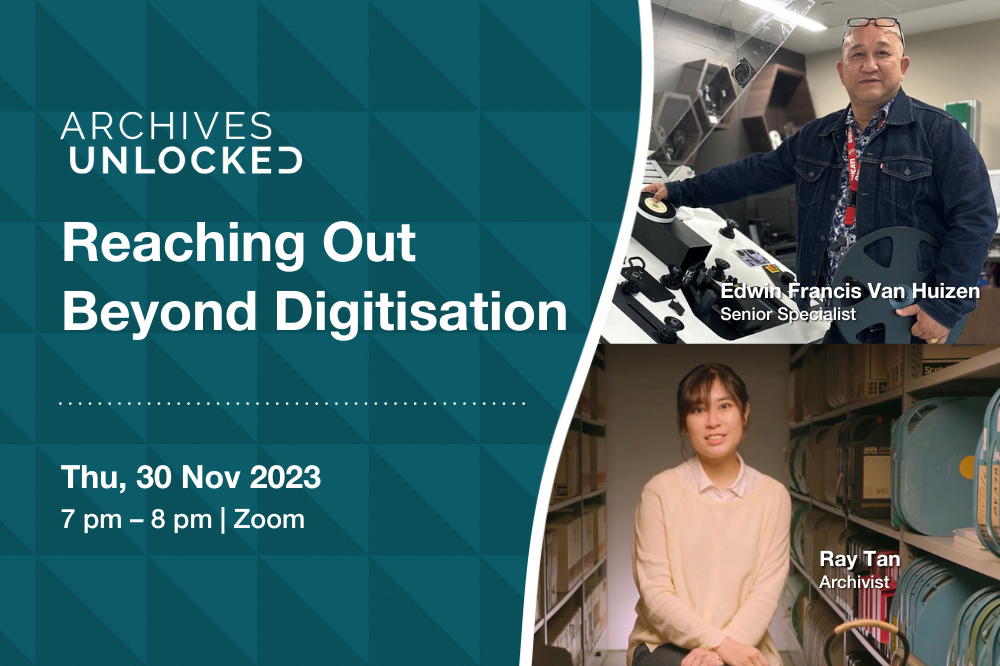 Archives Unlocked: Reaching Out Beyond Digitisation
10 Nov 2023 (Fri) - 30 Nov 2023 (Thu)
14 Views
Date and Time
30 Nov 2023 : 19:00 - 20:00
---
Location / Links
---
Event Details
In the age of digitisation, the digitised archival materials present exciting opportunities for archival institutions to expand the reach of content to a wider audience.

The talk centres on several aspects. Firstly, the importance of digitisation to safeguard content trapped in media threatened by technological obsolescence, thus ensuring the continued preservation of invaluable records using the latest appropriate technology. The inherent characteristics of digital media open doors to engage with new mediums, offering a unique opportunity to connect with diverse audiences. The ideas also focus on bridging the gaps to enhance the discoverability and accessibility of archival materials for specific audiences and communities.

Join us as we explore how "Archives Unlocked" through "Digitisation" enables the evolution of archival access in the digital age.

About the Speakers
Ray Tan, an audiovisual archivist at the National Archives of Singapore (NAS), works on acquiring donations like the Rediffusion collection and home movies capturing scenes of Singapore from the 1930s. Along with her colleagues, she manages SoundscapeSG and helps organisations process their requests for archival materials for exhibitions, among other responsibilities such as collection management and curatorial work. Ray seeks to refresh archival content by taking them to social media, like Tik Tok, with the NAS Tik Tok Initiative.

Edwin Francis Van Huizen is a Senior Specialist in audiovisual preservation at the National Archives of Singapore. He has worked with films in the post-production industry for over 25 years, with 15 years working in a major movie studio overseas. He has worked on television commercials, documentaries and the restoration of two major film libraries. He brings a wealth of technical knowledge of film and video to the NAS for the preservation of our national audiovisual heritage.

About Archives Unlocked
Curious about what goes on in the National Archives of Singapore? Join us for this series of talks, as we unlock stories of our nation through the archives' collections.
Admission Rule
Free admission upon registration.
Events That Match Your Vibe
Be The First To Catch the Hottest Events
Why settle for the ordinary?
Don't wait in line. Get the newest and hottest event updates sent to you!