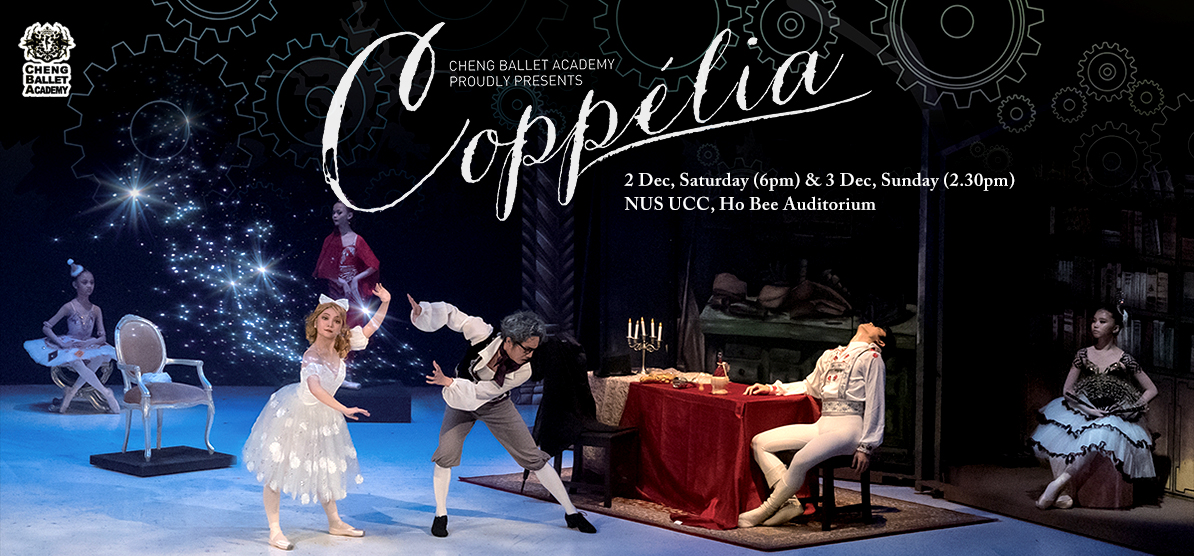 Coppélia 2023 [G]
02 Dec 2023 (Sat) - 03 Dec 2023 (Sun)
Date and Time
02 Dec 2023 : 18:00 - 19:57
03 Dec 2023 : 14:30 - 16:27
---
Location / Links
NUS,University Cultural Centre Ho Bee Auditorium
---
Event Details
Embark on a mesmerizing journey into the world of dance as Cheng Ballet Academy proudly presents the year-end spectacular, "Coppelia".

Immerse yourself in the enchanting tale of Coppelia, a classical ballet masterpiece that first graced the stage in 1870. This timeless narrative unfolds in a picturesque village, where the mysterious Dr. Coppelius creates a life-sized dancing doll named Coppelia. As the story unfolds, love, mischief, and magic intertwine, creating a ballet experience that is as delightful as it is captivating.

Our annual year-end performance is more than just a showcase; it is a testament to the dedication and artistry of our dancers. Witness the culmination of months of rigorous training as the entire cohort of Cheng Ballet Academy takes the stage, bringing to life the intricate choreography and graceful movements that define the art of ballet.

Adding to the magic, the performance will feature the talented members of our Youth Ballet Company.

This year's presentation of "Coppelia" is a celebration of tradition, skill, and the boundless passion that fuels the world of dance, where every pirouette, arabesque, and grand jeté tells a story of dedication and artistry.

Purchase your tickets now and be enchanted by the sheer magic of "Coppelia" by Cheng Ballet Academy.
Admission Rule
Rating / Age Limit


Rating: General [G]
No admission for infants in arms and children below 3 years old
Children 3 years and above must purchase ticket for entry
Admission is subject to tickets produced at the entrance


Late Seating Advisory


You are strongly advised to be seated 30 minutes before the performance start time
No admission will be allowed into the venue once the performance has commenced
Exceptions may be made at venue's discretion depending on the nature of the performance


Photography / Video Recording Rules


No Photography, Video recording and Audio recording is allowed for this event.
Please note that photographs and videos of patrons may be taken at this event for use in our archival and publicity material.


Help Us Keep Everyone Safe


Use the hand sanitiser provided around the centre and in the performance venues.
Strictly no food & beverage allowed in the performance venues.
Stay at home if you're unwell.
Events That Match Your Vibe
Be The First To Catch the Hottest Events
Why settle for the ordinary?
Don't wait in line. Get the newest and hottest event updates sent to you!