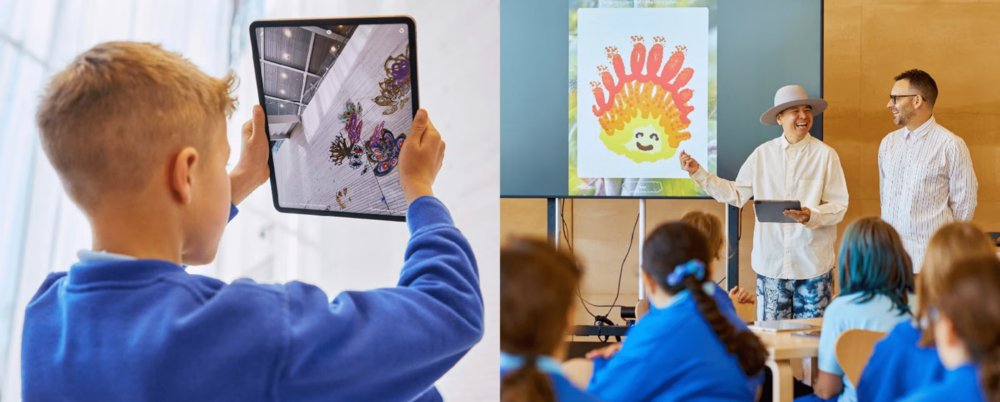 Deep Field by Tin&Ed
16 Nov 2023 (Thu) - 26 Nov 2023 (Sun)
16 Views
Date and Time
Daily : 10:30 - 11:30
Daily : 13:00 - 14:00
Daily : 15:00 - 16:00
---
Location / Links
Basement 2, Rainbow Room
---
Event Details
eep Field is a new immersive art experience by celebrated Australian artists and creative technologists Tin Nguyen and Edward Cutting, aka Tin&Ed.
Using iPad Pro and Apple Pencil, participants anywhere in the world can co-create and connect in real time through their shared re-imaginings of the environment.

The experience begins with a guided tour of ArtScience Museum where participants are invited to design their own flora and fauna taking inspiration from the environment, the building itself and any artworks they might encounter. After dreaming up their fantastical plants, participants will sketch their designs on iPad Pro using Apple Pencil.

These sketches will be added to a global database filled with flora drawn by participants across the world in real time, co-creating a new ecosystem of plants to be revealed through the lens of Augmented Reality (AR). Participants will watch their artworks bloom into spectacular 3D plant structures around ArtScience Museum accompanied by a multichannel soundscape experience of forgotten and extinct species created by celebrated audio naturalist Martyn Stewart. Deep Field brings participants into a newly imagined, immersive landscape where they can fully engage in the sights and sounds of the natural world.
Events That Match Your Vibe
Be The First To Catch the Hottest Events
Why settle for the ordinary?
Don't wait in line. Get the newest and hottest event updates sent to you!