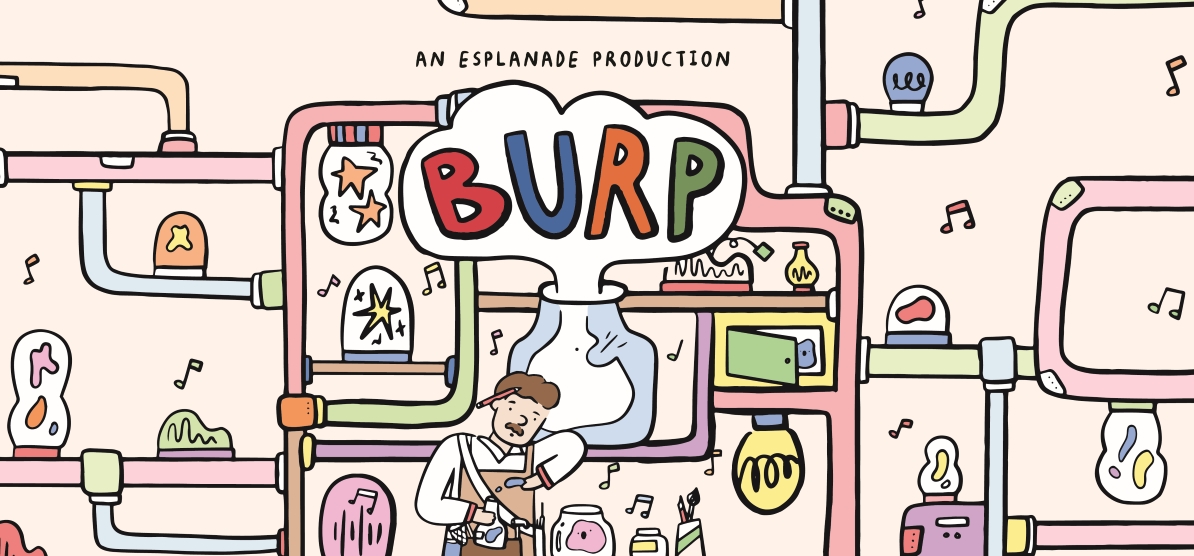 Esplanade Presents | PLAYtime! 2024 BURP Created by Stan
10 Aug 2024 (Sat) - 25 Aug 2024 (Sun)
1 Views
Date and Time
10 Aug 2024 : 11:00 - 11:45
11 Aug 2024 : 11:00 - 11:45
12 Aug 2024 : 11:00 - 11:45
14 Aug 2024 : 11:00 - 11:45
15 Aug 2024 : 11:00 - 11:45
16 Aug 2024 : 11:00 - 11:45
17 Aug 2024 : 11:00 - 11:45
18 Aug 2024 : 11:00 - 11:45
21 Aug 2024 : 11:00 - 11:45
22 Aug 2024 : 11:00 - 11:45
23 Aug 2024 : 11:00 - 11:45
24 Aug 2024 : 11:00 - 11:45
25 Aug 2024 : 11:00 - 11:45
12 Aug 2024 : 09:30 - 10:15
14 Aug 2024 : 09:30 - 10:15
15 Aug 2024 : 09:30 - 10:15
16 Aug 2024 : 09:30 - 10:15
21 Aug 2024 : 09:30 - 10:15
22 Aug 2024 : 09:30 - 10:15
23 Aug 2024 : 09:30 - 10:15
10 Aug 2024 : 14:00 - 14:45
11 Aug 2024 : 14:00 - 14:45
17 Aug 2024 : 14:00 - 14:45
18 Aug 2024 : 14:00 - 14:45
24 Aug 2024 : 14:00 - 14:45
25 Aug 2024 : 14:00 - 14:45
10 Aug 2024 : 16:00 - 16:45
11 Aug 2024 : 16:00 - 16:45
17 Aug 2024 : 16:00 - 16:45
18 Aug 2024 : 16:00 - 16:45
24 Aug 2024 : 16:00 - 16:45
25 Aug 2024 : 16:00 - 16:45
Show More
Show Less
---
Location / Links
Esplanade Theatre Studio (Level 4)
---
Event Details
Get ready for BURP, a heartening tale about a man who loves collecting sounds in glass jars, each one a doorway to a special memory or feeling. Every day, he carefully picks a few sound jars and plays them on his Incredible Sound Machine, transporting him back to extraordinary moments in time. 

But one day, something strange happens – a mighty burp ripples through his entire body, a vibration so powerful that he just has to collect it before it flies away!  

Discover all types of sounds – some near, some far, and some that that move through different things. Will the man be swift enough to capture Burp in his sound jar, or will Burp give him the slip? Come along for an extraordinary game of chase between Burp and the sound collector! 

PIP Says
This is a performance that encourages children and their adults to listen closely to sounds that tell a story. In exploring different sounds and the feelings we associate with them, children can learn to identify, express and respond to emotions in themselves and others.
Admission Rule
Admission Rules of Esplanade::

Rating/Age Limit

- Admission is subject to tickets produced at the entrance.



Late Seating Advisory

- You are strongly advised to be seated before the performance start time.

- Latecomers will be admitted during suitable breaks, if any.

- Exceptions may be made at Esplanade's discretion depending on the nature of the performance.



Photography/Video Recording Rules

- No unauthorised photography, video and audio recording is allowed for this event.

- Please note that photographs and videos of patrons may be taken at this event for use in our archival and publicity material.



Help Us Keep Everyone Safe

- Strictly no food & beverage allowed in the performance venues.

- Stay at home if you're unwell.
Events That Match Your Vibe
Be The First To Catch the Hottest Events
Why settle for the ordinary?
Don't wait in line. Get the newest and hottest event updates sent to you!