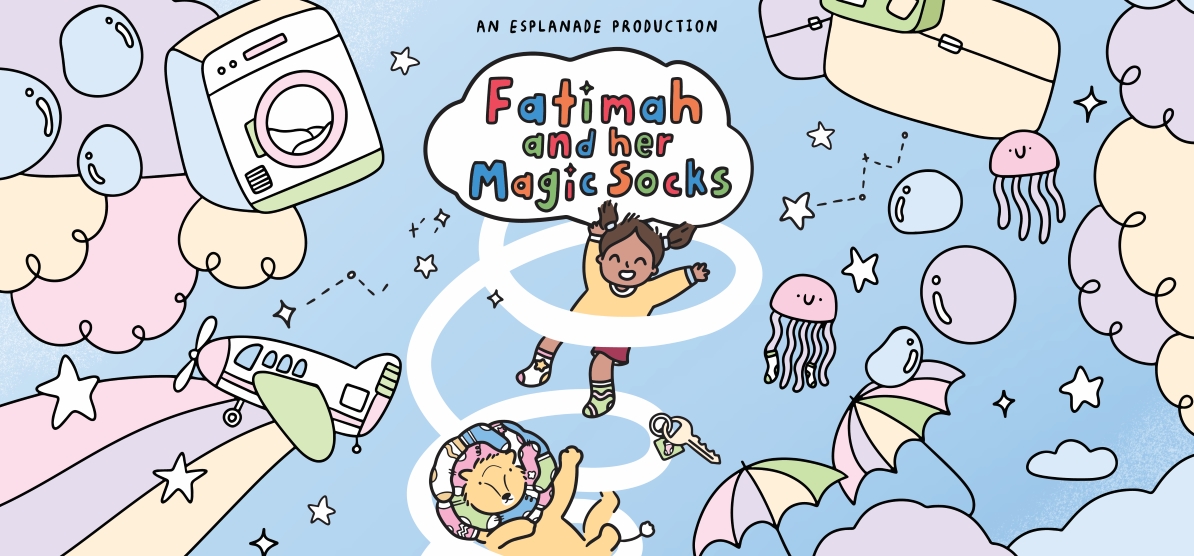 Esplanade Presents | PLAYtime! 2024 Fatimah and Her Magic Socks Created by Daniel Jenkins, adapted by Terrance Tan
01 Mar 2024 (Fri) - 17 Mar 2024 (Sun)
Date and Time
01 Mar 2024 : 09:30 - 10:15
06 Mar 2024 : 09:30 - 10:15
07 Mar 2024 : 09:30 - 10:15
08 Mar 2024 : 09:30 - 10:15
13 Mar 2024 : 09:30 - 10:15
14 Mar 2024 : 09:30 - 10:15
15 Mar 2024 : 09:30 - 10:15
01 Mar 2024 : 11:00 - 11:45
06 Mar 2024 : 11:00 - 11:45
07 Mar 2024 : 11:00 - 11:45
08 Mar 2024 : 11:00 - 11:45
13 Mar 2024 : 11:00 - 11:45
14 Mar 2024 : 11:00 - 11:45
15 Mar 2024 : 11:00 - 11:45
02 Mar 2024 : 11:00 - 11:45
02 Mar 2024 : 14:00 - 14:45
02 Mar 2024 : 16:00 - 16:45
03 Mar 2024 : 11:00 - 11:45
03 Mar 2024 : 14:00 - 14:45
03 Mar 2024 : 16:00 - 16:45
09 Mar 2024 : 11:00 - 11:45
09 Mar 2024 : 14:00 - 14:45
09 Mar 2024 : 16:00 - 16:45
10 Mar 2024 : 11:00 - 11:45
10 Mar 2024 : 14:00 - 14:45
10 Mar 2024 : 16:00 - 16:45
16 Mar 2024 : 11:00 - 11:45
16 Mar 2024 : 14:00 - 14:45
16 Mar 2024 : 16:00 - 16:45
17 Mar 2024 : 11:00 - 11:45
17 Mar 2024 : 14:00 - 14:45
17 Mar 2024 : 16:00 - 16:45
Show More
Show Less
---
Location / Links
Esplanade Theatre Studio (Level 4)
---
Event Details
Meet Fatimah, the little girl who loves to smile, play and dance in her Magic Socks! 

But wait, what makes the socks magical? They are mismatched, that's why! 

One rainy afternoon, Fatimah meets a mysterious and magical lion that takes her on an unexpected adventure. Step into a thrilling new world as Fatimah finds out the true meaning of friendship, the joy of laughter and the power of… magical socks! Dance, laugh, sing, and let your imagination run wild with Fatimah in this lively and whimsical theatrical delight. 

Adapted from the children's book Fatimah and her Magic Socks, written by Zizi Azah Bte Abdul.

PIP Says 
This is a text-based performance with lots of song and dance. Through the use of your imagination, the play explores the concept of uniqueness and encourages the development of a positive self-concept. This is a great play to learn of how we can always show appreciation and care for others and ourselves.
Admission Rule
Admission Rules of Esplanade::

Rating/Age Limit

- Admission is subject to tickets produced at the entrance.



Late Seating Advisory

- You are strongly advised to be seated before the performance start time.

- Latecomers will be admitted during suitable breaks, if any.

- Exceptions may be made at Esplanade's discretion depending on the nature of the performance.



Photography/Video Recording Rules

- No unauthorised photography, video and audio recording is allowed for this event.

- Please note that photographs and videos of patrons may be taken at this event for use in our archival and publicity material.



Help Us Keep Everyone Safe

- Strictly no food & beverage allowed in the performance venues.

- Stay at home if you're unwell.
Events That Match Your Vibe
Be The First To Catch the Hottest Events
Why settle for the ordinary?
Don't wait in line. Get the newest and hottest event updates sent to you!