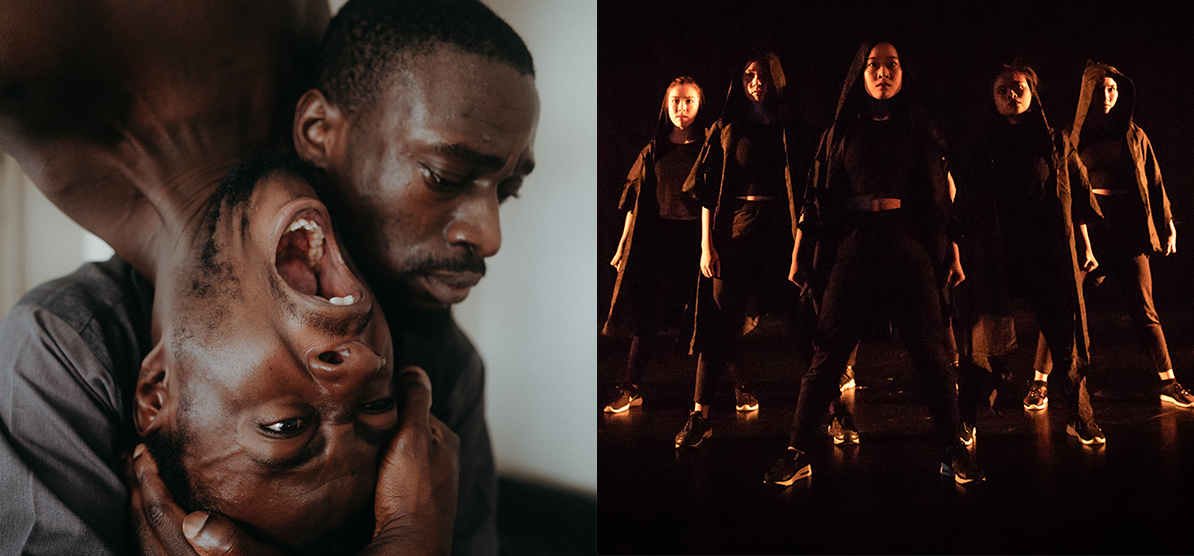 Esplanade Presents | da:ns • da:ns focus 2023 – FL/OW (The FULL OUT Weekend) • In the Studio with Kwame Asafo-Adjei and LASALLE College of the Arts
26 Nov 2023 (Sun)
7 Views
Date and Time
26 Nov 2023 : 15:00 - 15:45
26 Nov 2023 : 16:30 - 17:15
---
Location / Links
Esplanade Rehearsal Studio
---
Event Details
In the Studio was first organised in da:ns festival 2022, where notable festival artists worked closely with students from Nanyang Academy of Fine Arts and LASALLE College of the Arts in a one-week creative residency respectively. With da:ns' transformation to a year-long da:ns focus season, In the Studio continues on. With a strong focus on process, students get a chance to learn movement phrases from an international da:ns focus artist, and co-create a short work-in-progress with them as they get introduced to different creative practices, philosophies and movement styles.

In conjunction with da:ns focus – FL/OW (The FULL OUT Weekend) happening 1 – 3 Dec, students of LASALLE College of the Arts will be working closely with dance artist Kwame Asafo-Adjei (United Kingdom) in a one-week creative residency. Kwame's creative practice focuses on transforming each individual's unique life experience to dance and choreography. His works are often "raw and confronting, but full of honesty and thought-provoking".

This session will be a casual and informal sharing of the creative residency. Audiences will not only be the first to witness the newly created works-in-progress in a studio setting, but more importantly, get to learn more about the process of the residency directly from Kwame and the students before a question-and-answer session with the audiences.

In the Studio with Kwame Asafo-Adjei and LASALLE College of the Arts is part of da:ns focus – FL/OW (The FULL OUT Weekend), which invites you to celebrate the diverse facets of street dance and its culture over three days of exciting performances, workshops, battles and parties! Having grown from its humble beginnings as FULL OUT! street dance showcase in 2019, you won't want to miss this jam-packed weekend with high-energy showcases and experimental works by world-renowned dance crews, emerging and seasoned local choreographers, all demonstrating what street dance can be beyond the conventional.

See dance artist Kwame Asafo-Adjei in action as he performs his award-winning work, Family Honour, in the triple bill Dance Mixtape.
Admission Rule
Admission Rules of Esplanade:

Rating/Age Limit

- Admission is subject to tickets produced at the entrance.

- Infants in arms or children below the age of 6 shall not be admitted.

- Children aged 6 years and above must purchase ticket for admission.

Late Seating Advisory

- You are strongly advised to be seated before the start time.

- Latecomers will be admitted during suitable breaks, if any.

- Exceptions may be made at Esplanade's discretion depending on the nature of the performance.

Photography/Video Recording Rules

- No unauthorised photography, video and audio recording is allowed for this event.

- Please note that photographs and videos of patrons may be taken at this event for use in our archival and publicity material.

Help Us Keep Everyone Safe

- Strictly no food & beverage allowed in the venues.

- Stay at home if you're unwell.
Events That Match Your Vibe
Be The First To Catch the Hottest Events
Why settle for the ordinary?
Don't wait in line. Get the newest and hottest event updates sent to you!