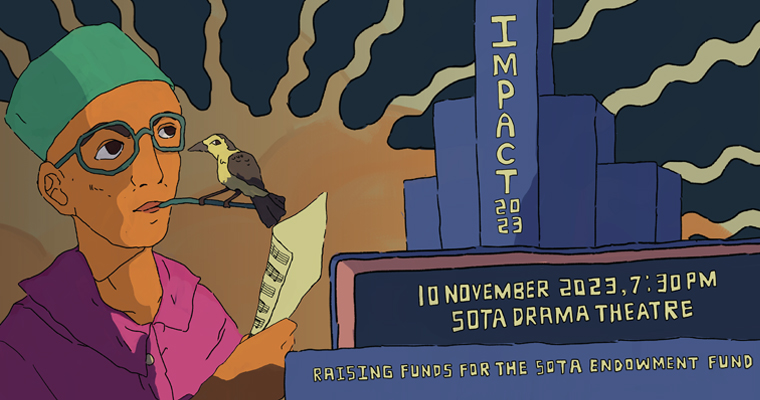 Impact 2023
10 Nov 2023 (Fri)
28 Views
Date and Time
10 Nov 2023 : 19:30 - 21:00
---
Location / Links
SOTA Drama Theatre
---
Event Details
School of the Arts, Singapore (SOTA) fundraising show, Impact 2023 is a multidisciplinary performance honouring the life and music of the late Zubir Said (1907-1987), the composer of Singapore's national anthem and other well-loved songs like Semoga Bahagia (Children's Day song). Featuring live renditions of Pak Zubir Said's music, the production also features dramatic scenes from his colourful life, depicted through Dance, Film, Music, Literary Arts, Theatre and Visual Arts. The show is collaboratively created by SOTA students, alumni and staff.

We promise you a fun and heartwarming evening as we explore the themes drawn from Zubir Said's inspiring life journey as a visionary composer and arts educator who hailed from Sumatra and made Singapore his home. Zubir Said has influenced generations of musicians and arts educators, and also touched many lives with his many film scores from the golden age of Singapore cinema.

Come enjoy a festive evening of heart, soul, story and song. Our students, alumni and staff have spent many months drawing inspiration from Zubir Said's life and music, in order to bring this memorable experience to you.

Impact 2023 is raising funds for the SOTA Endowment Fund (SEF). The proceeds from the sale of tickets will go towards the SEF.

Find out more about Impact 2023 and our SEF on our website (https://www.sota.edu.sg/getting-involved/donate/impact).

You may also visit our Giving.sg page should you wish to make an additional donation towards the show here (https://www.giving.sg/lookup?q=/singapore-arts-school-ltd/impact2023).

Thank you for your generous support! Together, we can make an Impact.
Admission Rule
- Admission to show/venue by full ticket only. Printed/electronic tickets must be produced for admission.
- There will be no admission for infants in arms and children below 5 years old.
- Individuals and Children aged 5 years old and above will be required to purchase a ticket for admission.
- Photography and videography of any form and social media live streaming is not allowed.
- No outside food and beverage are allowed into the venue.
Events That Match Your Vibe
Be The First To Catch the Hottest Events
Why settle for the ordinary?
Don't wait in line. Get the newest and hottest event updates sent to you!