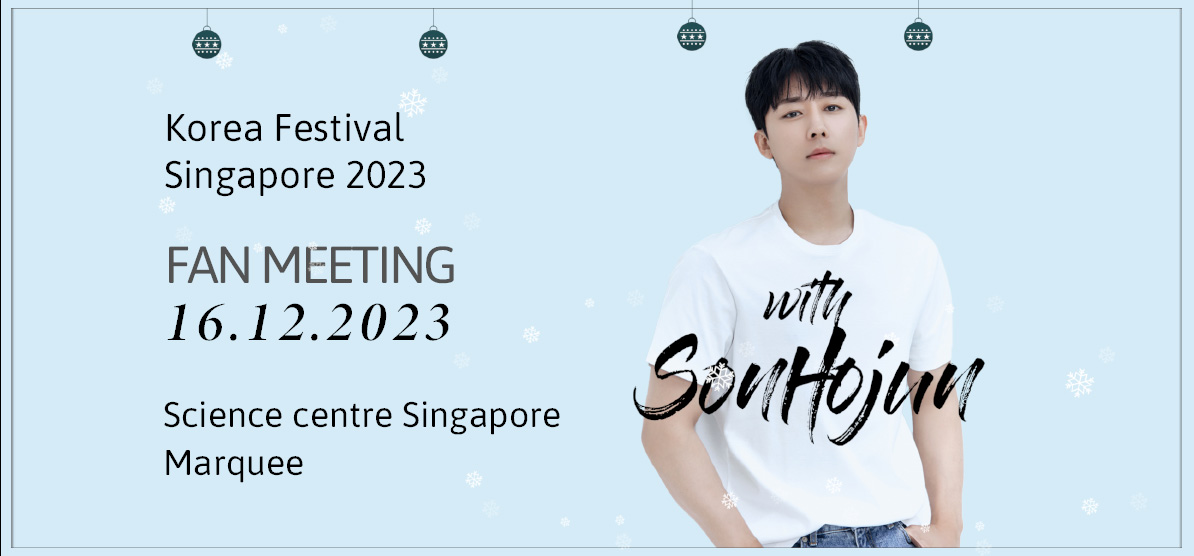 Korea Festival Singapore: Son Ho-Jun Fan Meeting [G]
16 Dec 2023 (Sat)
8 Views
Date and Time
16 Dec 2023 : 18:00 - 21:00
---
Location / Links
Science Centre Singapore,The Marquee
---
Event Details
K-Festival is proud to present the Son Ho Jun FAN MEETING IN SINGAPORE on 16th December 2023, 6pm, at Science Centre Singapore, Marquee hall.He is one of fantastic and reputed Korean actors, as he has won a number of global and Korean drama awards for 10 years. Held in celebration of meet & greet his global fans, "Son Ho Jun Fan Meeting in Singapore" is Son Ho Jun's large fan Meet & Greet to date. It also marks his first ever Meet & Greet in Singapore.Having garnered immense love from fans worldwide, the event serves as a heartfelt expression of gratitude for the unwavering support that he has received from his fans, as well as a commemoration of the momentous milestone in his career.Most recently, Son Ho Jun filmed 'The First Responders' which is one of popular series acting the role of Bong DoJin, that showcased his versatility as an actor, as well as his unrivalled popularity in the Korean entertainment industry.Addiitonally, he has been highly praised, filming 'Reply 1994' and 'Goback Couple' as acting main character.Don't miss the chance to get up close and personal with the acclaimed actor at his exclusive Meet & Greet with fans, where he'll be creating unforgettable memories with fans through various interactive segments and performances during the Christmas season event.
Admission Rule
Rating: General
No admission for infants in arms and children below 3 years old
Children 3 years and above must purchase ticket for entry
Children under 12 years must be accompanied by an adult with a valid ticket.
Admission is subject to tickets produced at the entrance


Photography / Video Recording Rules


Photography, Video recording or Audio recording is not allowed for this event
Events That Match Your Vibe
Be The First To Catch the Hottest Events
Why settle for the ordinary?
Don't wait in line. Get the newest and hottest event updates sent to you!