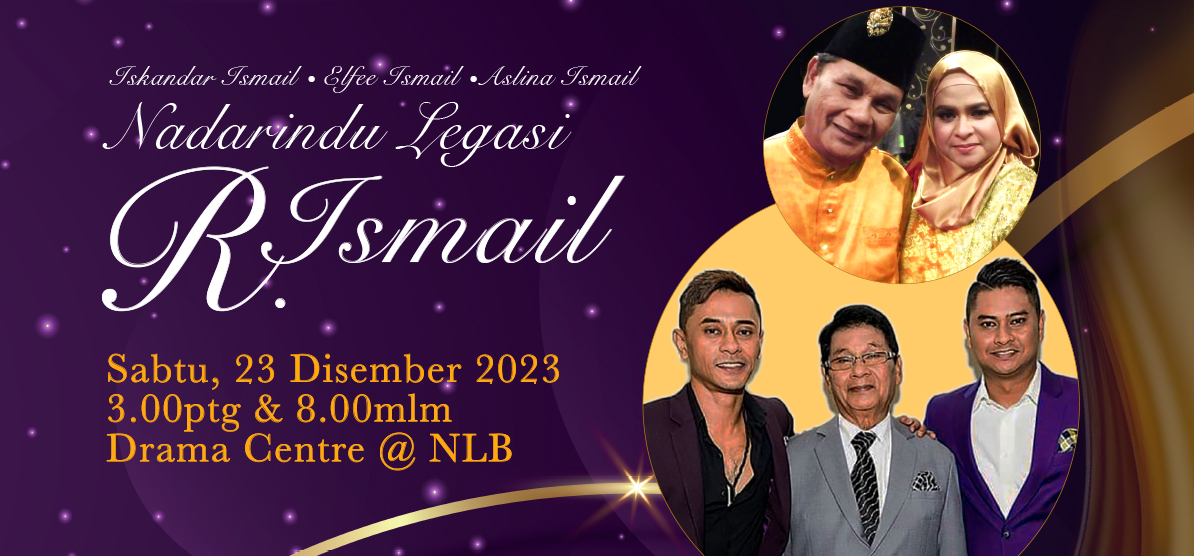 NADARINDU, A Tribute to R Ismail [G]
23 Dec 2023 (Sat)
7 Views
Date and Time
23 Dec 2023 : 15:00 - 16:30
23 Dec 2023 : 20:00 - 21:30
---
Location / Links
Drama Centre Theatre
---
Event Details
Majlis Pusat Singapura paid tribute to the late R Ismail not only as a singer of Traditional Malay songs but also as a fighter who fought for the sustainability of original Malay songs. He contributed to MPS by supporting MPS activities in the past.

His self-resilience who started singing from the age of eight until the end of his life in 2020, should be an example to all about living one life with what one is interested in.

This tribute to R Ismail will focus on his life which is divided into 5 segments. Starting from crawling, toddling, walking, running and finally resting.

Through these life phases, memorable skits will be presented by some local actors and each of these skits will be broadcasted with live singing of his songs by the deceased's own children.

The audience will be entertained with his childhood memories, while trying to reach the loudspeaker to be able to sing. He was also interested in Hindustani songs and often sings a Hindustani song that he is very interested in. This song will also be shared with the audience in his teenage segment.

He once shared his desire to act like the late Nordin Ahmad, a well-established actor in the 60s. However, he was well informed that singing is more suitable for him. His songs are often used as background songs for movies played by Nordin Ahmad.
He also supported other artistic talents, such as the dikir barat beat to the extent that he never prevented his son, Elfee from following the Dikir barat Group and becoming the Tuk Juara for the group.

Elfee Ismail, Iskandar Ismail and Aslinah Ismail are the three jewels of his heart whom were left behind and he hope that they will continue to resonate Malay songs. With his strong interest in traditional Malay songs, it gave him the opportunity to share with Elfee that he would continue to preserve these traditional Malay songs. During his life he worked tirelessly to give his support to Elfee to join the traditional Malay songs competition organized by Radio Television Malaysia. His sacrifice was not in vain, Elfee came out as a champion.

The skit ended with a choir performance and the singing of a theme song created specifically for his commemoration which hopefully will be embedded in the next generation.

Happy watching.
Admission Rule
Rating / Age Limit

-Rating: General

-No admission for infants in arms and children below 6 years old

-Children 6 years and above must purchase ticket for entry

-Admission is subject to tickets produced at the entrance

Photography / Video Recording Rules

-Photography, video recording and audio recording is not allowed for this event.
Events That Match Your Vibe
Be The First To Catch the Hottest Events
Why settle for the ordinary?
Don't wait in line. Get the newest and hottest event updates sent to you!