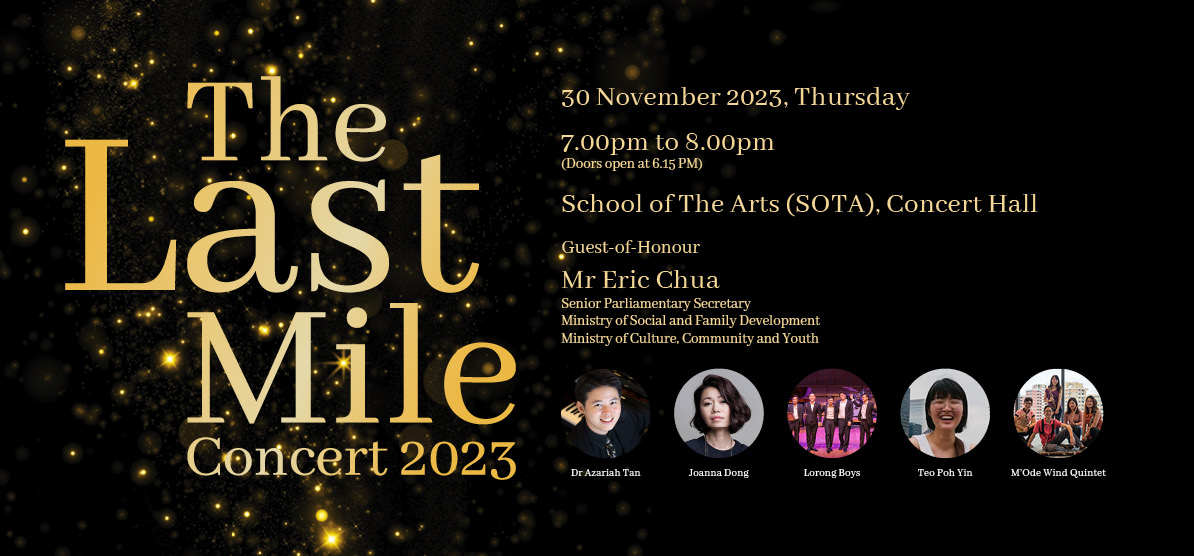 The Last Mile Concert 2023 [G]
30 Nov 2023 (Thu)
17 Views
Date and Time
30 Nov 2023 : 19:00 - 20:30
---
Location / Links
SOTA Concert Hall
---
$38.00 - $128.00
17 Views
Event Details
The Last Mile Concert (TLM) celebrates life, presenting a night of soul-stirring music and unwavering compassion.

TLM will feature renowned artists like multiple award-winning pianist Azariah Tan, incredible jazz vocalist Joanna Dong and sensational Lorong Boys, along with talented singer-guitarist Teo Poh Yin, a Senior Pharmacist at NCIS and innovative M'Ode Wind Quintet. Their dedication to this cause is matched only by the passion in their performances. Experience the potency of music and the power of love and care to witness miracles and healing occur amidst human emotions.

All proceeds from this concert will go towards helping patients on terminal discharge and supporting their palliative care at home. Your ticket to this concert isn't just a window to a night of beautiful, stirring melodies; it's an entry into a world where dreams come true and hope takes centre stage.

Join us in celebrating life! Together, we can transform lives, one note at a time.
Admission Rule
Rating / Age Limit

-Rating: General

-No admission for infants in arms and children below 3 years old

-Children 3 years and above must purchase ticket for entry

-Admission is subject to tickets produced at the entrance

Late Seating Advisory

-You are strongly advised to be seated 15 minutes before the performance start time

-No admission will be allowed into the venue once the performance has commenced

Photography / Video Recording Rules

-No Photography, Video recording and Audio recording is permitted for this event.
Events That Match Your Vibe
Be The First To Catch the Hottest Events
Why settle for the ordinary?
Don't wait in line. Get the newest and hottest event updates sent to you!