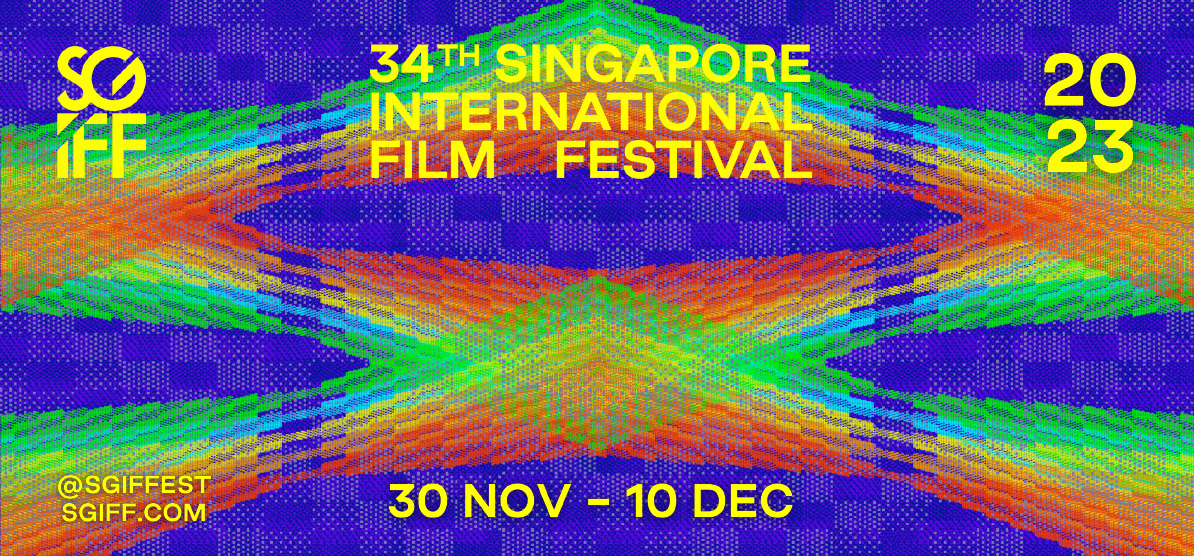 34th Singapore International Film Festival
04 Dec 2023 (Mon) - 16 Dec 2023 (Sat)
49 Views
Date and Time
08 Dec 2023 : 16:00 - 17:55
10 Dec 2023 : 11:00 - 12:46
04 Dec 2023 : 16:00 - 17:21
05 Dec 2023 : 19:00 - 20:46
10 Dec 2023 : 18:30 - 19:51
04 Dec 2023 : 21:00 - 22:36
04 Dec 2023 : 21:00 - 23:05
10 Dec 2023 : 14:00 - 18:20
09 Dec 2023 : 11:00 - 14:00
04 Dec 2023 : 16:00 - 17:21
10 Dec 2023 : 18:30 - 19:51
09 Dec 2023 : 16:00 - 19:17
04 Dec 2023 : 21:00 - 22:36
10 Dec 2023 : 14:00 - 18:20
10 Dec 2023 : 14:00 - 15:36
05 Dec 2023 : 21:00 - 22:33
09 Dec 2023 : 11:00 - 14:00
07 Dec 2023 : 18:30 - 20:10
09 Dec 2023 : 21:00 - 22:57
09 Dec 2023 : 21:30 - 22:44
08 Dec 2023 : 21:00 - 22:28
04 Dec 2023 : 19:00 - 20:30
07 Dec 2023 : 21:00 - 22:42
06 Dec 2023 : 21:00 - 22:44
05 Dec 2023 : 21:00 - 22:36
04 Dec 2023 : 18:30 - 19:47
06 Dec 2023 : 21:00 - 22:10
09 Dec 2023 : 14:00 - 15:40
05 Dec 2023 : 18:30 - 20:01
09 Dec 2023 : 11:00 - 13:20
07 Dec 2023 : 21:00 - 22:38
10 Dec 2023 : 16:30 - 17:46
09 Dec 2023 : 19:00 - 21:05
08 Dec 2023 : 18:30 - 20:02
05 Dec 2023 : 21:00 - 22:42
07 Dec 2023 : 21:00 - 22:31
10 Dec 2023 : 21:00 - 22:21
09 Dec 2023 : 11:00 - 13:02
10 Dec 2023 : 14:00 - 15:46
08 Dec 2023 : 21:30 - 23:06
09 Dec 2023 : 16:00 - 18:23
09 Dec 2023 : 18:30 - 20:00
10 Dec 2023 : 11:00 - 12:30
09 Dec 2023 : 21:00 - 22:30
06 Dec 2023 : 19:00 - 20:34
04 Dec 2023 : 21:00 - 22:50
06 Dec 2023 : 21:00 - 22:17
09 Dec 2023 : 14:00 - 15:15
08 Dec 2023 : 18:30 - 20:40
07 Dec 2023 : 18:30 - 19:47
09 Dec 2023 : 18:30 - 19:44
05 Dec 2023 : 18:30 - 20:06
16 Dec 2023 : 13:00 - 15:00
16 Dec 2023 : 16:00 - 18:00
Show More
Show Less
---
Location / Links
Golden Village x The Projector at Cineleisure, Green Room,The Projector, Hall 2,Oldham Theatre, Hall 1, Majestic Hall, Redrum, Gallery Theatre, Golden Mile,National Museum of Singapore,Filmgarde at Leisure Park Kallang Hall 2,Filmgarde at Leisure Park Kallang Hall 3
---
Event Details
34th Singapore International Film Festival 
30 November 2023 to 10 December 2023

Step into a world of cinematic wonder as the Singapore International Film Festival (SGIFF) proudly returns for its 34th edition, from November 30th to December 10th, 2023. This year, SGIFF promises an unparalleled cinematic experience, boasting a diverse selection of 101 films from 50 countries, creating a vibrant tapestry of international cinema. The festival celebrates the art of storytelling through films and brings together filmmakers, cinephiles, and audiences for an enriching and unforgettable cinematic journey. 

Since its inception in 1987, SGIFF has been a beacon of groundbreaking Asian cinema, and it continues to push the boundaries of storytelling on the silver screen. With a dynamic programming approach and an unwavering commitment to nurturing local and regional film culture, the festival has evolved into an iconic event in the Singapore arts calendar. SGIFF remains dedicated to championing homegrown talents, providing a platform for new voices, and inspiring audiences through the transformational power of cinema. 

Don't miss this exceptional opportunity to immerse yourself in the world of film, where every frame tells a unique story. Mark your calendars and secure your tickets now for SGIFF 2023 – a cinematic adventure like no other! For more information and ticket details, visit www.sgiff.com.
Admission Rule
Film Ratings


Please check the film ratings at SGIFF.COM before you purchase your tickets.
All films that have been rated will be available for sale.
For films with no ratings at the date of print, please check the SGIFF website for the latest updates.
There will be no refund or exchange of tickets should you be turned away at the door due to the age restrictions of film ratings.


General Admission


Free seating on a first-come, first served basis.
Doors will strictly close 10 minutes after the start of the screening and no late comers will be admitted.
No admission for infants in arms and children below 12 years old.
Admission is subject to tickets produced at the entrance.
Please check film ratings before purchase of tickets.
There will be no refund of exchange of tickets.


Rush Queue


If you weren't able to purchase tickets for sold out screenings, you can try to purchase tickets in the Rush Queue.
10 minutes after the start of the screening, patrons in the rush queue at the screening venue might get the chance to fill up empty seats.
Each person will be entitled to one ticket only.
Entry is dependant on availability and is not guaranteed

 


Door Sales


Door sales will not be available at the screening venues. We encourage everyone to purchase their tickets early to secure a seat.


Photography / Video Recording Rules


No Photography, Video Recording and Audio Recording is permitted.
Events That Match Your Vibe
Be The First To Catch the Hottest Events
Why settle for the ordinary?
Don't wait in line. Get the newest and hottest event updates sent to you!