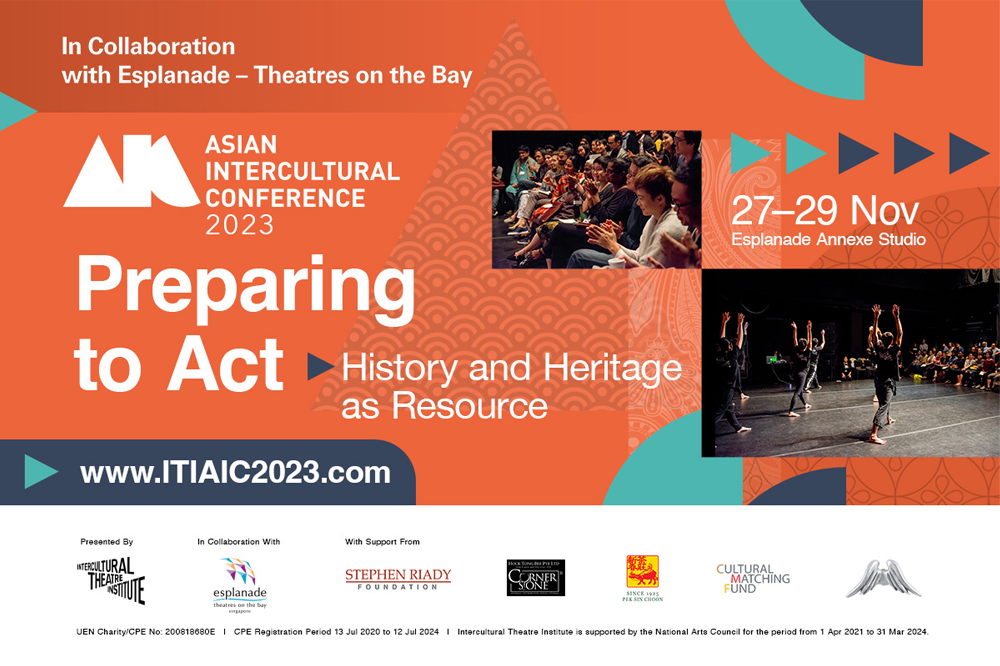 Asian Intercultural Conference 2023
27 Nov 2023 (Mon) - 29 Nov 2023 (Wed)
26 Views
Date and Time
27 Nov 2023 : 08:45 - 18:45
28 Nov 2023 : 09:15 - 17:30
29 Nov 2023 : 09:15 - 17:30
---
Location / Links
Esplanade Annexe Studio
---
Event Details
AIC 2023
𝗣𝗿𝗲𝗽𝗮𝗿𝗶𝗻𝗴 𝗧𝗼 𝗔𝗰𝘁: 𝗛𝗶𝘀𝘁𝗼𝗿𝘆 𝗮𝗻𝗱 𝗛𝗲𝗿𝗶𝘁𝗮𝗴𝗲 𝗮𝘀 𝗥𝗲𝘀𝗼𝘂𝗿𝗰𝗲
27–29 Nov

The Asian Intercultural Conference (AIC) is a three-day event for theatre practitioners and audiences to come together to consider the challenges confronting our art today. A time to debate, discuss, and dispute through an open exchange of ideas, methodologies and techniques within the field of "Asian interculturality".

The theme Preparing to Act: History and Heritage as Resource, opens up a range of discourses and initiates dialogue among actors, performers, theatre-makers, transdisciplinary artists, academics, and festival organisers.

What can we learn from diverse theatre histories, practices, traditions and lineages that can be repurposed for the here and now? What needs to be unlearned, re-formed or re-presented for the contemporary stages of the world?

Keynote speeches will be presented by Dr Frances Barbe (WAAPA) and Sankar Venkateswaran (Sahyande Theatre)...more announcements coming soon!

Presented in collaboration with Esplanade – Theatres by the Bay.
Admission Rule
Tickets are non-refundable once purchased. ITI does not issue partial or full refunds under any circumstances. The purchase is of the opportunity to attend a performance at the date and time stated, in accordance with common theatre etiquette, and subject to the rules and regulations of the venue used.

Entry to a performance may be subject to age restrictions specified in the publicity for the performance and/or in the ticketing information. No refunds will be granted on the grounds that the ticket holder was not aware of such age restrictions.

Latecomers are not entitled to admittance but may be admitted if there is a suitable break during the performance. Latecomers who are not admitted or admitted late are not entitled to a refund.

Photography and/or videography may be taken for publicity and archival purposes. No unauthorised photography, audio or video recording is allowed unless otherwise stated.

ITI reserves the right to refuse admission to anyone whose conduct is disorderly or inappropriate.
Events That Match Your Vibe
Be The First To Catch the Hottest Events
Why settle for the ordinary?
Don't wait in line. Get the newest and hottest event updates sent to you!