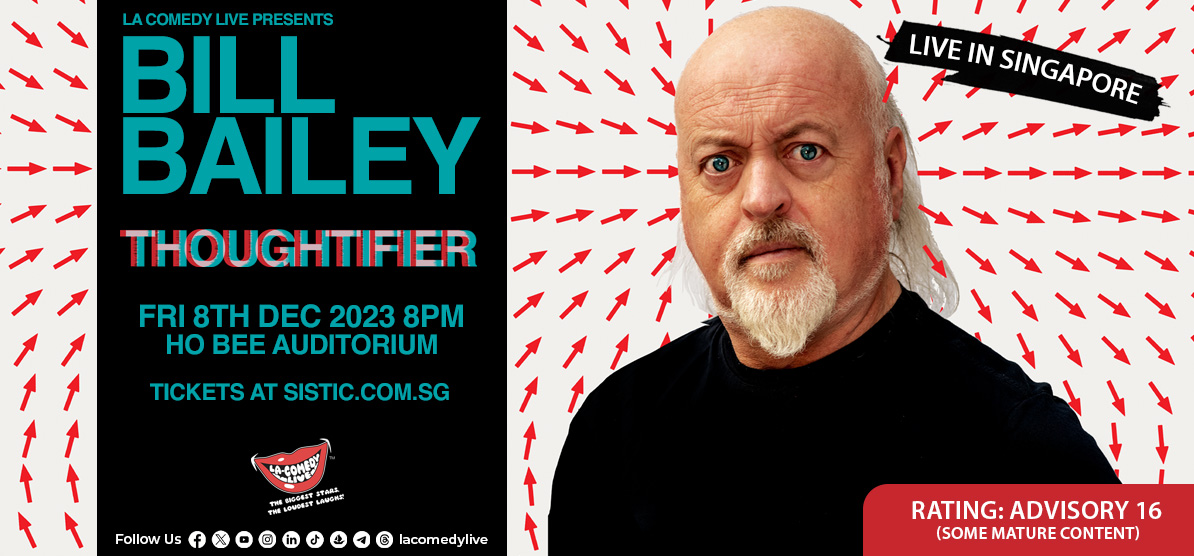 Bill Bailey Thoughtifier [Advisory 16 (Some Mature Content)]
08 Dec 2023 (Fri)
36 Views
Date and Time
08 Dec 2023 : 20:00 - 22:00
---
Location / Links
NUS,University Cultural Centre Ho Bee Auditorium
---
$88.20 - $158.00
36 Views
Event Details
English musician and comic Bill Bailey brings new show "Thoughtifier" to Singapore

With his trademark musical styling and characteristic wit, English musician, comedian, and actor Bill Bailey returns with a new show, Thoughtifier. Catch the musical comic as he takes his tour to Singapore on Dec 8, 2023 at Ho Bee Auditorium. Tickets are available via Sistic.com.sg.

Thoughtifier. noun
1. an intriguing device that can amplify the thoughts of a curious mind using music, channeled through a human instrument, known as Bill Bailey
2. (colloquial) a person resembling Bill Bailey 

At a point in our evolution when it seems as if we're sleepwalking into a world where humans might be redundant, and much of what we do can be done better and more efficiently by machines, what better time to celebrate our own flawed humanity. And who better a guide to lead us than Bill... To take us on a jaunt through the error-strewn, distracted, crumb-festooned, sometimes magnificent history of human thought and how it might help us survive in this brave new world.

Bill Bailey is a comedian, musician, writer, actor, director, presenter and keen stand-up paddle-boarder known for his live shows such as Part Troll, Tinselworm, Qualmpeddler and Limboland and his work on the television programmes Black Books, Never Mind the Buzzcocks and QI.

A magical, musical mystery tour of the human mind, along with some other pressing matters about whales, biophilia and unrequited love. Amplified with Music. Welcome to Thoughtifier!
Admission Rule
Rating / Age Limit


Rating: Advisory 16 (Some Mature Content)
No admission for infants in arms and children below 6 years old
Children 6 years and above must purchase a ticket for entry
Admission is subject to tickets produced at the entrance


Late Seating Advisory


You are strongly advised to be seated 15 minutes before the performance start time
No admission will be allowed into the venue once the performance has commenced


Photography / Video Recording Rules


No Photography, Video recording and Audio recording is permitted for this event.
Events That Match Your Vibe
Be The First To Catch the Hottest Events
Why settle for the ordinary?
Don't wait in line. Get the newest and hottest event updates sent to you!