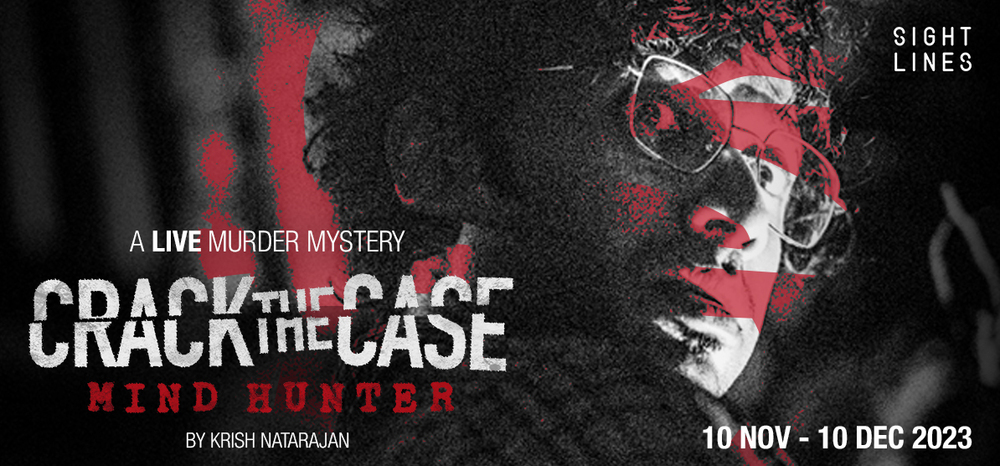 CRACK THE CASE: MIND HUNTER
10 Nov 2023 (Fri) - 10 Dec 2023 (Sun)
82 Views
Date and Time
Mon, Wed, Thu, Fri, Sat, Sun : 19:30 - 21:00
Thu, Fri, Sat : 21:30 - 23:00
Sat, Sun : 14:30 - 16:00
Mon, Sat, Sun : 16:30 - 18:00
---
Location / Links
42 Waterloo Street (42WS)
---
Event Details
Be a part of an immersive theatre investigation and join The Mind Hunter!

Dr Nithin, a renowned psychologist, has partnered with the CID to beta-test the Mind Hunter, a device invented to study the minds of criminals. He is inviting you to volunteer to pilot this program for the first time.

You and your team will enter into the disturbed mind of David Menon, an alleged psychopath who is suspected of abducting three women. In order to locate the victims and potentially save them, you will need to engage with various characters within David's mind and gather clues from his subconscious to uncover crucial information…

Can you navigate the treacherous depths of his psyche to uncover the truth and save innocent lives? Welcome to Crack the Case: Mind Hunter.

Key Highlights
1. Enter a heritage house transformed into the mind of a psychopath and solve a live murder mystery.
2. Put on your detective cap, explore a multi-sensory world at your own pace and search for clues to solve the mystery.
3. Experience various scenes and interact with the characters of the story, brought to life by 5 professional actors.
4. Enjoy the experience with your family and friends or take up the challenge alone.

From the Creators of The Curious Case of the Missing Peranakan Treasure, Time Heist and The Secret Life of Har Par Villa.
Admission Rule
Rating / Age Limit

Rating: To be Advised
No admission for infants-in-arms and age below 16 years old
Children aged 16 years and above must purchase a ticket for entry
Admission is subject to tickets produced at the entrance
Photography / Video Recording Rules

No Flash Photography, Video and Audio recording is permitted for this event
Events That Match Your Vibe
Be The First To Catch the Hottest Events
Why settle for the ordinary?
Don't wait in line. Get the newest and hottest event updates sent to you!