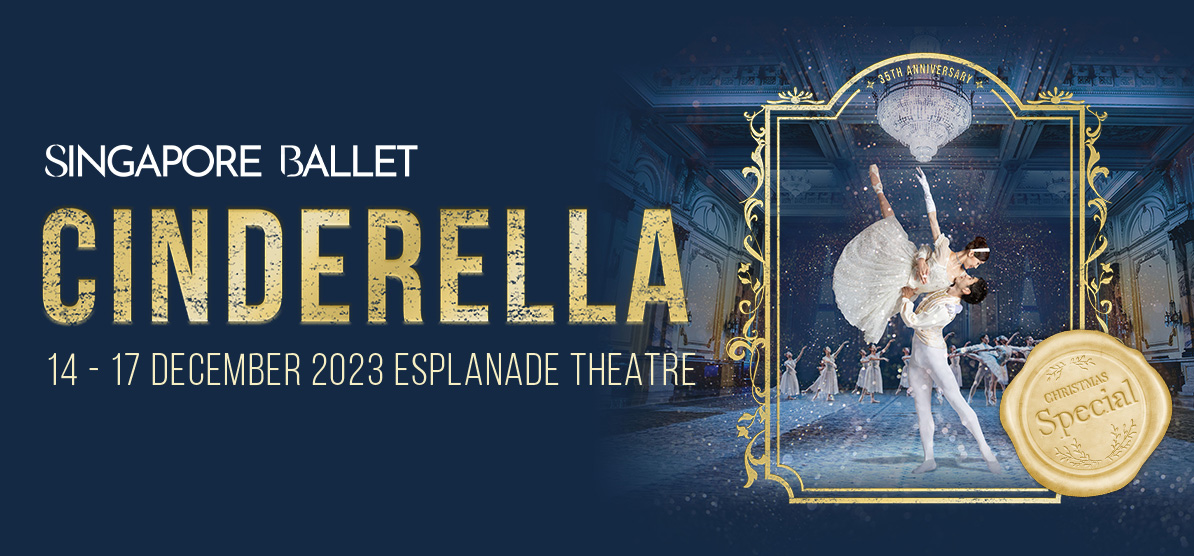 Cinderella 2023 Presented by Singapore Ballet [G]
14 Dec 2023 (Thu) - 17 Dec 2023 (Sun)
26 Views
Date and Time
14 Dec 2023 : 20:00 - 22:30
15 Dec 2023 : 20:00 - 22:30
16 Dec 2023 : 20:00 - 22:30
16 Dec 2023 : 15:00 - 17:30
17 Dec 2023 : 19:00 - 21:30
17 Dec 2023 : 15:00 - 17:30
Show More
Show Less
---
Location / Links
Esplanade Theatre
---
$26.25 - $100.00
26 Views
Event Details
The brand-new production of an all-time favourite fairy-tale classic – Cinderella, will take us from a magnificent ball to the midnight's bell, where it will culminate into one massive magical ballet.

A story that awakens child-like wonder, this ballet is formed by a tapestry of enthralling beauty and enchanting romance that will find its home in the hearts of many.

Choreographed by Artistic Director Janek Schergen to the soaring music by Russian composer, Sergei Prokofiev, which will be played live by the Metropolitan Festival Orchestra, this timeless creation of Cinderella will be a part of our repertoire for decades to come. We have a world-class Singaporean creative team behind this joyous celebration, with the resplendent costumes designed by Leonard Augustine Choo, and the majestic sets by Eucien Chia.

This production of Cinderella is sponsored by the Ambassadors Circle 2023, and the Orchestra is supported by the donors of the Orchestra Fund.
Admission Rule
Rating / Age Limit

-Rating: General

-No admission for infants in arms and children below 4 years old

-Children 4 years and above must purchase a ticket for entry

-Admission is subject to tickets produced at the entrance

Late Seating Advisory

-You are strongly advised to be seated 15 minutes before the performance start time

-No admission will be allowed into the venue once the performance has commenced

-Latecomers will be admitted during suitable breaks, if any

Photography / Video Recording Rules

-No Photography, Video recording or Audio recording is permitted for this event

Help Us Keep Everyone Safe

-Use the hand sanitiser provided around the centre and in the performance venues.

-Strictly no food & beverage allowed in the performance venues.

-Esplanade reserves the right not to admit patrons who do not comply with prevailing safe management measures.

-Stay at home if you're unwell.

-Mask-wearing is optional for all events.  However, patrons are encouraged to continue to exercise responsibility and caution, such as wearing masks when in crowded places. 

Ticketing

-Singapore Ballet enforces a no refund, no exchange, no return policy.

-Discounts are not stack-able.

-Trading or resale of tickets purchased is not allowed

-In the case of lost tickets, replacement tickets can be issued at SISTIC agents, subject to verification of the patron's details against purchase records and payment of an administrative fee

-Replacement Tickets will not be issued if the authenticity of purchase cannot be accurately ascertained

-SB reserves the right to amend all terms and conditions without prior notification
Events That Match Your Vibe
Be The First To Catch the Hottest Events
Why settle for the ordinary?
Don't wait in line. Get the newest and hottest event updates sent to you!