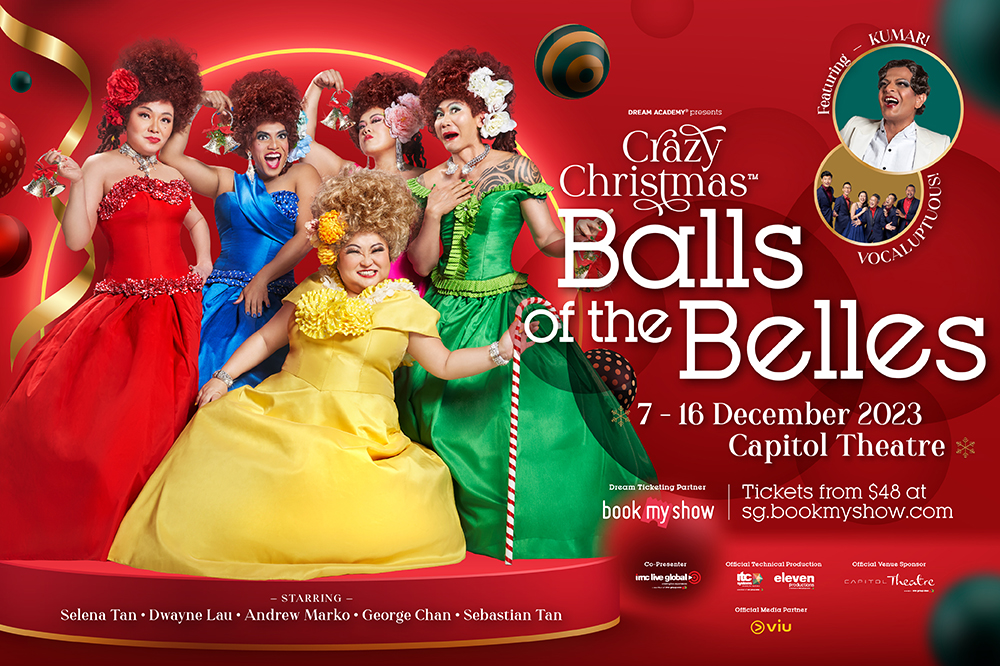 Crazy Christmas ™ Balls of the Belles
07 Dec 2023 (Thu) - 16 Dec 2023 (Sat)
103 Views
Date and Time
Mon, Tue, Wed, Thu, Fri, Sat : 20:00 - 22:00
Sat : 15:00 - 17:00
---
Location / Links
Capitol Theatre
---
Event Details
𝐂𝐫𝐚𝐳𝐲 𝐂𝐡𝐫𝐢𝐬𝐭𝐦𝐚𝐬™ 𝐁𝐚𝐥𝐥𝐬 𝐨𝐟 𝐭𝐡𝐞 𝐁𝐞𝐥𝐥𝐞𝐬
7-16 December at the Capitol Theatre

Prepare yourselves for a night of sheer hilarity, starring the naturally rotund 𝐒𝐞𝐥𝐞𝐧𝐚 𝐓𝐚𝐧 as Lady Belley Good, 𝐆𝐞𝐨𝐫𝐠𝐞 𝐂𝐡𝐚𝐧 as the seasonal favourite, Lady SlayBelles, 𝐃𝐰𝐚𝐲𝐧𝐞 𝐋𝐚𝐮 as the delightfully dim-witted Lady DumbBelle, 𝐀𝐧𝐝𝐫𝐞𝐰 𝐌𝐚𝐫𝐤𝐨 as the top of the class act, Lady Belle Curve, and last but certainly not least, 𝐒𝐞𝐛𝐚𝐬𝐭𝐢𝐚𝐧 𝐓𝐚𝐧 emanating with alabaster shine as Lady Belle Ring. Witness 𝐊𝐮𝐦𝐚𝐫 as Queen Harlotte, amidst this riotous gathering of debutantes, delicately choose her Cubic Zirconia. In the grand tradition of her majesty's court, we present to you the incomparable talents of the renowned acapella group, 𝐕𝐨𝐜𝐚𝐥𝐮𝐩𝐭𝐮𝐨𝐮𝐬. Their harmonious melodies will transport you to a bygone era, where music was pure and voices soared like nightingales. 𝐁𝐫𝐨𝐚𝐝𝐰𝐚𝐲 𝐁𝐞𝐧𝐠® will regale you with stories and songs that will leave you in stitches and longing for more.
Admission Rule
Runtime: 120mins (including intermission)
Rating TBA

Events That Match Your Vibe
Be The First To Catch the Hottest Events
Why settle for the ordinary?
Don't wait in line. Get the newest and hottest event updates sent to you!