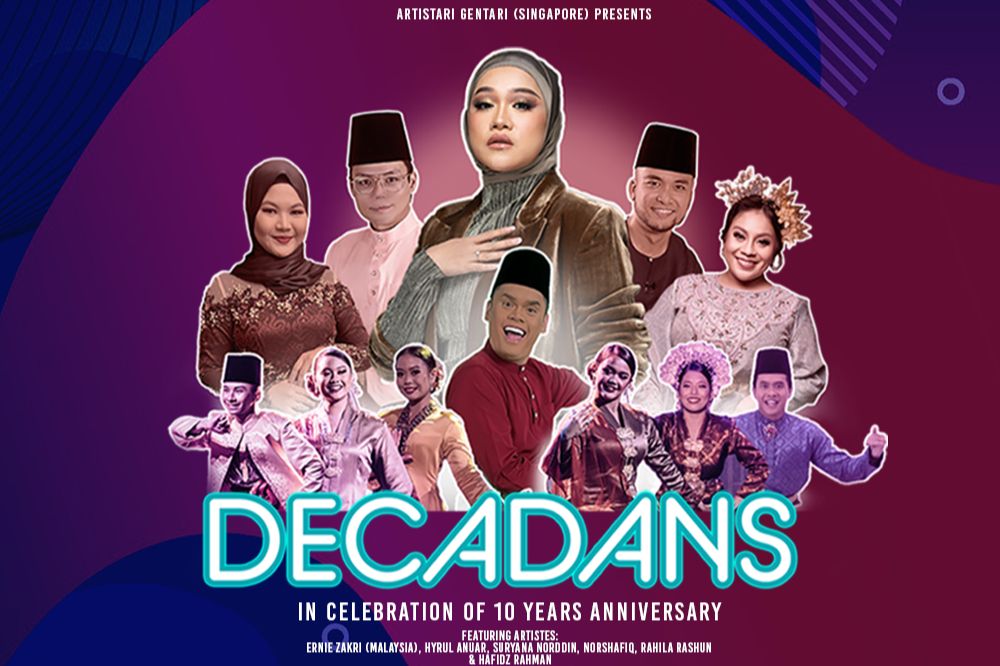 DECADANS
30 Dec 2023 (Sat)
63 Views
Date and Time
30 Dec 2023 : 20:00 - 22:00
---
Location / Links
---
Event Details
Artistari Gentari (Singapore) celebrates its 10th Anniversary with friends from Singapore - Hyrul Anuar, Suryana Norddin, Norshafiq Ridzwan & Rahila Rashun with special appearance from Ernie Zakri (Malaysia). Laugh your hearts out with our host for the night - Hafidz Rahman.

DECADANS promises a night of breath-taking dance medleys, beautiful musical arrangements and power house vocals with a tinge of humour in celebration of a decade in dance!


Admission Rule
Conditions of Entry
-Admission is subject to valid tickets produced at the entrance.
- 1 Ticket is required for all attendee regardless of age.


General
-Please be seated 15 minutes before the performance start time;
-In the interest of all patrons, latecomers will not be seated until a suitable break in the performance;
-Mobile phones must be switched off or switched to silent mode in the theatre;
-Patrons are required to follow all house rules and regulations set out by the venue. The House Rules are displayed within the venue premises;


Photography / Videography Recording Rules
-Camera without flash is permitted for this event.
-Camera with flash is not allowed for this event.
-Videography is permitted for this event.
Events That Match Your Vibe
Be The First To Catch the Hottest Events
Why settle for the ordinary?
Don't wait in line. Get the newest and hottest event updates sent to you!