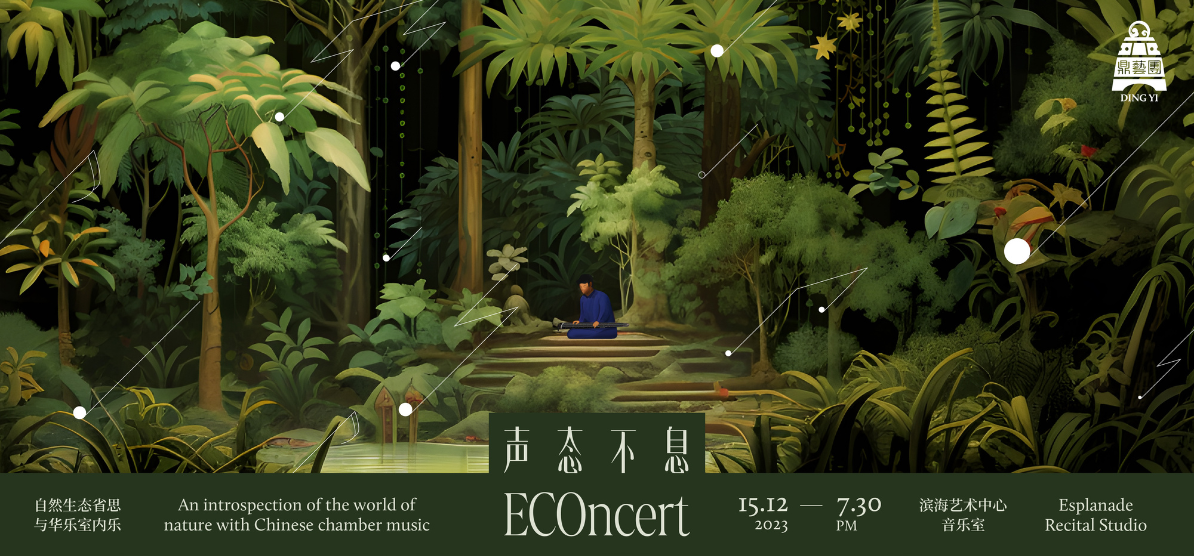 ECOncert《声态不息》[G]
15 Dec 2023 (Fri)
11 Views
Date and Time
15 Dec 2023 : 19:30 - 20:45
---
Location / Links
Esplanade Recital Studio
---
Event Details
Ding Yi Music Company proudly presents "ECOncert", a captivating and thought-provoking musical journey that explores the intricate relationship between humanity and the awe-inspiring force of nature.

Through the mesmerising synergy of evocative music and stunning visuals, the concert is a reminder of man's smallness in the face of nature's grandeur. Under the creative direction of conductor Wong De Li, Dedric and stage director/dramaturg Ang Xiao Ting with Chong Li-Chuan's exquisite soundscapes, compositions by John Sharpley and Yii Kah Hoe, set and art installations by Quek See Yee and Ferry, and video projections by Visual Media Artist Robert Zhao, "ECOncert" invites audiences to embark on a profound exploration of the delicate equilibrium between human presence and nature's indomitable spirit. Celebrated Guqin soloist Zhong Zhi Yue will also play a newly-commissioned work.

Taking inspiration from the highly beloved activity of 'forest bathing', "ECOncert" invites audiences to meditate on their relationship with the natural environment, while being enveloped in the soothing embrace of Chinese musical instruments that have celebrated nature for thousands of years. 

"Can humans and nature coexist in an urban environment?" Join us on this journey of hope, contemplation, and celebration.
Admission Rule
Rating / Age Limit


Rating: General
Infants in arms or children below the age of 6 shall not be admitted.
Children aged 6 years and above must purchase tickets for admission.
Admission is subject to tickets produced at the entrance


Late Seating Advisory


You are strongly advised to be seated before the performance start time.
Latecomers will be admitted during suitable breaks, if any.
Exceptions may be made at Esplanade's discretion depending on the nature of the performance.


Photography / Video Recording Rules


No photography, video and audio recording is allowed for this event.
Please note that photographs and videos of patrons may be taken at this event for use in our archival and publicity material.
Events That Match Your Vibe
Be The First To Catch the Hottest Events
Why settle for the ordinary?
Don't wait in line. Get the newest and hottest event updates sent to you!