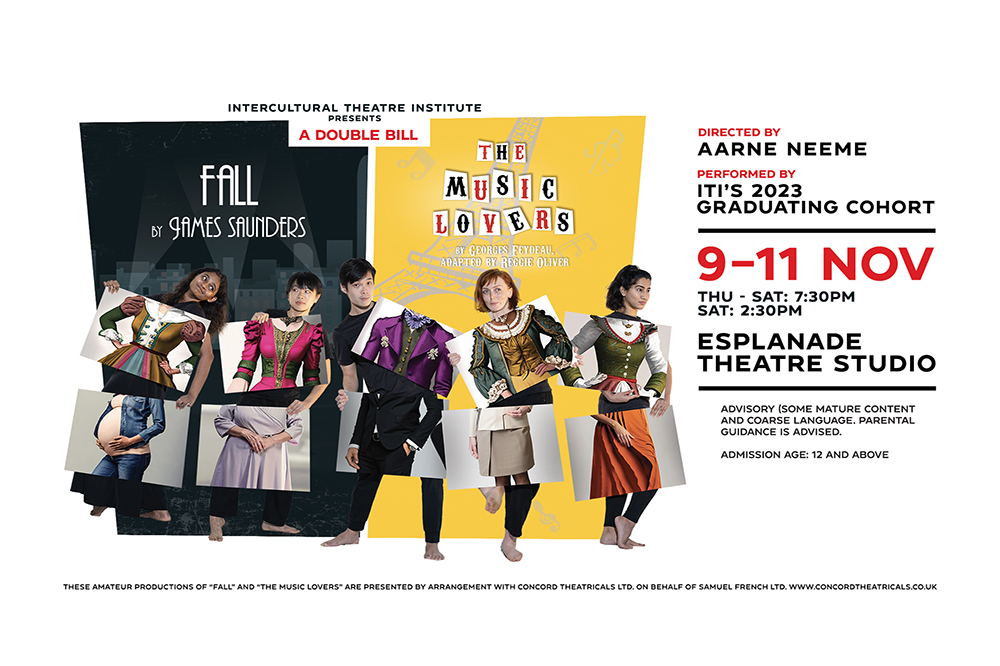 Fall & The Music Lovers — A Double Bill
09 Nov 2023 (Thu) - 11 Nov 2023 (Sat)
36 Views
Date and Time
09 Nov 2023 : 19:30 - 22:15
10 Nov 2023 : 19:30 - 22:15
11 Nov 2023 : 14:30 - 17:15
11 Nov 2023 : 19:30 - 22:15
---
Location / Links
Esplanade Theatre Studio
---
Event Details
Presented by Intercultural Theatre Institute
In collaboration with Esplanade – Theatres on the Bay


Fall by James Saunders
—
Helen, Kate, and Ann, each with a different outlook on life, meet at their mother's home in anticipation of their father's passing, gradually unveiling the intricacies that shape their individual journeys. Step into the world of the three siblings as they navigate life's complexities amidst a backdrop of family, love, and self-discovery.

The Music Lovers by Georges Feydeau, adapted by Reggie Oliver
—
Mistaken identities and witty banter abound in this fast-paced play, where Lucille's anticipation for her music teacher turns into a comical whirlwind when Edouard, convinced he's meeting his mistress, steps in. Hilarious misunderstandings and clever twists ensue.

Advisory (Some mature content and coarse language. Parental guidance is advised.)
Admission Rule
Terms & Conditions of Ticket Sales
- Admission for ages 12 and above.
- Tickets are non-refundable once purchased. ITI does not issue exchanges, partial or full refunds under any circumstances. The purchase is for the opportunity to attend the production at the date and time stated.
- Entry to the event may be subject to age restrictions specified in the publicity for the production and/or in the ticketing information. No refunds will be granted on the grounds that the ticket holder was not aware of such age restrictions.
- Latecomers who are not admitted are not entitled to a refund.
- Photography and/or videography may be taken by ITI for publicity and archival purposes.
- No unauthorised photography, audio or video recording is allowed during the production unless otherwise stated.
- ITI reserves the right to evict or refuse admission to anyone whose conduct is disorderly or inappropriate, or who poses a threat to security or to others' enjoyment of the performance.
Events That Match Your Vibe
Be The First To Catch the Hottest Events
Why settle for the ordinary?
Don't wait in line. Get the newest and hottest event updates sent to you!