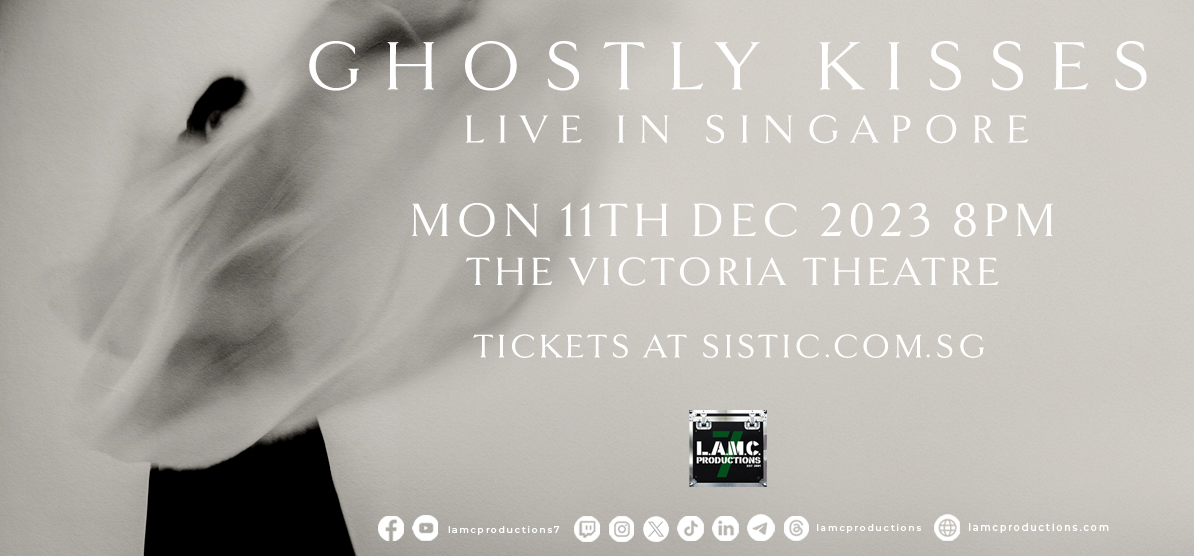 GHOSTLY KISSES Live in Singapore [G]
11 Dec 2023 (Mon)
2 Views
Date and Time
11 Dec 2023 : 20:00 - 21:30
---
Location / Links
Victoria Theatre
---
Event Details
Dreampop act Ghostly Kisses announce first concert in Singapore this December

French Canadian music project Ghostly Kisses is set to perform in Singapore this December. Renowned music and fashion magazine Clash describes her music as having "a weightless quality, something that transcends the ephemeral to grapple with key facets of our lives." Fans of engaging lyrics and soulful beats can look forward to an unforgettable performance from Ghostly Kisses on December 11th, 2023 at the Victoria Theatre.

Ghostly Kisses is the musical project of Canadian singer and songwriter Margaux Sauvé. She came from a family of musicians, and started playing the violin at the early age of 5. Several years later, she started singing and writing her first songs. The name 'Ghostly Kisses' was inspired by William Faulkner's poem 'Une ballade des dames perdues', and seemed like a beautiful reflection of Margaux's ethereal voice.

In 2017, her song "Such Words" reached more than 50,000 plays on Spotify 24 hours after its release. Ghostly Kisses was also part of the International Festival of Jazz of Montreal and Festival d'Été of Quebec and opened for international renowned artists such as RY X, Charlotte Cardin, Trixie Whitley and Milk & Bone in Canada and the US. In 2018, she released "The City Holds My Heart - EP", a 5-track album produced by Louis-Étienne Santais (Fjord) and inspired by the sonic textures of the '90s. Early 2019, Ghostly Kisses did her first official tour in Canada and played a few shows in the United States. She sold out half of her shows in Canada (Toronto, Montreal, Quebec City, Lévis and Beloeil). She was also officially chosen to showcase at SXSW in Austin in March 2019. In the last years Ghostly Kisses' songs have been part of many Spotify playlists like New Music Friday, Evening Commute, Chill Covers, Lush+Atmospheric just to name a few, and has more than 40 million plays to date.
Admission Rule
Rating / Age Limit


Rating: General
No admission for infants in arms and children below 12 years old
Children 12 years and above must purchase ticket for entry
Admission is subject to tickets produced at the entrance


Late Seating Advisory


You are strongly advised to be seated 15 minutes before the performance start time
No admission will be allowed into the venue once the performance has commenced


Photography / Video Recording Rules


No Photography, Video recording and Audio recording is permitted for this event.
Events That Match Your Vibe
Be The First To Catch the Hottest Events
Why settle for the ordinary?
Don't wait in line. Get the newest and hottest event updates sent to you!