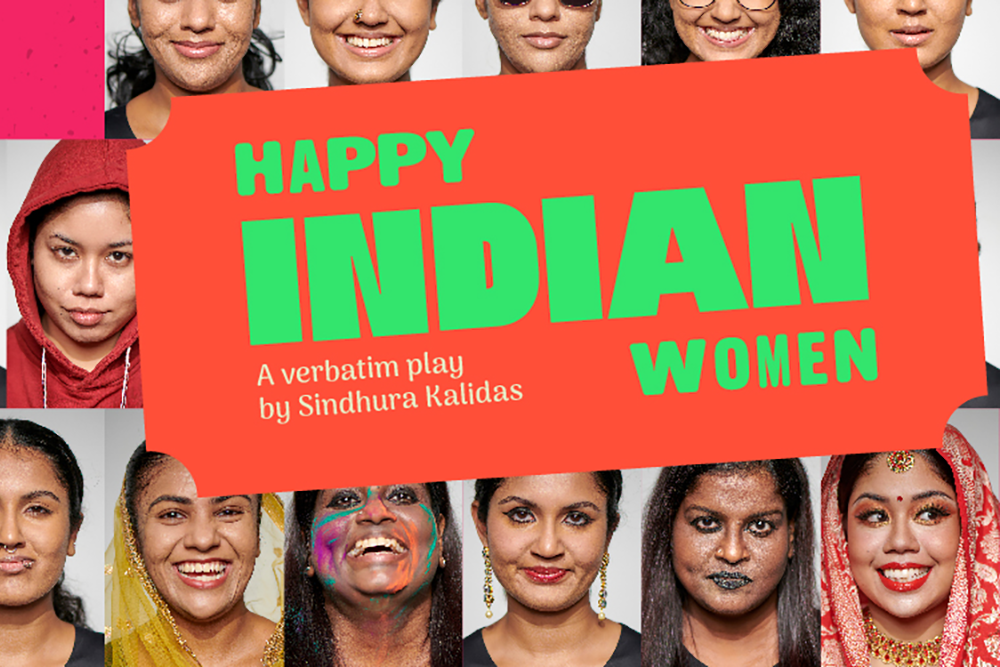 Happy Indian Women
02 Nov 2023 (Thu) - 05 Nov 2023 (Sun)
26 Views
Date and Time
02 Nov 2023 : 20:00 - 21:30
03 Nov 2023 : 20:00 - 21:30
04 Nov 2023 : 15:00 - 16:30
04 Nov 2023 : 20:00 - 21:30
05 Nov 2023 : 15:00 - 16:30
05 Nov 2023 : 20:00 - 21:30
Show More
Show Less
---
Location / Links
Drama Centre Black Box
---
Event Details
Being a woman is tough. Being an Indian woman is even tougher. We must be independent, but not too independent that we tarnish the family name. We must be strong enough to withstand the constant scrutiny that our bodies, minds and personalities are subject to. We're too dark, too short, too thin, too educated, too loud, too much. Our friends still ask us if we speak 'Indian'. Or worse, they assume we are Indian just because we are a certain shade of brown.

Written by The Necessary Stage's Associate Artist Sindhura Kalidas, Happy Indian Women is a verbatim theatre production that questions the assumptions we make about the diverse South Asian diaspora in Singapore. Based on interviews with 20 women and non-binary people from various backgrounds, the play interweaves text, sound and multimedia to celebrate their honest and tender stories about faith, friendship and family.

‍Written and co-directed by Sindhura Kalidas
Co-directed by Haresh Sharma
Performed by Ashie Singh, Grace Kalaiselvi,Siobhan Jane Covey, and Siti Sara Hamid

Sound Artist: Bani Haykal
Multimedia Artist: Nina Chabra
Set Designer: Syadiq Akbar
Lighting Designer: Emanorwatty Saleh


Admission Rule
Accessibility:
We welcome patrons who need accessible seating arrangements—including wheelchair users, those who require access to open captions, and those with assistance dogs. To ensure your comfort for a great viewing experience, please contact us at admin@necessary.org before booking your ticket so we can share more information about seating and routes with you.

Conditions of Entry:
- Admission is subject to valid tickets produced at the entrance.
- In the event that patron is unable to make it for any reason, tickets are transferable to another person.
- For concession tickets, random verification checks may be carried out at the theatre.
- Please note that the performance's duration is 60 minutes with no intermission.
- Mobile phones must be switched off or switched to silent mode in the theatre.
- Photography and videography are strictly not allowed during the performance.
- Wearing of masks is optional. We highly encourage our audience to practice social responsibility, and should you be feeling unwell, do consider staying home please.
- No outside food and drinks are allowed into the venue.
- Entry to the event may be refused if the authenticity or validity of a ticket is questionable, including if the ticket has been damaged or defaced in any way, or has not been purchased from Organizer/BookMyShow or authorized points of sale by the organizer.
- Patrons are required to follow all house rules and regulations set out by the venue. The House Rules are displayed within the venue premises.
Events That Match Your Vibe
Be The First To Catch the Hottest Events
Why settle for the ordinary?
Don't wait in line. Get the newest and hottest event updates sent to you!