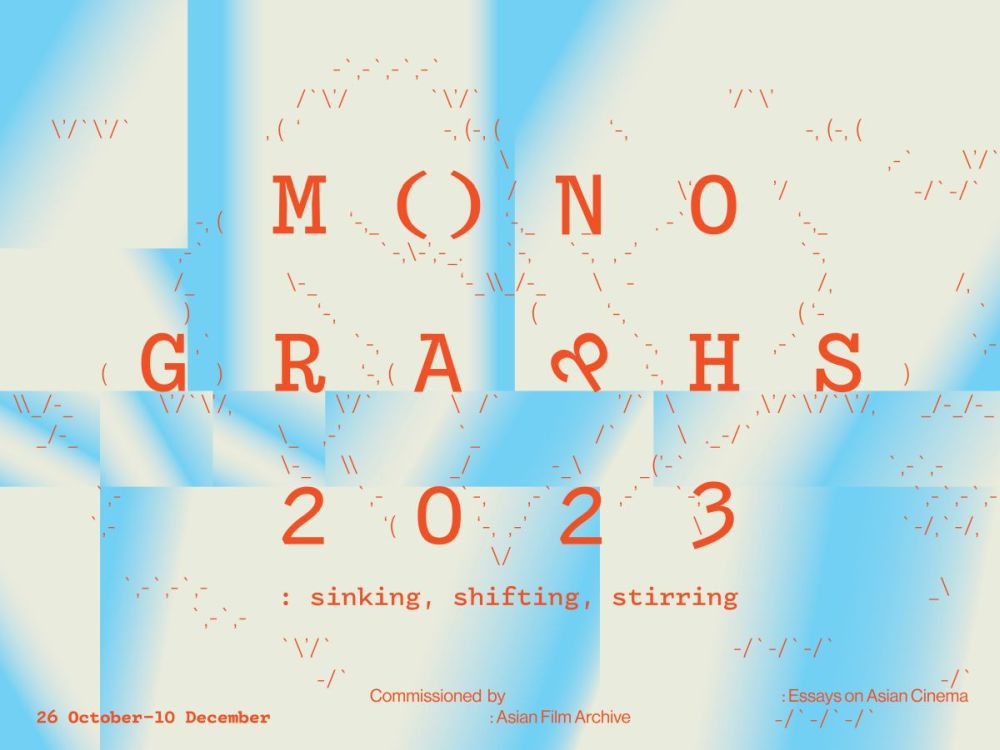 Monographs 2023
26 Oct 2023 (Thu) - 10 Dec 2023 (Sun)
13 Views
Date and Time
Daily : Full Day
---
Location / Links
Oldham Theatre
---
Event Details
Monographs is a series of video and text essays on Asian cinema commissioned by the Asian Film Archive (AFA). Conceived during the outbreak of COVID-19 when physical screenings were disrupted, Monographs offers a critical platform for writers and thinkers to discourse upon the moving image beyond the walls of the cinema.

The 2023 edition of Monographs consists of 13 commissioned works—seven video essays and six written essays—produced in consultation with filmmaker/editor Daniel Hui and researcher/curator Matthew Barrington.

Responding to changing geological and socio-political landscapes, Monographs 2023: sinking, shifting, stirring interrogates how the environment, climate, and human and non-human relationships might be re-imagined.

The exhibition presenting the works will be on display at the Oldham Theatre foyer until 10 December 2023. Screenings for the films that inspired the works will screen from 3-18 November 2023 at Oldham Theatre.
Admission Rule
Important Notice:
Do note that Oldham Theatre operates on a free seating arrangement. Doors will open 20 minutes before showtime so arrive early to choose a seat and avoid disrupting the screenings as AFA does not play ads and screenings will start promptly.
All patrons are encouraged to purchase your tickets online. If you choose to purchase tickets or merchandise at Oldham Theatre's box office, cashless payment is preferred.
Measures will be taken to ensure the health and safety of all patrons at Oldham Theatre. Mask-wearing is optional as of 29 August 2022.
—

T&Cs
Concession tickets apply to Students (Local & Overseas), Full-time National Servicemen (NSF), Senior Citizens (55 years and above) only.
Please check film ratings before purchase of tickets. Please note that you may be asked to present your ID at the door (this applies to concession tickets as well). Only physical photographic identification is allowed, digital copies of identification are not allowed. AFA reserves the right to turn away any me
Events That Match Your Vibe
Be The First To Catch the Hottest Events
Why settle for the ordinary?
Don't wait in line. Get the newest and hottest event updates sent to you!