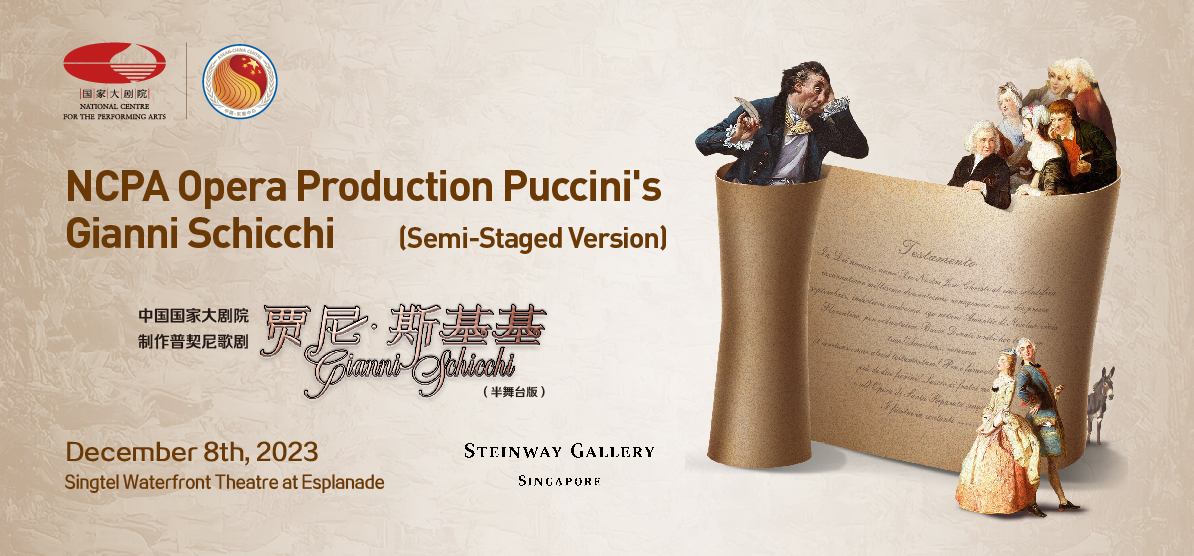 National Centre for the Performing Arts Production - Puccini Opera《Gianni Schicchi》中国国家大剧院制作, 普契尼歌劇《贾尼、斯基基》[G]
08 Dec 2023 (Fri)
7 Views
Date and Time
08 Dec 2023 : 19:30 - 21:00
---
Location / Links
Singtel Waterfront Theatre at Esplanade
---
Event Details
The wealthy Florentine Buoso Donati has just died of disease. His greedy relatives rush to his house for legacy, only to find that Buoso has bequeathed all his fortune to the monastery. Rinuccio, the nephew of Buoso's cousin Zita is madly in love with Gianni Schicchi's daughter Lauretta. However, the Donati family does not allow Rinuccio to marry Lauretta because she is unwealthy. Rinuccio asks Gianni for advice and Lauretta pleads with her father singing the aria "O mio babbino caro". Then Gianni claims Buoso is still alive and disguises himself as the seriously ill Buoso to dictate a new will. He allocates the minor bequests to Buoso's relatives, but leaves the most valuable assets — the mules, the mill and the house in Florence to "Buoso's devoted friend Gianni Schicchi". Thus, his daughter Lauretta possesses a large dowry. With the new certification by the notary, Gianni drives away the angry relatives. Lauretta and Rinuccio finally get married.
Admission Rule
Rating / Age Limit


Rating: General
Free admission for infants-in-arms and children age below 6 years old
Children aged 6 years and above must purchase a ticket for entry
Admission is subject to tickets produced at the entrance


​​Late Seating Advisory


For the enjoyment of all audience members, all events start promptly at the time printed on the ticket.
Please be seated 15 minutes before the performance start time.
Late arrival may result in non-admittance until a suitable break in the performance.


Photography / Video Recording Rules


No Photography, Video recording or Audio recording is permitted for this event.
Events That Match Your Vibe
Be The First To Catch the Hottest Events
Why settle for the ordinary?
Don't wait in line. Get the newest and hottest event updates sent to you!