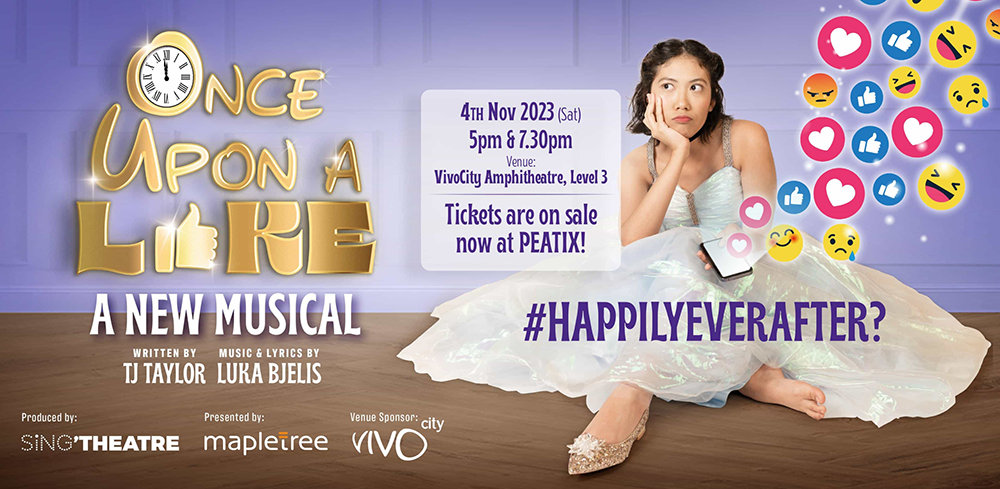 Once Upon A Like
04 Nov 2023 (Sat)
16 Views
Date and Time
04 Nov 2023 : 17:00 - 18:10
04 Nov 2023 : 19:30 - 20:40
---
Location / Links
VivoCity Amphitheatre, Level 3 Skypark, 1 HarbourFront Walk
---
Event Details
Once Upon A Like, is an exciting new musical based on the timeless Cinderella story made for the modern social media generation (and less tech-savvy family members, too!).

Fun, current and full of modern references, this musical, proudly presented by Mapletree Investments & produced by Sing'theatre, will make the whole family look at their social media with a different perspective through the medium of the beloved story of Cinderella that we all know and love.

How will Cindy (Cinderella) handle the constant pressures of likes, followers, and subscribers? Will Charming break free of his influencer fame and family expectations to follow his true passions? Is everyone in Far Far Away truly happy with their scrolling, swiping, and sharing cycle?

Want to find out? Don't wait for your Fairy God Mother to arrive! Put on your best glass slippers, hop a carriage ride and catch this new musical written here in Singapore by a West End composer and starring a fantastic local cast!
Admission Rule
Rating: General
Events That Match Your Vibe
Be The First To Catch the Hottest Events
Why settle for the ordinary?
Don't wait in line. Get the newest and hottest event updates sent to you!