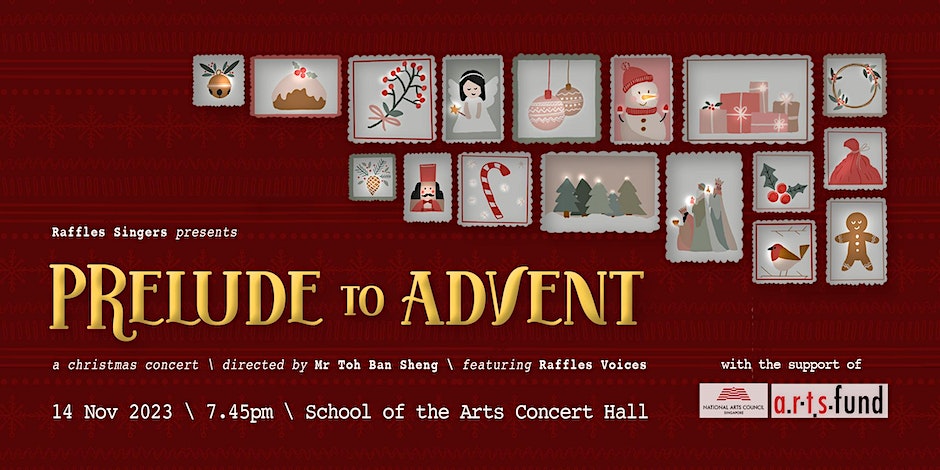 Raffles Singers Presents: Prelude to Advent
14 Nov 2023 (Tue)
20 Views
Date and Time
14 Nov 2023 : 19:45 - 21:00
---
Location / Links
SOTA Concert Hall
---
Event Details
Amid echoes of ages, may these weaving melodies evoke moments of peace, nostalgia and love. Join the Raffles Singers this Advent season for an exquisite journey through choral history, led by our award-winning Artistic Director Mr. Toh Ban Sheng. Through ancient chants to modern innovation, we hope to share with you a sense of serenity that transcends the ordinary. The progression captures the essence of love, while double choruses reflect architectural intricacies of past choral eras. Mystical strains resound, both from Eastern Orthodox Reverence and joyful Afro-Caribbean rhythms. Timeless lullabies and mid-century melodies offer nostalgia, solace and cheer that resonate across time and generations.

Tickets are avaliable at https://bit.ly/RSXMAS2023
Admission Rule
-Rating: General
-Recommended admission age – Children above 4 years old.
-No admission for infants in arms.
-All patrons must purchase a ticket for entry.
-Admission is subject to tickets produced at the entrance.
-For the enjoyment of all audience members, our performance will start promptly at the time printed on the ticket.
-Please be seated 15 minutes before the performance start time.
-Due to the nature of the performance, admission will only be permitted at a suitable point once the performance has commenced.
-No Photography, Video recording or Audio recording is permitted for this event.
-Photography and video recordings will be taking place at the theatre foyer before and after the performance. As such, you may be photographed or be seen in our video footage.
-These recordings may be displayed or published on our website, social media platforms, publications and publicity materials.
-By attending the event, you consent to the use of these photographs and videos for the foregoing purposes.
Events That Match Your Vibe
Be The First To Catch the Hottest Events
Why settle for the ordinary?
Don't wait in line. Get the newest and hottest event updates sent to you!