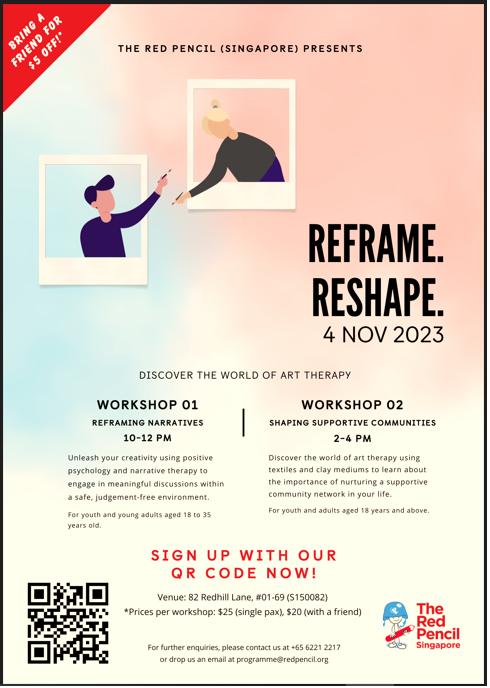 Reframe. Reshape.
04 Nov 2023 (Sat)
12 Views
Date and Time
04 Nov 2023 : 10:00 - 12:00
04 Nov 2023 : 14:00 - 16:00
---
Location / Links
The Red Pencil (Singapore), 82 Redhill Lane, #01-69, Singapore 150082
---
Event Details
Reframe. Reshape.

Discover the world of art therapy at our workshops on 4th November 2023 and learn how it can enhance your self-care and emotional wellbeing! (Attached poster for your reference)

What to expect:
• Learn about art therapy, positive psychology, and narrative therapy
• Explore your emotions through therapeutic art-making
• Engage in group discussions and creative processes
• Strengthen empathy and resilience in challenging life situations

Come tell your unique stories through narrative therapy approaches in our "Reframing Narratives" workshop, and mediums such as textiles and clay in our "Shaping Supportive Communities" workshop in a safe, non-judgemental space. Learn about how you can develop emotional resilience and cultivate a strong support network in your life.

Sign up with a friend and enjoy a special rate of $20 each per session (regular price $25).
Admission Rule
Workshop 1 (10am to 12noon): For youths aged 18 to 35
Workshop 2 (2pm to 4pm): For all aged 18 and above
Events That Match Your Vibe
Be The First To Catch the Hottest Events
Why settle for the ordinary?
Don't wait in line. Get the newest and hottest event updates sent to you!